A gift guide for the creative entrepreneur in your life!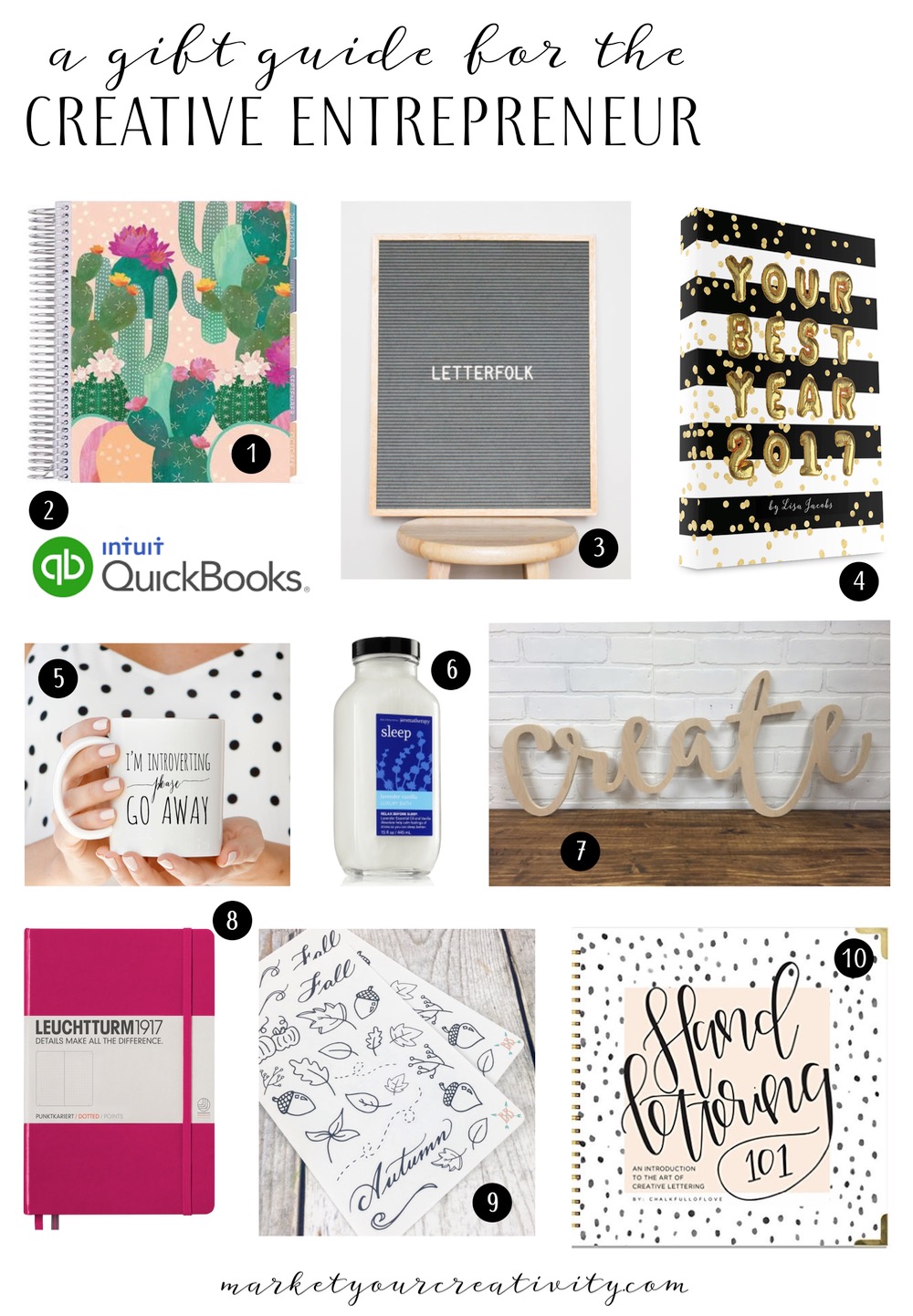 (This post contains some affiliate links, which means I may get a commission or credit on my account should you decide to purchase – at no extra cost or inconvenience to you.)
Erin Condren Planner | Quickbooks for Self-Employed | Felt letter board | Your Best Year 2017 | "I'm introverting" mug by PaperBerry Press | Lavender & Vanilla milk bath |  "Create" by Feather & Birch | Leuchtturm1917 | Planner stickers from BohoBerry Paperie | Hand Lettering 101
#1 Erin Condren Planner – This is my go-to system, and the day my new EC planner arrives is easily one of my favorite days of the year! It is so useful and durable, which is an absolute must because I open my planner several times each day.
The layout is customizable, and I've tried them all, but I prefer neutral colors and a horizontal weekly spread. You can see my Erin Condren planner in use on Instagram here, here, and here.
#2 Quickbooks –  I've been getting my financial house in order behind-the-scenes this month. I've heard of Quickbooks before, but I've never actually taken the time to try it because I felt overwhelmed by the idea of it all.
I'm happy to say, obstacle hurdled! And it could not have been easier. My accountant (and several other trusted advisors) had highly recommended the online membership, and it is one of the most user-friendly systems I've ever met. I had it up and running within twenty minutes.
If you use >>> this link <<< to sign-up with Quickbooks for Self-Employed, you'll get a whopping 50% off your subscription for the first 6 months.
#3 Open-faced letter board – I'm #obsessed over the signs I see popping up all over Instagram with cute sayings, especially around this time of year. I'm keeping a secret Pinterest board of all the quotes I'm going to use on mine!
#4 Your Best Year 2017 – It would be remiss of me not to include YBY2017 on this gift list! There's a reason why online businesses are raving, calling it "the best one yet", and giving it solid 5-star reviews. Click here to get a limited edition bundle before they're gone!
You can see my YBY2017 planner in use on Instagram here, here, and here.
#5 "I'm introverting" mug – Do you want Insta-worthy shots that get all the makers talking? This "I'm introverting, Please go away" mug from PaperBerry Press gets likes for DAYS every time I stage a flat lay with it.
See mine in use on Instagram here.
#6 Vanilla & Lavender Milk Bath – In last year's gift guide, I wanted to be sure to include items that will help you unwind and clear your mind. It's sometimes hard to work from home, and then later feel relaxed and at home in the same space!
I treasure this vanilla & lavender milk bath from Bath & Body Works. A little goes a long way, and the aroma and silkiness of it makes it a dream.
#7 "Create" sign by Feather & Birch –  Okay, the first thing you need to know is that "sold" doesn't mean "gone forever" in this shop. They sometimes only list one (1) quantity at a time, and then renew manually. (I know because I stalked this "gather" sign for daaaaaayyyyyysssss.)
I love this handmade sign for the home office; a perfect fit for a maker.
#8 Leuchtturm1917 (aka bullet journal) – This & Your Best Year are the only repeats from last year on the gift guide. I cannot say enough about the importance of reviewing and tracking your progress in online business, and this is such a creative tool to help you do that.
You can see mine in action on Instagram here, here, and here. You can learn more about bullet journaling here.
#9 Planner stickers – I love me some Kara Benz (aka Boho Berry)! BohoBerry Paperie planner stickers are a fun and good-looking enhancement for your day planner, notebook, or journal. I have a stack of these on my wish list for the upcoming review season.
#10 Hand Lettering 101 – This book is everything if you've been admiring all the pretty writing on Instagram and beyond! Written by Chalkfulloflove, you'll find a basic how-to, tons of examples, and actual drills to up your hand lettering game. I just love it; mine in use here.
What did I miss?
What's on your creative wish list for the year? Click here to see the 2015 Gift Guide for even more inspiration! Until next time and all the best xx