The holiday season is upon us, and while I'm usually sending tips for how to make the most of the holiday season for your business, today I wanted to share with you how to take a holiday FROM your business. It's equally important to your bottom line!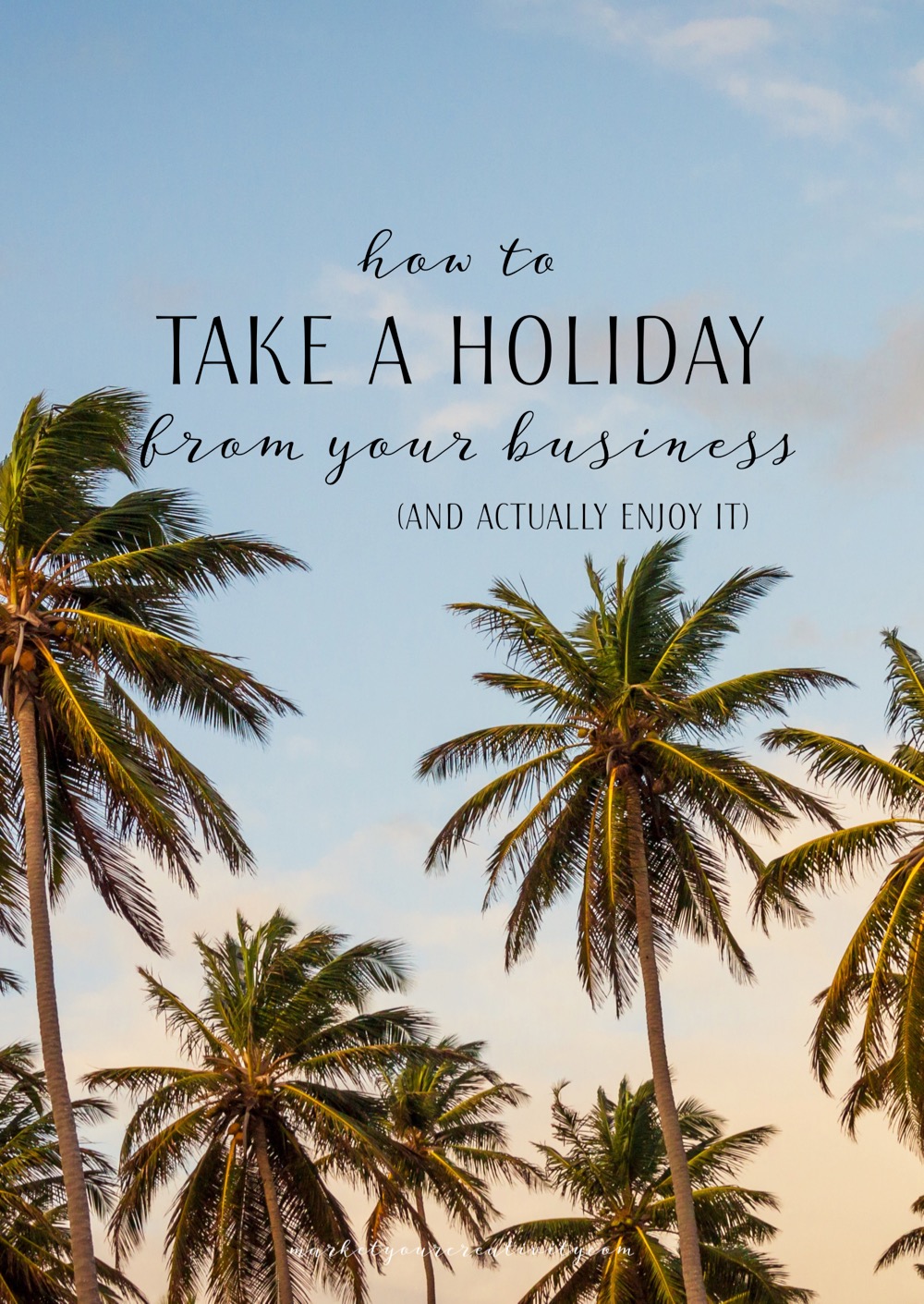 As my email subscribers already know, I've been through it these last few months. I finished and launched the best-selling, 5-star reviewed Your Best Year, prepared my house for sale, accepted an offer on it in less than three days, and then frantically tried to figure out where we were going to live next. While it all worked out beautifully, we ended up being displaced for a few weeks between settlements.
Moreover, I had no idea we were even going to be moving this fall. As crazy as it sounds now that I'm on the other side of it, the move was a spur of the moment decision. It wasn't a necessary life upgrade, but it was so needed.
To top it all off, last Christmas I booked a Disney cruise for my family, as well as a 3-day work retreat for myself. It all took place in October, falling smack dab in the middle of the transition. I'm pretty sure we were the only "homeless" people at either event.
Please don't get me wrong: these are good things and I'm grateful! But the upending changes and uncertainty of the last few months had me operating in a constant low-grade panic the entire time.
What's more? I originally planned to work ahead to cover my absence in October. It makes me sad when I see hard-working people apologize, fret over, and cover up their time off. It makes me sadder that, up until I moved out of my former home, I almost did the same. Then, life happened. My family needed me. I needed me.
I decided to just let go of self-imposed expectations and take a break.
While I was away on the Disney ship, I tried acupuncture for the first time. I had a world-class treatment. Before we started, my acupuncturist asked if she could see my tongue. Is that normal? I'm not sure, but I showed it to her anyway. She said,
You're very strict. I can see that you're very strict on yourself, but you're very gentle with others.
Can you relate?
Be Gentle with Yourself
This is the number one rule to taking a holiday from your business. Too often in our self-run businesses, we run ourselves into the ground to do the work and earn the rewards. Then, in order to enjoy the rewards, we run ourselves into the ground to work ahead and cover our time away.
When I had no choice but to put my self-imposed work expectations down, I let myself do so unapologetically, but I wish I would've taken that stance in the first place. I wish that back in July I would have decided: Finish the book and then break. PERIOD. I wish I would have told myself,
Don't try to fake your presence in your absence. 
But to be honest with you, my to-do list leading up to transition looked more like this:
Finish the book
Blog weeks in advance to keep fresh content flowing
Schedule emails weeks in advance to keep in touch
Schedule all social media platforms weeks in advance to keep them active
Genuinely Take Time Off
Let's compare this business to a traditional career, which is one way I love to get perspective on the situation. My husband took a chunk of leave this month, same as me. At his work, he organizes a lot of information and runs important meetings each week. Never once did he try to pre-record a meeting presentation, anticipate every single problem that might arise, or schedule emails to cover his absence.
He simply notified the office he was taking his leave, and then he took it! 
When he got back to the office, he worked his regular hours as he caught up with the old and made way for the new tasks and meetings to come. Imagine that!
So, I tried it his way. I wrote an email to 20,000+ subscribers. I gave them a glimpse of this revelation I was having, and then I simply said:
I've been shopping and eating and posting silly things with my kids on Facebook. I can't remember the last time I used Facebook for fun; it's become such a job. I've been through so much change and transition this year, and it's been so upending … useful and necessary with huge pay-offs to come, but upending all the same.
Therefore, I'm taking the rest of the month. My gratitude in advance for your understanding.
Finish Your Current Order of Business
I didn't just up and leave cold turkey, though. I made sure to honor my existing clients and pending orders before I left.
I was fortunate to have an extremely reliable assistant who shipped orders (Your Best Year books) in my absence. If you have a storefront that's generating dozens of sales or more each week, your business should be able to easily afford the same type of coverage.
If your storefront isn't generating enough sales to afford you assistance, vacation mode works beautifully. Your potential customers will understand and eagerly revisit as soon as you reopen.
If you have clients or run a membership, an update with fresh content plus a notice of your absence will do the trick. Here's the email I sent to my clients before I left:
I hope you're having fun planning Your Best Year ever! I'm writing to announce a new workshop that's now available inside the club + give you a quick head's up that I'm going to be entirely away from my desk October 15 – 27.
As you are such treasured clients, I hope you'll pardon my absence as I take a much-needed, screens-free week with my family – quickly followed by a few days to move into our new home.
I double-checked that all accounts are in good standing and working order before I take leave. In the meantime, I've published a new video-making (and iMovie) workshop. Find it in the drop-down menu under "Workshops."
Set Up an Auto-Responder
My goal is to automatically answer every common question – and – come home to as few pressing issues as possible. Here's the exact auto-responder from my last vacation …
---
Subject: Why, hello!
Hello there,
Thanks for reaching out! I'm currently in a whirlwind of relocation, in between houses (and maybe sailing the Atlantic with my family on one of my income rewards), altogether away from my desk until October 28.
Gratitude in advance for your patience. In the meantime, there's a rundown of FAQs below that might address your reason for writing right now.
All the best, Lisa Jacobs
• • • • • • • • • • • • • • • • •
If you wrote because …
: You have a question about your order of Your Best Year
If you ordered a digital copy on Etsy, please find [linked download instructions here]. If you'd like to track shipping for your paperback order on Etsy, please find [tracking instructions linked here].
If you ordered a copy from Amazon and have an issue, please contact their site directly as I cannot answer to shipping, handling, or customer service inquiries on your order.
If your book issue is not addressed above, please contact my assistant, [email]
: You're wondering if Your Best Year is right for you
I love your interest, but unfortunately I don't have time to respond to every query. More importantly, this is not a decision I expect you to waste days (and valuable creative energy) pondering.
I put my six-figure strategies and goal-exceeding exercises into a $15 book. That's either for you, or it isn't. Best of luck either way.
: You're having trouble logging into your course
Please be sure you're using your user + password at [linked login URL] (not my blog). Nine times out of ten, that's the issue. Any other program needs will be my top priority upon return.
: You just called to say …
Hello & introduce yourself. I look forward to meeting you and reading your amazing story upon my return. You're only a stranger once!
Ease Back into it
Before I get into this section, let me assure you that I didn't get one single complaint that I was away taking time for myself. Not one.
The point of a vacation is not for work to stress you out upon return. Ease back into it, and schedule a few administration days to reorient yourself with the workload.
After a few weeks away from my desk, I was both eager for and resistant to routine. When I remembered that all I had to do on my first day back was sort emails, it was easy to grab a cup of coffee and dive in.
Schedule whatever is most fun for you the week following vacation, whether that be having a seasonal strategy sesh (yes, please!), learning a new skill, or creating fresh designs. Returning to work should be as much of a pleasure as escaping it was!
Until next time and all the best,