Let's maximize return on your working hours and crush your business goals this year. With months of potential ahead and a long list of goals to achieve, you probably feel a panicked urgency to get #allthethings done RIGHT NOW. That's normal.
New Year energy is extremely frenetic, meaning it's hyperactive, unruly and wild. It's fueled by the unlimited potential we see in the clean slate of a fresh calendar. While there's a lot of good intention behind it, that energy has a short life span and quickly feels more agitating than motivating.
This is the reason January sees a huge increase in sales on fitness equipment, gym memberships, and diet programs. We're all looking to better our lives in a fevered way, but because this energy is so impatient, 95% of people will have given up on their freshly-set goals by January 15.
I'm here to ensure you're not one of them.
This post is designed to help you channel that frenetic New Year energy into massive results. Because results are what you're truly craving right now. If you feed your spirit what it's hungry for, those cravings will stick around longer. And trust me, they're a good thing!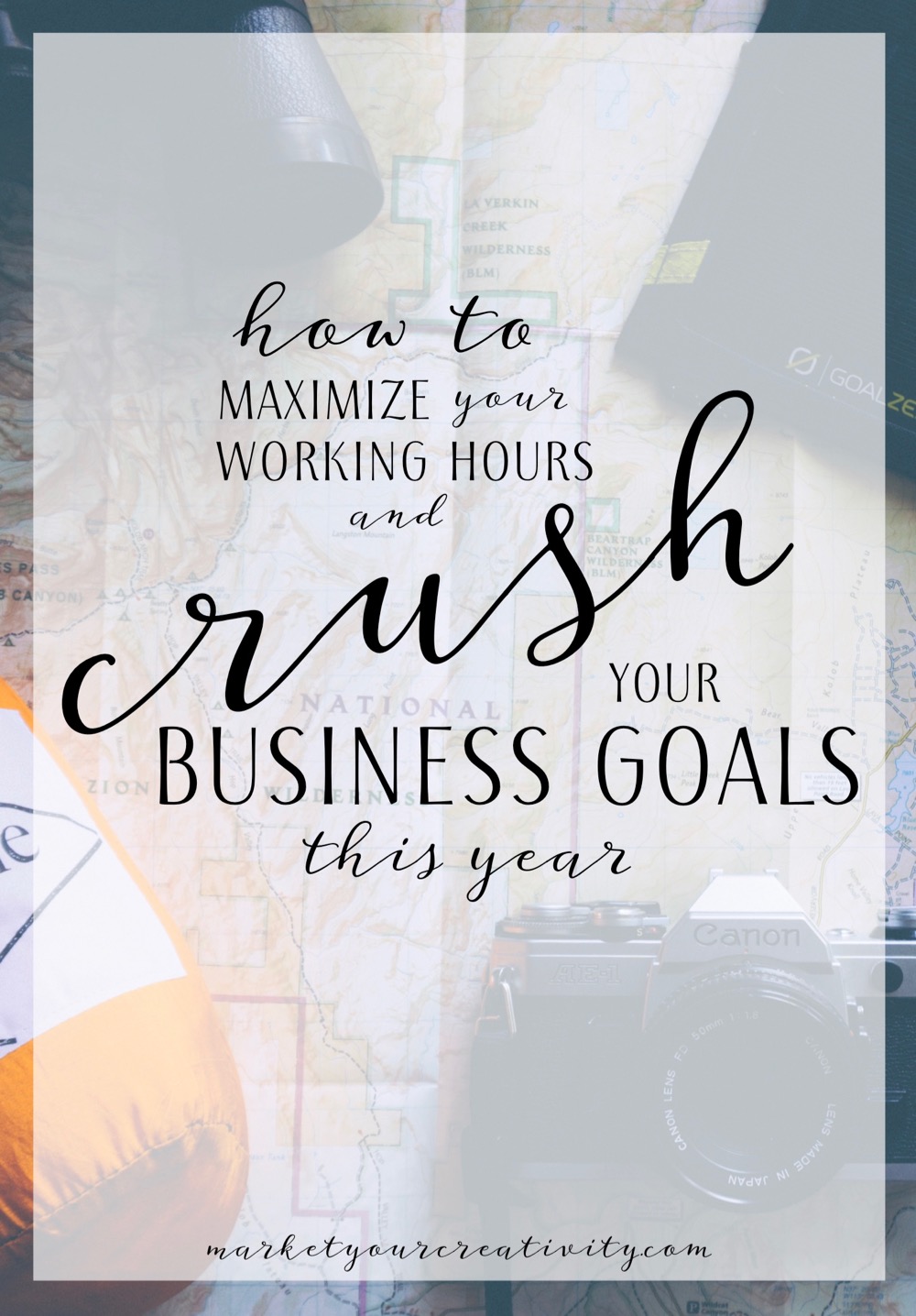 First thing's first
Nothing on the planet will make you feel better (or ease the anxiety that follows goal-setting) than methodically chipping away at your to-do list. I filled three planners and four pages in my notebook with everything I wanted to do in the New Year. I was completely overwhelmed before I even got started.
And by the way, this isn't even about the New Year. This cycle of energetic motivation is actually a quarterly thing. You'll feel a similar energy at the start of each season, but it's definitely at its peak when you're ringing in the New Year.
To start, I highly recommend this rapid log spread I use in my bullet journal …
On the right side (blurred out), I listed a mix of personal and professional things I want to accomplish this year. There's no order to them, the whole point of the exercise is to brain dump (aka "rapid log") all of the things you'd like to do, change, or improve.
On the left side, I organized the right side into a more manageable list of tasks using our five pillars of annual goal setting: relational, spiritual, mental, physical, and financial.
With this list in hand, I was still left wondering: But, how do I get it all done? 
That's where annual strategies and progress logs come in. I'll be showing you how to build an annual strategy on the blog later this month, but you can grab a complimentary sampler of my best-selling workbook, Your Best Year 2017 at the end of this post for an instant download and complete instructions.
Today I'm going to show you how to create a progress log. It's a method of organizing your tasks to ensure you make progress on your annual goals. To get started:
Create a rapid log spread with all you want to accomplish in the New Year (my example above)
Organize that brain dump into categories. You can use the five pillars of life: relational, spiritual, mental, physical, and financial. Or, you can use my quarterly categories: finish, do, celebrate, study, and start.
Next, start your progress log. Ask: What do I have to do/complete in the next three months to get started on this plan? Make a list.
Then ask: What will I have to do in the next three weeks to make progress? Make another list.
The three-month list will typically have bigger, broader projects listed (e.g. finished book, new product line, course launch, semi-annual sale, etc.). The three-week list should have smaller tasks (e.g. blog posts, sales campaigns, content production, new design trials, etc.).
The three-week list should feed into the three-month list, which should feed into your annual goals, like so:
3-week task list < 3-month progress log < annual goals
Once you have that figured out, do yourself a favor: Don't skip ahead or jump around on the order of tasks you need to complete. Use this frenetic energy to do what's due first. It's the only way to create fast results.
Make New Habits
Listen, my friends: the internet is not that interesting. It's not changing nearly as much as you click to see if it's changed. I can guarantee you that checking your email and Instagram account 80 times a day is not going to get you your goals.
Now is the time to create lasting habits. Use your New Year's frenetic energy wisely. 
Where can you cut out internet clicking? In what areas of your life do you find yourself worrying about all that you have to do instead of actually doing it? Could you use that time more wisely? Could you learn how to engage better and grow faster on social media instead of mindlessly checking it all the time?
You'll find some examples in my routine below of where I've cut out bad habits (mainly, mindless internet clicking) in place of better ones.
Find a Routine that Works
During my New Year review, one of the things that became blatantly obvious to me was that I was seriously lacking routine. We've just moved, everyone's hours changed, and after two months, I still wasn't sure when my working hours started and ended each day. As Annie Dillard so eloquently said,
A schedule defends from chaos and whim. It is a net for catching days.
Moreover, having a routine isn't nearly as important as having a routine that works. This can and should be custom-fit to your lifestyle. Some people make magic with the "eat that frog" method — which means, they wake up and do the most daunting task on their list, and then finish whatever else needs doing. While that works great for some, I tend to let myself off easy once the biggest chore is finished.
Others work in time chunks, something I call "powerblocks" which you'll see below in my daily routine. There are many different methods of time- and self-management, and I tried most of them before this one stuck.  
We all have to complete tasks that overwhelm or otherwise burden us. Leave no stone unturned until you find the system that works best for you.
Here's how I schedule my day: 
6:00 – 7:00: Wake up and have coffee with my husband. Before our move, he would've been long into his commute and arriving to work at this hour. I love that he's now home with me, cozy and comfortable before a short, peaceful drive to the office.
I used to check email in the morning, and I vouched for doing so because that's how bad I just wanted to! But to be honest, it only caused me to lose an hour to mindless clicking. I justified this habit because I got some work done, but it was minimal productivity at best. Even worse, it was hard to break out of the clicking to start my day.
So yes, 2017! I see the light! I will no longer start my day with my go-to procrastination technique. #duh
Without the internet, I take a minute to wake up over the first cup of coffee next to my husband. By the time he branches off into his own morning routine, I'm awake and grab the study materials in front of me (laid out from the night before). This never fails to get me fired up for the day ahead!
7:00 – 8:00: This is a whirlwind of children waking, lunch packing, getting myself ready for the day, and walking to school.
8:00 – 8:15: This 15-minute gap threw off my entire working schedule after I moved. My eldest two children start more than an hour later than my younger two, but after a morning chat and some breakfast, they don't need much else from me. I still lingered and avoided doing any real work before they left, just in case. More often than not, I ended up back on the internet mindlessly clicking until it was time for them to leave – which often lead to prolonged mindless clicking after they had gone.
I now remain screens-free at this time and clean up around the kitchen as they ready for their day. I have a firm start time of 8:15, even though two of my children are still home. They pop into my office to say a quick goodbye before leaving, and their bus picks them up right outside.
8:15 – 10:00: Powerblock 1. I know this to be my most productive time of day, and so I use it to make significant progress on my goals. While my overall working hours are from 8:15 – 2: 30, powerblocks are reserved for income-generating projects and tasks. Since it's first thing in the morning and I'm at my sharpest, I try to work at my standing desk so that I'm all the more focused and alert during this session.
The #1 factor to a successful powerblock? No distractions. There are zero notifications set up on my cell phone and the ringer is on vibrate-only during work hours. Nobody has my home phone number except for my husband and children. I never give it out; I wouldn't take an uninvited phone call during my workday any sooner than a doctor would answer his phone during patient rounds.
10:00 – 10:30: Lunch and abundance tracking. My daily abundance tracking gives me a productive reason to check email (I total up all the sales I've earned in the last 24 hours and clean up my inbox). If you're unfamiliar, check out my previous post, 6 Things I Do Every Day to Grow My Online Business to learn more.
10:30 – 12:00: Powerblock 2. If I can, I use this session to finish what I started in the morning. Completion is key! We're quick to reward ourselves for progress made, but the job isn't over until its done.
As an example, I create a lot of content for my business – whether it be blog posts, online training videos or books, there's always more content to be made. It's my main source of revenue.
A typical blog post takes me four hours from start to finish, so what was drafted in the first powerblock will be designed, edited and scheduled in the second.
12:00 – 12:30: Break. After a focused three hours and a working lunch, I need a breather. It's a quick recharge where I'm free to leave my computer, have another cup of coffee, move about my house, have a stretch, etc.
12:30 – 2:30: Admin. Right now, I'm still on my own and handle everything outside of income-generating production, such as Facebook groups, social media scheduling, tax planning, customer support, updating membership accounts, etc. If you do all of this for your business as well, I'd highly recommend moving admin tasks to the end of your work day.
Channel your highly creative, early-morning energy toward business growth and profit.
In the afternoon, I'm spending two hours a day on tasks that can easily be delegated and outsourced, when I could be creating high volumes of revenue for my business! By February, I'll have brought my amazing assistant, Jennie Rensink onboard with a part-time position, and she's going to clear my plate of this and help me produce MORE income-generating content.
This will soon become a third powerblock in my day. Since I spent the morning writing, I'll use the afternoon to batch film and video content.
2:30 – 5:30: It's time to walk my children home from school, and I use this trip to clear my head from the day's hustle. I have time to run an errand, if needed, and then I prep and cook dinner for my family. They're all home and we've eaten together by 5 PM.
5:30 – 7:00: I use this block to study (3x week) or go to a Pure Barre class (2x week). Because I'm coming for you, 2017!
7:00 – 8:00: Prepare for the day ahead. I do my hair in the evenings before my downtime because I'll primp for daaaaayyyys if I shower before work. I also make a list of things I need to accomplish the next day, and lay out my study materials where I can find them over coffee in the morning.
8:00 – 9:30: Downtime, then bed.
Action Steps
You've got this! To recap what we covered here:
Keep that New Year animal inside of you hungry by feeding it what it craves (results)! Methodically plug away at your to-do list, focus on completion.
Identify what you need to work on and in what order. Channel your energy into exactly what needs doing.
Ignore the internet. Nothing new is going on there; you already have everything you need to make progress.
Make new habits now. They'll lead to great changes.
Find a routine that works and stick to it.
Here's to your best year yet xx