Today we're going to look at how to build a marketing campaign for your online business using two different business models (product- and service-based) as examples. A marketing campaign is something you create before any major product launch or sales promotion you plan on running.
This blog post is an excerpt from my new book, Marketing Playbook: How to Scale Your Online Business to Outrageous Success. Marketing is everything that involves the customer. It's definition should be, "the act or instance of doing business." Because if a thriving business is what you want to have, then marketing is what you need to do. Simply put, if your business isn't exceeding your expectations, then marketing is the missing link.
During my 10-year career, I've built and succeeded at two different types of businesses. I'll refer to both of these in examples throughout this post. The first was a product-based online store, The Energy Shop. I marketed the shop to sold-out success, and during its run, it was in the top 2% of highest earning storefronts on Etsy.
The second is this service-based business and blog, Marketing Creativity. I offer marketing strategy in the form of books, online courses, and private consultations. My revenue exceeds a quarter of a million dollars annually, putting me in the top 8% of highest earning websites on the internet.
I know how to make businesses make money, and nothing matters online unless customers stick to it. My marketing strategies have a laser-focus on the numbers that matter in business (whether virtual or physical), and not views, visitors, and followers.
Now, here's how it applies to you …
You're severely overestimating the reach of your online presence. Your brand is most likely recognized as intermittent and unreliable. You think you're showing up in your potential customer's lives way more than you actually are. You think your outreach is way more significant than it actually is. And all the while, you probably even fear you're overdoing it.
These are the things I aim to remedy once and for all, so let's cut straight to the chase.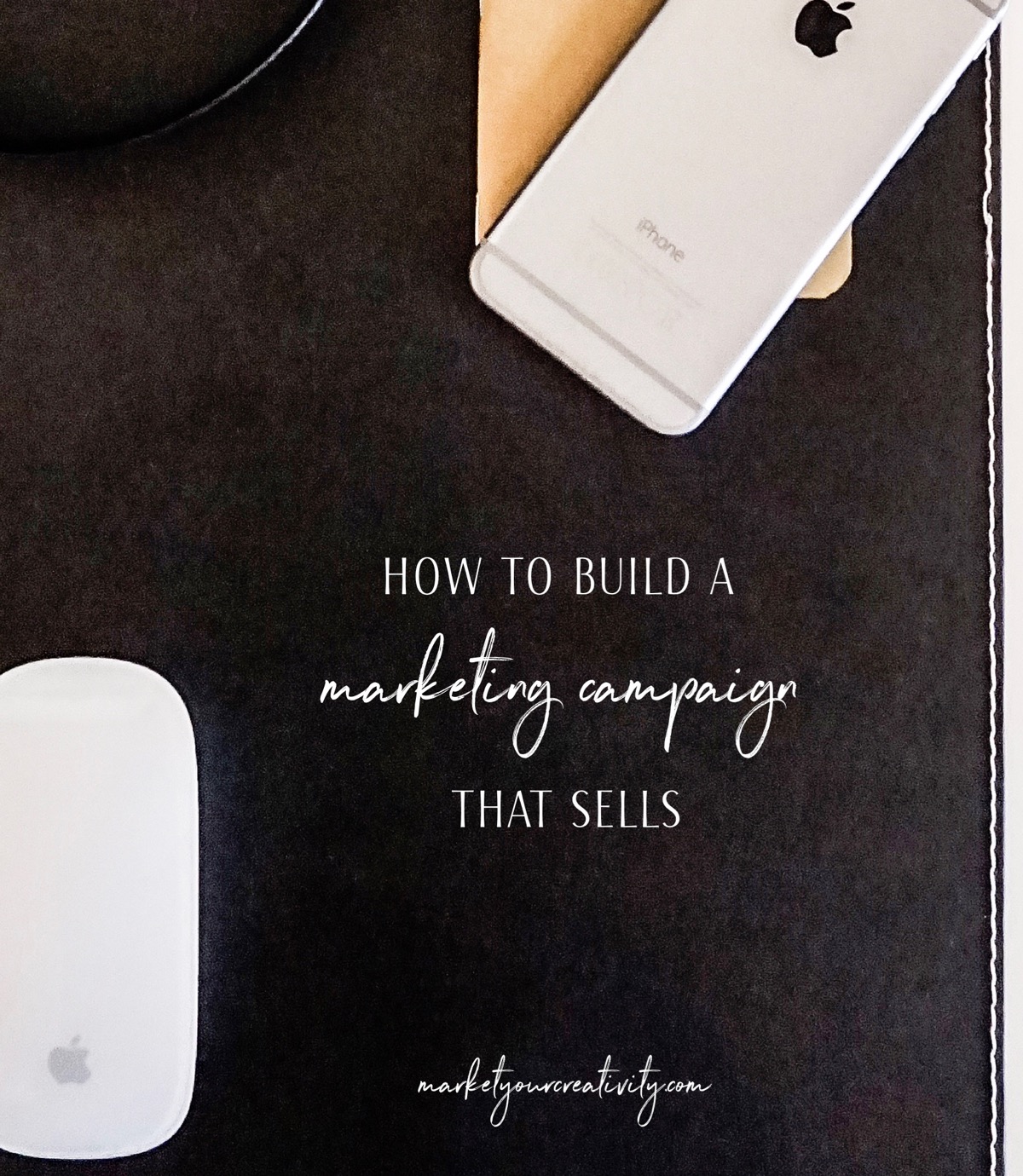 In relation to all that's happening on the internet, your business is a tiny speck in an infinite universe. As thousands, then tens of thousands, then hundreds of thousands of people find that speck, your business grows in size, reputation, and credibility.
In Marketing Playbook: Scale Your Business to Outrageous Success, I'm going to show you how to create a gravitational pull around your online business that attracts and converts more customers. You'll no longer merely exist online. You're going to learn how to become a force so large with a reach so wide that you'll outshine the competition and corner the market.
Build a Marketing Campaign
Now I'm going to show you how to build your own marketing campaign using two different business models as examples (product- and service-based). Regardless of what you're offering online, I encourage you to read through both as they each offer many takeaways.
Let's start with the basic blueprint you'll need to complete for any promotion or product launch. For every campaign you create, you'll need to name the marketing goal, a deadline (or run dates), potential earnings, advertising budget (where applicable), and the strategies you plan to employ for the campaign with dates for each.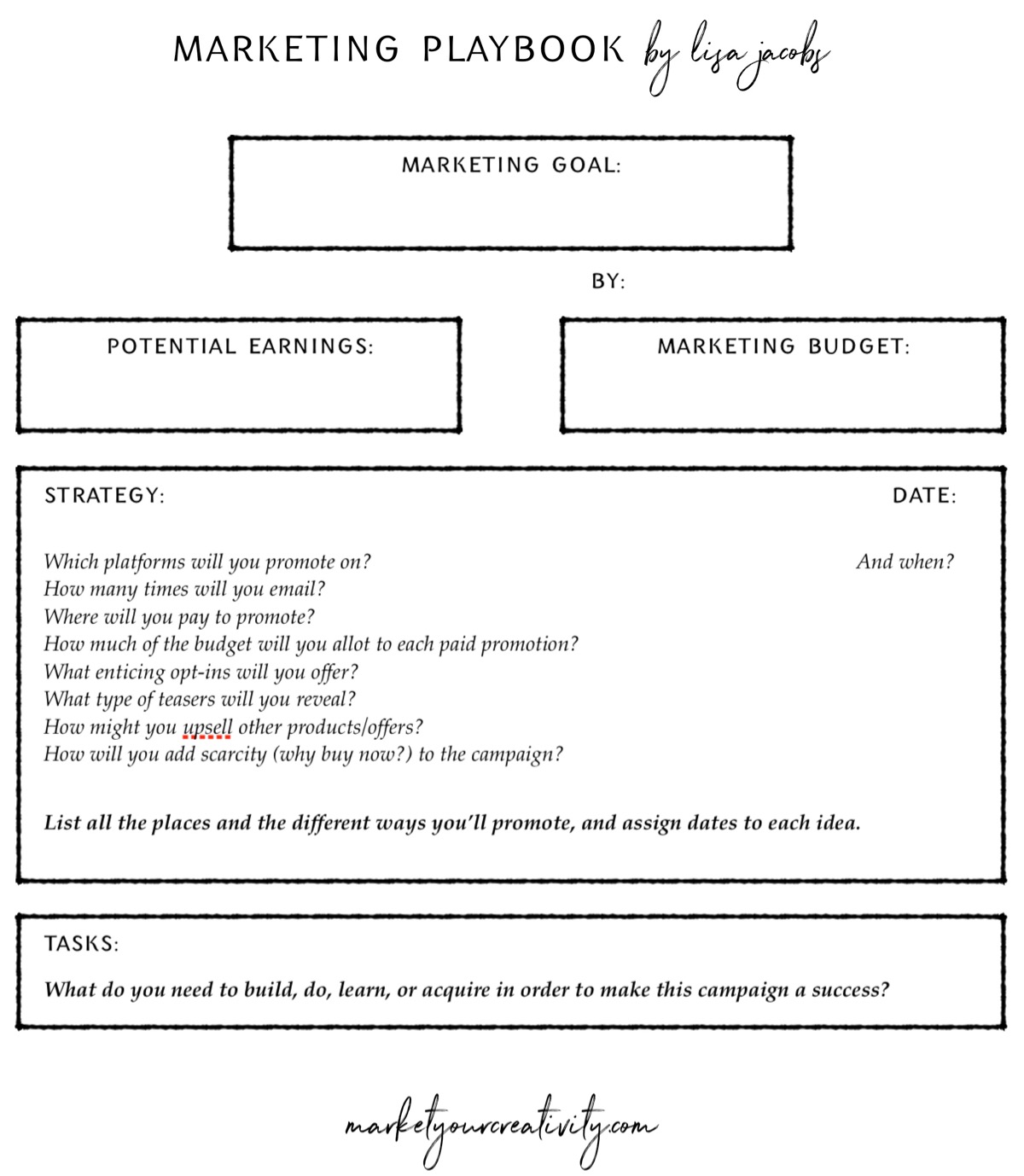 >> Click here to learn more about Marketing Playbook <<<
Build Your Own Campaign (Product Example)
Next, I'm going to fill in the campaign blueprint using examples from my own business. I'll start with my best-selling product promotion, the Friday before Black Friday Sale.
For this promotion, I offered a 40% discount (wholesale pricing). It was always my most anticipated sale of the year. Here is how I ran the four-day deal:
Thursday Night
The customers on my email list get an exclusive invitation. Since stock is limited, my list gets first dibs. I make sure to let them know that they're getting the coupon code early, urging them to get a  jump on the crowd.
Friday before Black Friday
I publicly announce the sale via social media. In the past, I've spent anywhere from $20-300 promoting the sale on Facebook.
Saturday
On Saturday, I begin a barrage of "last chance" reminder announcements. They will run at scheduled intervals for all social media channels (every four to six hours).  I also send a Saturday morning email that highlights remaining stock and reminds customers that there is only one day left to take advantage of this sale price, while supplies last.
Sunday
I schedule an "Hours Left!" email reminding customers to take advantage of their coupon before it expires.
This campaign was repeated every year, and it's success only grew over time. Marketing Playbook is focused on low-cost/no-cost marketing strategies, so in the following examples, I keep the advertising costs low. However, my Friday before Black Friday strategy had absolutely proven itself over time, which would make it a safe bet for investing.
Now that I've told you how the sale runs, I'll show you where it starts and how I brainstorm different ways to get (and keep) my brand on everyone's radar throughout the promotion.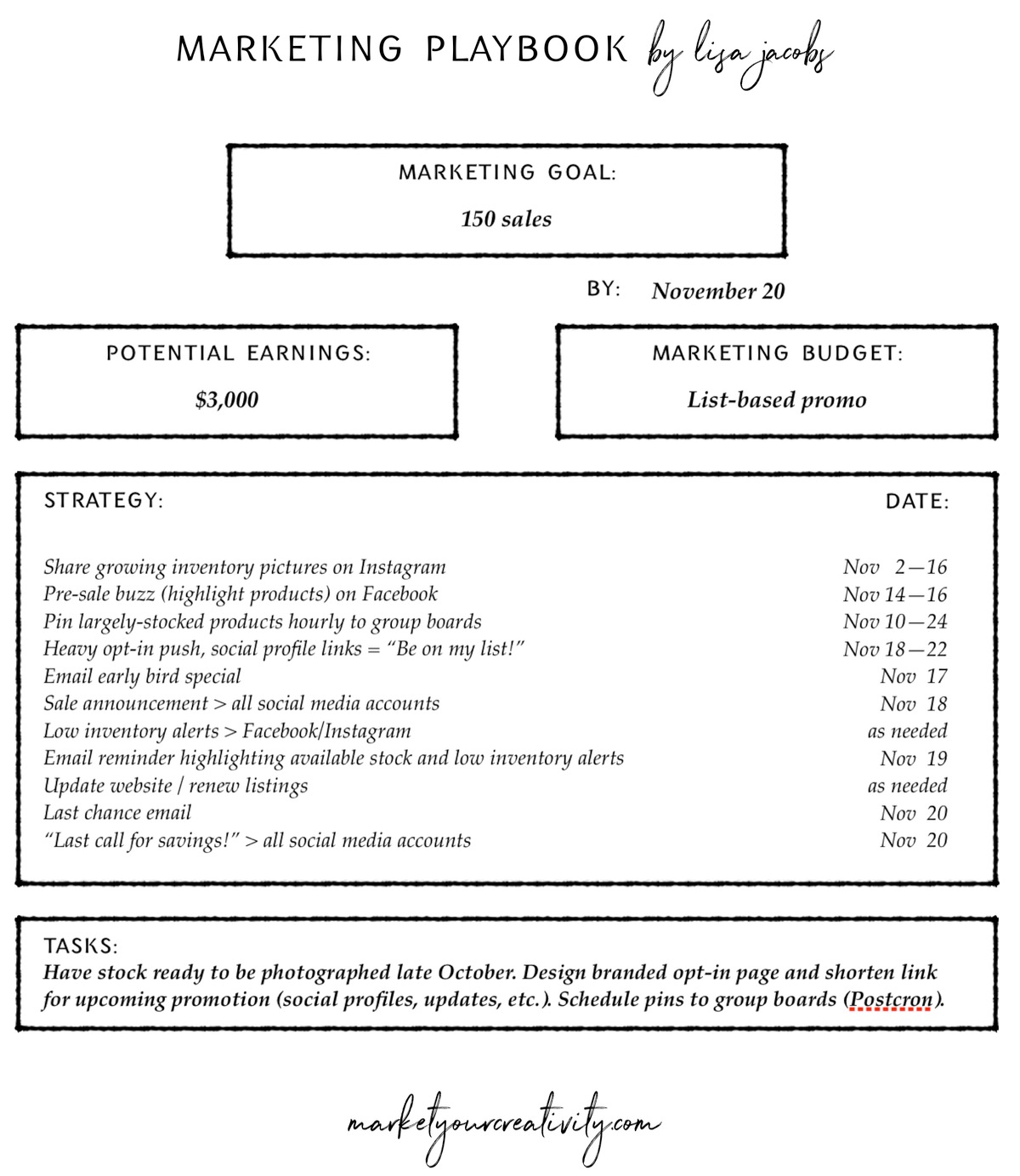 >> Click here to learn more about Marketing Playbook <<<
For products, I use a sales number versus a dollar amount for the marketing goal simply because there are a range of pricing options. My average sale at The Energy Shop was $20, so I'm aiming for 150 sales or $3,000.
Just setting the marketing goal for my upcoming promotion was always an eye-opener because the product was handmade. I usually didn't have this much in stock, which told me what to focus on months in advance of the sale itself.
With a product-based business, you don't want to promote sales too early. Doing so will stall regular-price sales for the month leading up to the promotion. However, you will want to highlight new products and the inventory you're accruing.
Focus your pre-sale promotions on "get on my list" campaigns, not upcoming sales dates and information. The biggest percentage of sales conversions will happen via email, every time! Change all of your social media profile links to opt-in forms. Make sure every anticipatory post you create gives potential customers a good reason to subscribe to your email broadcasts.
You can come up with a lot of ways to entice them:
Sign up for my list for an extra 10% off sale prices!

Email subscribers get first dibs on available inventory!

Join the pre-party and get email-only early bird access!

Subscribe now for exclusive bonuses (email only)!

Sign up for private training and introductory offers not available anywhere else!
Now that you've used your upcoming promotion to beef up your email list (growth), it's time to actually host the sale itself (profit). For the Friday before Black Friday sale, I activated the customer's coupon code on Thursday and distributed it privately via my email list.
I've since dubbed that announcement the "$1,000 email" because it always generates more than $1K the day it's sent. I edited the same email several times a year (changing only the seasonal greeting, coupon code and dates) for whatever promotion I was sending.
Build Your Own Campaign (Service Example)
Next I'm going to show you the behind-the-scenes schedule of the launch of my signature course, Complete Copywriting.  It is typically open for enrollment for two weeks, and I like to kick off the launch with an exclusive early-bird registration.
You can easily apply this same launch schedule to your next product release or seasonal promotion, and I encourage you to check out Complete Copywriting to make the absolute most of your time and efforts around the launch (it's a lot of work, you'll want maximal results).
As with the product-based example, I'll first tell you how the launch is organized. Then I'll show you the campaign blueprint where it all starts and how I brainstorm different ways to get (and keep) my brand on everyone's radar throughout the promotion.
12 Weeks Before
Nail down product details and deliverability. Whether I'm creating an ongoing course (several modules), a book, or a single class, I organize the details and have a loose outline of the project at least 12 weeks before. Here I determine: what type of product it is, what it's going to do for my clients, and how I'm going going to deliver it. For this example, the product is an 8 module course delivered weekly. Additionally, I hosted two bonus classes live (using private webinar-hosting) to give both myself and the students an inclusive classroom feel.
Create a product-oriented opt-in offer. The first thing I create and promote for a product is the opt-in offer that speaks directly to its ideal students. For Complete Copywriting, I've created a webinar ("Copywriting Secrets of a 6-Figure Business"), a product listing workbook, and a copywriting checklist.
Build a marketing campaign. Now that I know the details and the loose needs of the project (a guesstimate of how much overall work will be involved), I plug launch dates into the campaign blueprint. Be sure to allow yourself an extra two weeks leeway. Tasks inevitably take longer than you expect.
Start course research and build. I won't be anywhere near final draft of the project at this stage, and I'll be adding finishing details until the last minute. I spend this time up front to ensure my trainings are the most comprehensive coverage of the topic on the market.
8 Weeks Before
Name a sales goal for the product. I typically use the number of subscribers on my email list and project a 1% sales conversion, based on that number (for example, if I have 16,000 subscribers, I projected 160 sales).
Write the sales page. Right around this time in project production, I'm really excited about it and the potential impact it holds for creative businesses, which means it's a perfect time to channel that excitement and write the sales page. I refer to the sales page throughout the rest of the course build to ensure I'm delivering everything I promised–it almost becomes my "table of contents" on the project.
Decide on pricing. To come up with a fair price for both me and my students, I test my offer's return on investment. For example, I'd been having private clients test the material in my Complete Copywriting course, and they were immediately reporting huge returns. One of my clients made (an unexpected!) $776 in a week by using just one technique in my program (and this was a technique she could easily repeat four times per year). Therefore, I knew the course had an excellent return on investment.
Figure out the potential return on the launch (a dollar amount, i.e. if 50 people bought it at $99, this launch could be worth $4,950). I'll do this early on to determine whether or not I want to advertise or invest to make a good launch even better. If I do choose to advertise, I promote the opt-in, not the course. In service, I never ask for sales from strangers.
6 Weeks Before
Create an editorial calendar based on the topic at hand. I aim for one blog post per week, but if it was my first launch and/or my list wasn't as established, I'd aim for at least two blog posts per week.
Identify the product's narrative. This is a copywriting technique, and probably more advanced than you'll find in most launches. I like my product launches to deliver extreme value; I want people to love that I'm selling something even if they don't buy. Since launches have me talking about one specific topic for more than a month, I try to create an overarching storyline that is useful and engaging. For example, during The Luminaries Club launch, I taught a narrative on gaining exposure for your business (common problems we all face, as well as solutions and techniques to overcome them).
Ready the sales page and course distribution. The last stages of a launch are busy and quite overwhelming. It's a lot. The more you have ready, the better off you'll be.
Add the finishing touches to the user's experience. Imagine you just bought the product you plan to sell. Test the flow and delivery—it's important, and it's a nightmare if you don't have all of your ducks in a row beforehand. Work out any kinks as early as possible to save yourself a lot of stress down the road.
4 Weeks Before
(Optional) Set-up a live webinar. This was new to me when I launched Complete Copywriting, and if I'm honest, it really pushed me out of my comfort zone. I've taught on CreativeLive and have plenty of experience presenting at other people's webinars, but I'd never self-hosted a live call before. Now several in, my webinars have an average 20% sales conversion! (The full breakdown and set-up, plus my webinar template and sales script are all included in my Complete Copywriting course). To host a webinar, you need a host (I use Webinar Ninja), a prepared presentation (I use Keynote and shared my screen), and ideally, a moderator (I use my assistant, Jennie Rensink). Plan and prepare your webinar about four weeks out (practice the entire call out loud), but don't announce it until a week before it airs.
Write your sales emails. I email about the product six times in ten days. For this launch, I emailed ten times in twenty-one days. My emails generate the vast majority of my sales (very few people buy expensive programs straight from my blog), and my sales campaigns earn as much as six figures per quarter.
2 Weeks Before
Host a webinar. I teach a masterclass titled, Copywriting Secrets of a 6-Figure Business, which includes a pre-order special bundle, and both replay and offer expire 72 hours later.
Launch the course. The day the product launches brings an end to my 3-month long campaign. I spend this week welcoming students, letting the finale of my email sequence roll out, and standing by to answer any last-minute questions.
If it looks like a lot, that's because it is. But, the great thing about online business these days is that everything is repeatable. If you look at the above sequence and take out: the course research, the course build, the opt-in build, the course testing and pricing (but ADD collecting testimonials), the product's narrative, the sales page, the welcome sequence, the user's experience, the webinar presentation, and the emails … because they're already written, researched, prepared, and ready! What will that mean for your business and your schedule next year?
For a more visual look at this process, I'll plug it into the marketing campaign blueprint.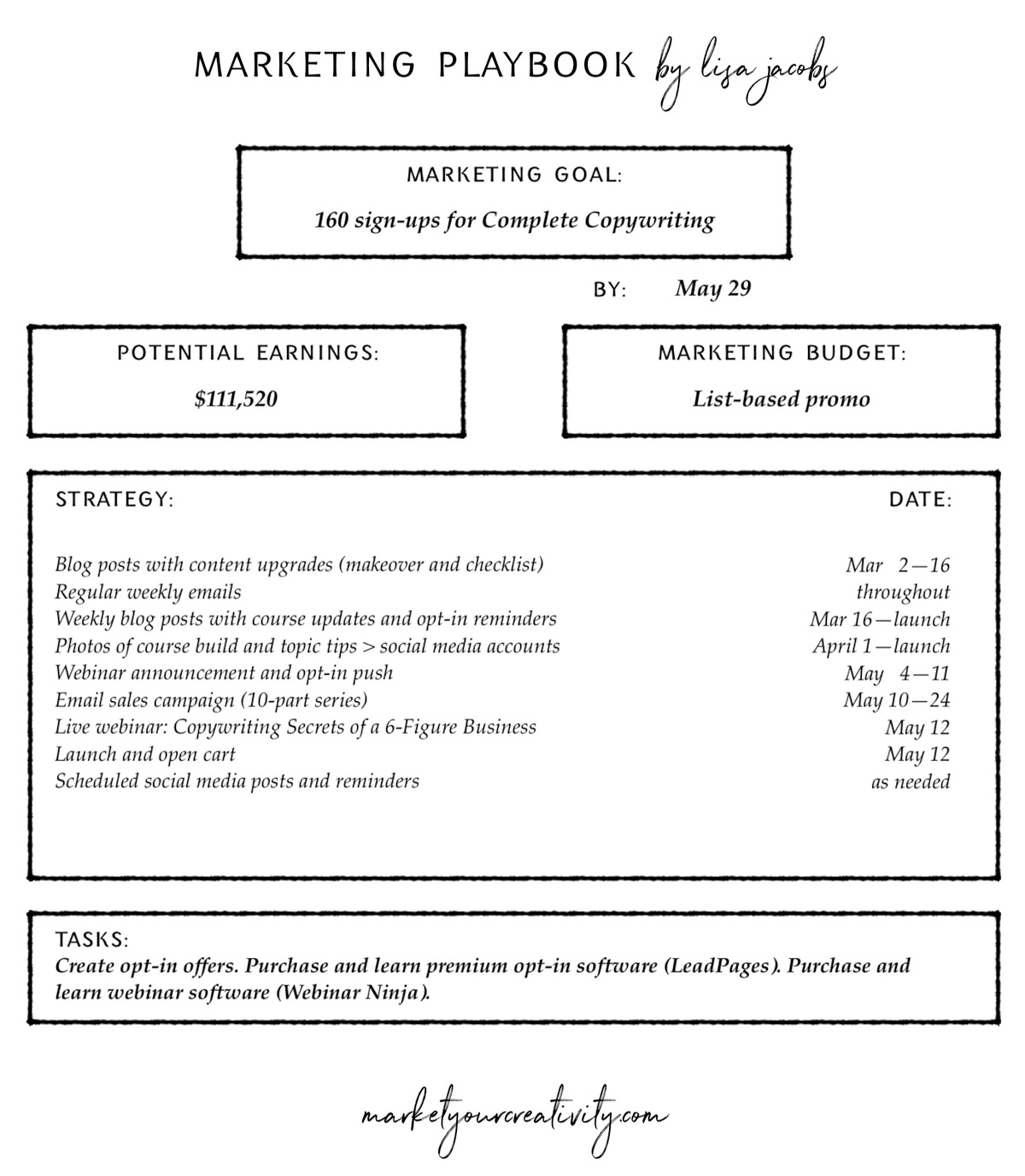 >> Click here to buy Marketing Playbook <<<
When you combine confidence in your offer with a clear vision for your campaign, you'll always know WHY you are asking, sharing, working, posting, and making a product. It gives purpose to every hour you spend on your business.
Marketing Playbook
This is just a *glimpse* of what's inside Marketing Playbook: How to Scale Your Business to Outrageous Success. It's the most comprehensive and most affordable training I've ever packaged, and I'm so excited to see the results YOU create with it.
>> Click here to learn more about Marketing Playbook <<<
Here's to your most profitable year yet xx