I'm so excited to share my home office remodel with you all today! I have tons of before and after photos for your viewing pleasure, plus shop-able links to many of my favorite things.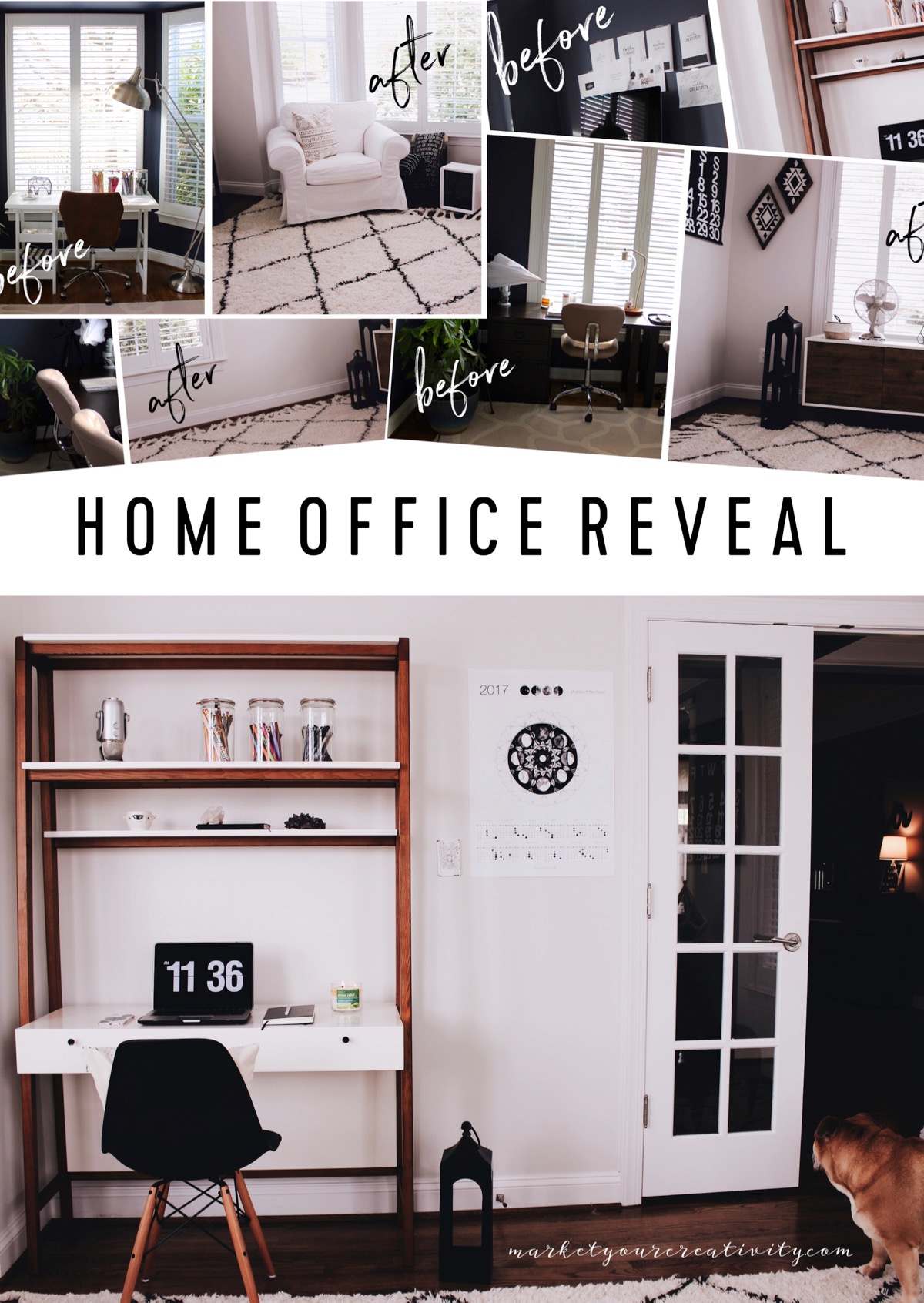 Let's start with a full picture of the before. I recently moved into my new home, and this one had a slightly smaller office than my last home. I love that it's situated at the very front of the house, and it's full of light and windows with plantation shutters.
I moved in all of my office furniture from the previous house, where I also had a wall of built-in storage. Lack of storage was public enemy number one in my "before" photos. Everything was cluttered and piled up on itself, and I had very little wall space to add shelving (because of all those windows).
All "before" photos have been edited to add brightness. It was painted dark navy blue, and I'm a fan of the color but not in this space. Pictures and video were dark and dreary in this room. Regardless of all of the light pouring in, the wall color made it feel like a cave.
There were a few pieces of furniture I loved, but I was committed to starting fresh from the ground up, if necessary. I wished I could repurpose some of these desks and lamps, but none of them ended up in the "after" shots. As much as I tried, they just didn't fit the vision.
I started by painting the entire room Sherwin Williams Origami White. It was one of the scariest color decisions I've ever made. Since the beginning, my office walls have been baby shades of blue. I can't remember why, but the answer was always baby blue. Going so white and bright in this space was nerve-wracking for me, but it paid off big time. The room is now a beckoning beacon of light!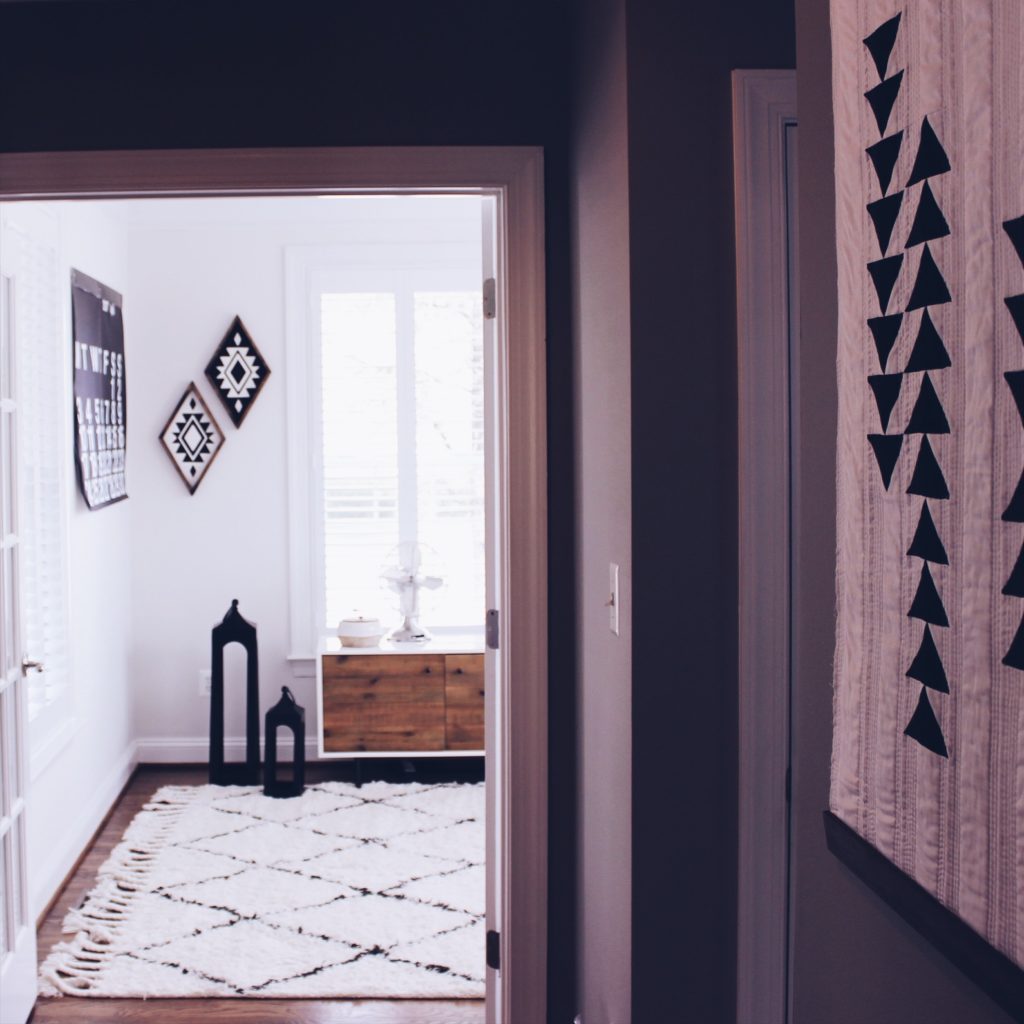 Here is a full "after" look of my home office.
This room also has a gorgeous pair of french doors as the entrance.
Here are the before and afters and shop-able links (I am an affiliate to some, which means I generate a small commission at no extra charge to you).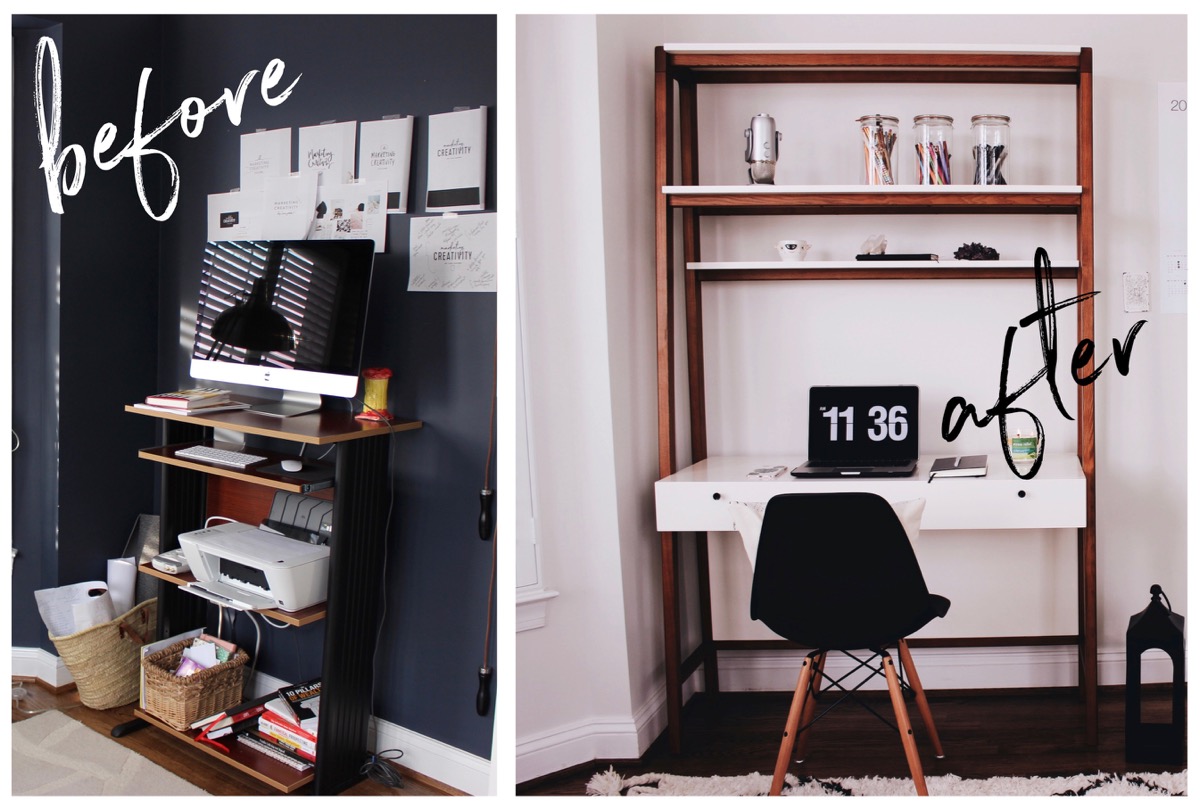 Before: I couldn't let go of this standing desk. It's too important and functional to me, but I moved it out into a more open space sans all the clutter beneath it.
After: I replaced my standing desk with this gorgeous mod wall desk from West Elm. Other details in this shot: Blue Yeti mic, Weck jars, Noe Marin planter, black Eames chair, and lantern (large).  And this is where you can find that gorgeous lunar calendar from the shot above.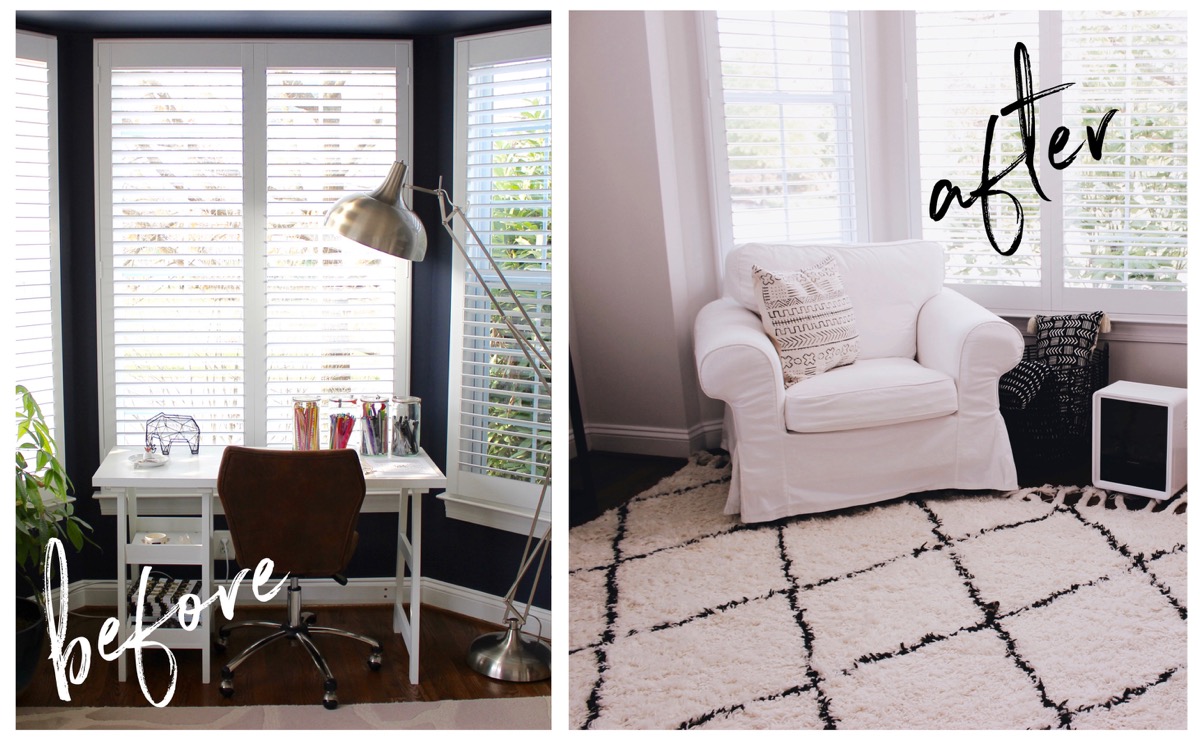 After: I replaced a simple white desk with my favorite Ikea chair (I collect these like I collect desks; I have way too many of each). Other details in this shot: Marrakesh shag rug, textiles from Modern Clementine, a black wicker basket from Target, and the cutest space heater ever.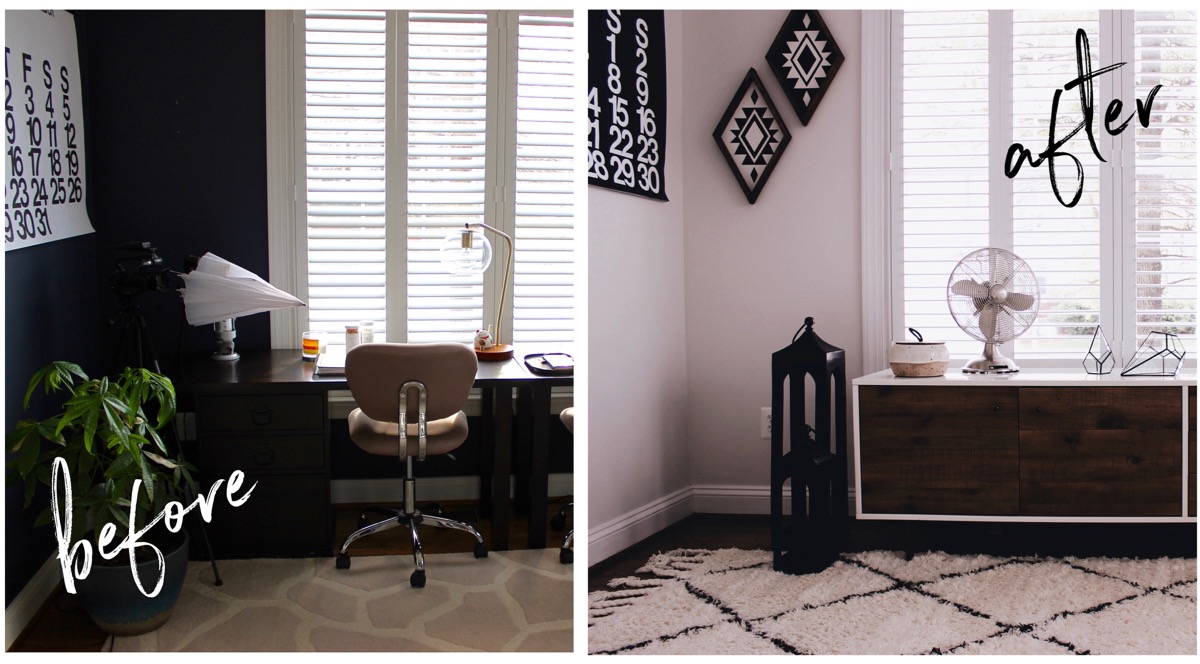 After: I replaced two bulky desk and chair sets with this reclaimed wood and lacquer media console from West Elm. This decision was nothing short of genius, and I'm so proud of it. First, its height is perfect for the office windows, and it tucks in just beneath the last row of plantation shutters, allowing even more light into the room. Second, it's hiding all of my ugly equipment and storage bags (the printer's inside and wired through the back, and my photography and video equipment all fit neatly inside the different comportments). Other details in this shot: Letterfolk board (shown in pics above), geometric terrariums from Hobby Lobby, that fan, pot from Target, lanterns (large and extra large), pictures from Northwood Supply, and a Stendig Calendar (go reserve you one!).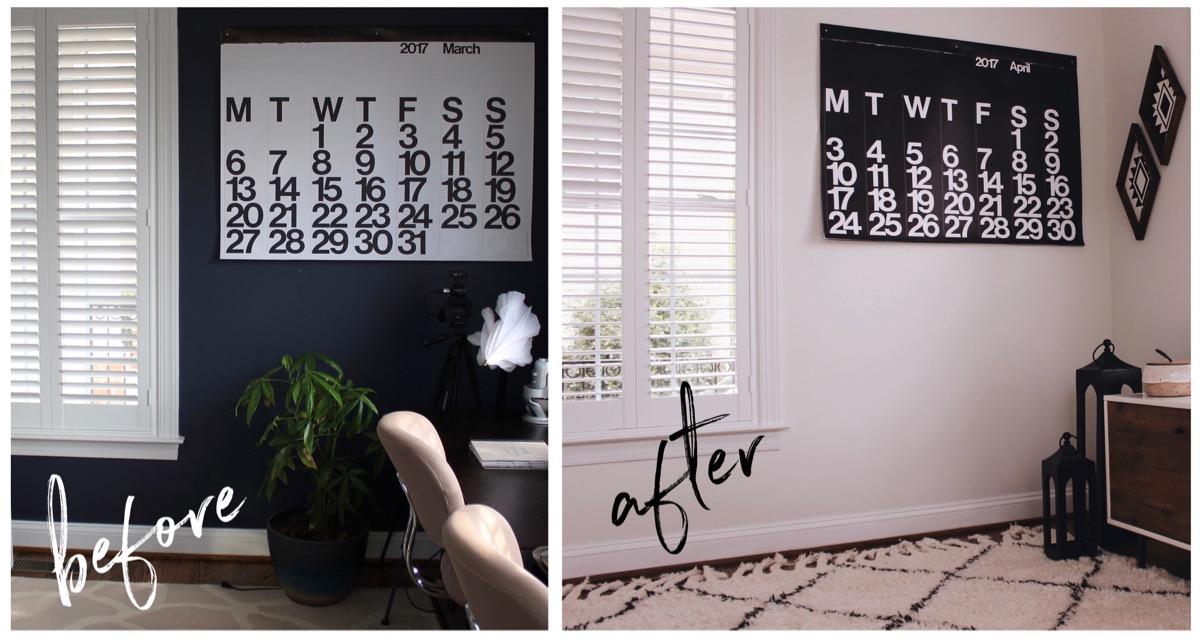 I had so much fun redecorating this space and writing this post! Thanks for checking it out xx