Email is the number one sales tool for businesses, and today we're going to talk about how to make an impact with every email you send.
One of my favorite things about email marketing is not only the customers you can find and retain, but also the opportunities you can seize by building your own niche audience. It eliminates the gate keepers (traditional publishing houses, retail licensing firms, even TV producers) which allows you to create the audience for just about about any marketable thing you want to build.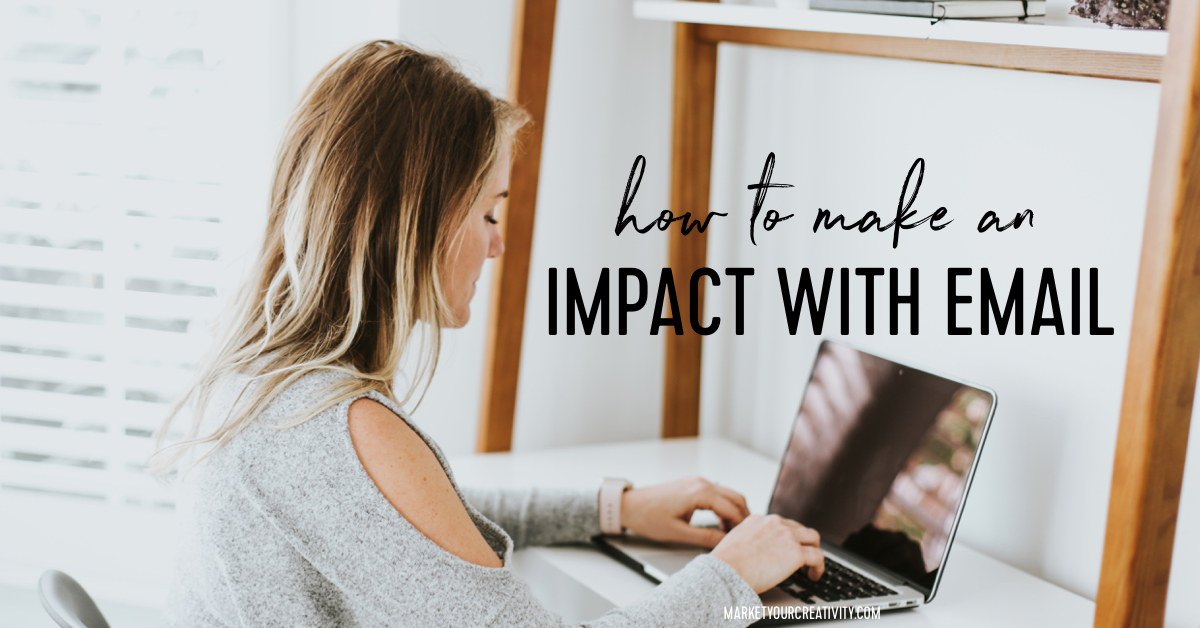 Emails are a form of copywriting, and by my definition, copywriting is the language that builds relationships in business.
Good copywriting adds movement. It brings LIFE! to your online business. It honors the buying process. It's what motivates your customers through the sales funnel, guiding them from new visitor to loyal friend.
And, of course, email plays a big role in that process.
In this post, I'll cover …
how often you should email your list
how to get more customers to open your emails
how to improve your email deliverability
how to entice people to read your emails to the end,
and how to set up an auto-responder sequence that builds trust
We'll start with an overall look at the value, formula, and purpose of your email campaigns. You are a small business, and your email campaigns are going to create trust, build intimacy, and encourage movement. When building your email strategy, keep this formula in mind:
clicks > opt-ins > pre-sale sequence > offer > sale
Email Schedule
How often should you email? The age-old question! This will vary for everyone.
A better question to ask is: When do you have really good reason to email? As you'll learn next, you always want the recipient to respond in some way, not just receive the broadcast.
Your emails need purpose. Any email you compose should do at least one of the following:
Introduce / build the relationship
Engage the reader with added value or information
Encourage sales
Never send an email without purpose just because you think you should send one to keep on schedule. I believe in quality over quantity. An email schedule doesn't mean much if you're emailing for email's sake, and customers have come to expect unwanted fluff from your "regularly scheduled" campaign.
Reader Conditioning
Reader conditioning means that customers who receive the email know what to expect from you, eagerly open your email, and anticipate the content inside—essentially, they respond and react the way you hope they will.
For example, I only ever emailed my best promotions to my product-based business, the Energy Shop. Because of the nature of the email (irresistible promotion, limited inventory), subscribers became accustomed to opening and shopping as soon as possible.
That's reader conditioning. Therefore, your schedule isn't as important as sticking to the script (in other words, only send emails that add value).
As another example, I always leave the best information for last in emails from Marketing Creativity. I end with teasers (known as "curiosity loops"—in which I give the reader enticing information on what they'll gain from the next email). Likewise, I leave free products or the article promoted in the email's subject line at the tail end, towards my sign-off.
When recipients reply to say, "Yours are the only emails I read to the end!" I know my emails are doing their job. Writing is my living; I need people to want to read it.
Impactful Content
I avoid sending emails that aren't purposeful or meaningful. I'd rather skip a few weeks' worth of newsletters (schedule be damned) then send fluff that wastes people's time. Before you send your next email, make sure it checks the following boxes …
Speak to wants versus needs
A fellow blogger I follow online launched a "social media cleanse" program in which she challenged you to stay off all things social for 30 days.
I thought to myself: Great blogger, terrible copywriter.
People never want to hear what they need to do. Deep down, they already know what they need to do, and they also know that getting it done is going to be hard!
Do we all know that 30 social media-free days would do us a world of good? Do we know that we need it? Of course! Do any of us want to make that difficult choice and sacrifice the instant gratification that comes with little red notifications?
Of course NOT!
Never tell them what they need. Instead, show them that you know what they WANT. Then, find a way to teach it, demonstrate it, deliver it, or systemize it—ultimately, package it as an "easier way."
As David Garfinkel put it, "You can make a fortune selling people what they want, but you can go broke selling them what they need." My fellow blogger friend can attest to that!
Eliminate the passive voice
A student of my Complete Copywriting course shared some outstanding copy from her re-written listing. Before her final edits, the third paragraph said:
"Imagine hosting an event and impressing your guests with glamorous cakes, sparkling cupcakes and glittery donuts."
I suggested she edit that to read: "Impress your guests with glamorous cakes, sparkling cupcakes and glittery donuts at your next magical event."
Why? Verbs are always stronger without the -ing (i.e., "Imagine hosting and impressing" changes to "Impress and host"). When you find that in your emails, always try to rewrite it without the -ing to make a firmer statement.
Read it aloud
To test how conversational your email actually is, read it out loud. It should flow and sound casual, as though you're writing to a familiar friend. Anything too choppy (a lot of short, incomplete sentences or ideas) needs to be edited for brevity, and then combined into one or two complete sentences.
If it doesn't read well out loud, it won't read well to the customer. I always read my final proofread aloud—for any writing I do. My blog posts sound so natural in conversation that I sometimes read published posts right off the page during live webinars! To the viewers, it sounds like a normal, if not polished presentation.
Meet your customers where they're at
One of the biggest mistakes online entrepreneurs make is to write with the assumption that the reader has the same knowledge and has done the same research that they have. Never assume your customers will connect the dots, or follow indiscreet links, or even know enough to understand your technique unless your specifically marketing to an advanced crowd. For example, I've changed the casual links in my newsletters to highlighted, decorated, headline-like links, like so:
<<< Click here to learn 7 things your customers are dying to hear! >>>
See the difference and how you might miss the first link if you were scanning the body of the email?
Email Deliverability 
Things that can effect your email's deliverability (meaning, your email's potential to reach every subscriber on your list without being rerouted to junk folders or blocked by the recipient's mailbox provider) will be ever-evolving in online business.
For instance, a recent change to DMARC policy threatened to greatly impact deliverability for anyone sending "From" a gmail.com return address. Failing to comply would result in a "hard bounce" from your list's mailbox providers—essentially unsubscribing people from your list! Such factors will always be changing in our online world, so keep an ear out and a watchful eye.
That said, there are a few constants you can rely on to boost your email's deliverability (ensuring more customers receive and open your emails). Mailbox and internet service providers deem your email important if recipients take any of the following actions …
Open the email,
Click provided links within the email,
Favorite or star the email (marking it important), and/or
Reply
Knowing this, you'll want to plan and compose your emails in a way that creates action and movement while improving deliverability.
You may remember emails I've sent in the past in which I prompt readers to "hit reply and tell me …" something relevant about their business in regards to my campaign.
These conversational campaigns are planned early on in my launch strategies for two very good reasons: (1) The answers are going to inspire my copywriting; the hundreds of responses help to shape the product I'm building, and (2) all of those replies boost the perceived value of subsequent emails in the series, ensuring better deliverability.
Effective Auto-Responder
It's vital you build an effective autoresponder sequence for new sign-ups. An autoresponder is an email or series your email manager sends on your behalf when a new subscriber opts-in to your list.
Important tip: When you build opt-in forms, be sure to require the customer's first name, in addition to their email address so that you're able to personalize the email's opening and subject lines as needed. (This is typically done by using the "merge field" command, and then insert "contact first name" when composing an email from within your management service).
From the customer's perspective, here are a few things to incorporate into your autoresponder campaign (where applicable):
Who you are – why the customer should want to know you
What you stand for – quality and integrity the customer can expect
Why you're different – #1 reason your business is in a league of its own
What they can expect + how often – Type and frequency of emails
More ways to connect – How to find you on social
If some of these suggestions don't apply to you (or you're not quite sure how to incorporate them yet), DO NOT let that stop you from building and improving your current autoresponder campaign. Do what you can now, and revisit your autoresponder quarterly to consider what you can improve.
Here's to your success!