For the last few months, I've been emailing you some highly conceptual research and insight, and the content has been a bit dense. Today, I thought we'd do a light recap + a fun little review.
In January, we revisited goal-setting as a whole—specifically, where are easy choices making your life harder? Along with the 3 D's for achievement: the destination, the difference, and the deadline. I found the review of that article necessary for myself this morning, and as we close the first quarter of the year, you might find it useful as well.
In February, I shared my 10 key takeaways from Essentialism—a book that's greatly shaped everything I do these days. Some of the great questions that it inspired:
What if you didn't add anything to your lineup or schedule this year, only subtracted?
Would it be possible for you to do less, but better? Is there a point at which doing more does not produce more?
Is there a point at which doing less (but thinking more) will actually produce better outcomes?
And finally and most recently, I wrote about 2 concepts that I've been studying from the same text: The Paradox of Success and Poietical work. I loved how this content hit a home run with you! My inbox filled with so many of you sharing your a-ha moments, and the key questions we looked at there were:
How can you bring forth more from work that already exists?
Is your pursuit of success endangering success itself?
These concepts have made me rethink my approach to work and business entirely. And if this content has your gears turning … GOOD! There's so much more to come!
Today, I'm taking a beat to review the first quarter of the year. I'd be honored to be a reset + reminder toward your biggest accomplishments, and one important aspect of that is to sometimes stop and take a gander at the progress we've made so far.
The Survey Says!
In a February email, I included the link to a content survey form to help me plan Sunday emails and other possible projects. Words cannot express the level of gratitude + excitement I felt, thanks to the hundreds of responses that came in. It was like Christmas morning for me, and I appreciate each and every one of you for taking the time.
If you'd like to tell me more about your preferences, it's not too late! In it, I'm asking:
What are you working on right now?
What areas of your life and business are you hoping to strengthen?
What topics can I cover that might support you better?
Again to those of you who responded: Thank you for the beautiful treasures that I received. I devoured each and every word. You truly made my day!
I MET OPRAH!
To the question: "If you could meet anyone in the whole world, who would it be?" My answer has been the same for the last 30+ years: Oprah ❤️ And, I mean Oprah, Oprah, Oprah! I used to watch her show every day after school since the 7th grade. I subscribed to her magazine, I read all of her book club reads, I got Oprah-related things from my husband each year for Christmas—her life planner was one of my gifts this holiday past!
And then, on Tuesday, February 8, 2022, this happened …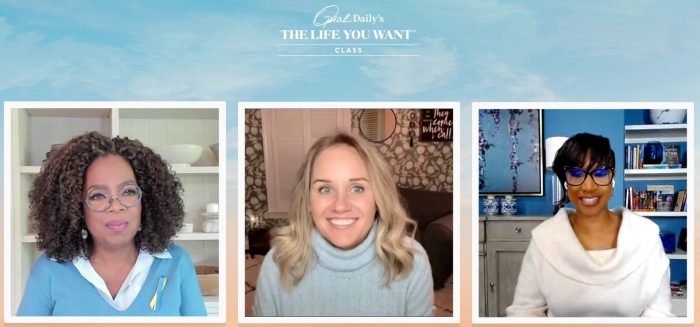 I'm honestly still processing and learning from the magic that occurred, but oh my gosh! SHE SPOKE TO ME, she LAUGHED WITH ME, and I was absolutely captivated by her presence—as always.

I immediately felt the pressure to come up with a new answer to this question: "If you could meet anyone in the whole world, who would it be?"

And the day after this was filmed, I decided: Oprah (again) ❤️
12 Big Things
Meeting Oprah came as a result of one goal I set this year: Do at least "12 big comfort-zone busting things." Meaning, when an opportunity comes up that both excites + scares me a little, I have to go for it. I don't decide these in advance, I'm simply committed to remaining open to them. And, it's been so fun to watch what's come up for me so far!
In January, I answered a questionnaire about Oprah's new life planner. It resulted in a casting call which resulted in Oprah talking with me (!) during a monthly life class she's hosting this year.
I saw the opportunity, I imagined the outcome (so big, so exciting, a little nerve-wracking), and I went for it.
I'm loving this challenge because it's light and easy and low-pressure. I don't need these little comfort-busting things to pay off, I'm going for them in the spirit of: it'd just be so wild if they did happen! Believe it or not, I think that attitude is the very thing that's making these big wishes come true.
Until next time and all the best,