Happy, Happy New Year! I can't put my wishes for you into writing hard enough! Let this be the year your dreams come to fruition, your actions come into alignment, and your biggest goals see completion for the highest good of all concerned. Let these be days filled with peace, love, harmony, JOY, beauty, and empowerment!
I wish you the happiest and brightest 2023!
Personally, I've been spending the early beginnings in serious reflection. I haven't even set goals yet. I'm still tying up loose ends and reviewing all that I want to love and honor from 2022.
And that's perfectly well and good. You don't have to set goals or do annual planning on a specific date or within a specific timeline. Doing these reflective practices at all is doing more than most. Wherever you're at in the process, well done!!
An Annual Planning Podcast Round-Up
I've been podcasting all things annual planning! In case you haven't heard, I'm the Head of Operations (internally known as the Integrator) for Bonnie Christine. Many of you know who she is, either via your own discovery or my countless mentions over the years.
In November, she started a podcast, The Professional Creative. And it quickly rose to the top of the charts! Bonnie's an absolute natural at guiding creatives through the hidden obstacles on their path to success, and if you listen to only one podcast this year, this is the one I'd recommend!

I've had the extreme honor of being a guest on this show to discuss, what else? All things planning, productivity, and annual strategy!
If, like me, you're still harvesting the bounty from 2022 in your review and reflection, then you will love to consider these episodes when planting seeds for 2023:
You can tune in wherever you listen to your podcasts!
Episode 13: 

Stuck in the Daily Scramble


In this episode, I share two key concepts for understanding creative energy and the ups and downs, highs and lows we all go through along the entrepreneurial journey.

Episode 14: 

Tame Your To-Do

List
In this episode, I offer a cure for the daily scramble and introduce the OCN Method, as taught in my program, 

Fast Track Toolkit

. I haven't shared with you all the feedback I've gotten on this program, but I've never heard more 7-figure+ entrepreneurs raving about anything else, ever. And you'll hear Bonnie do the same.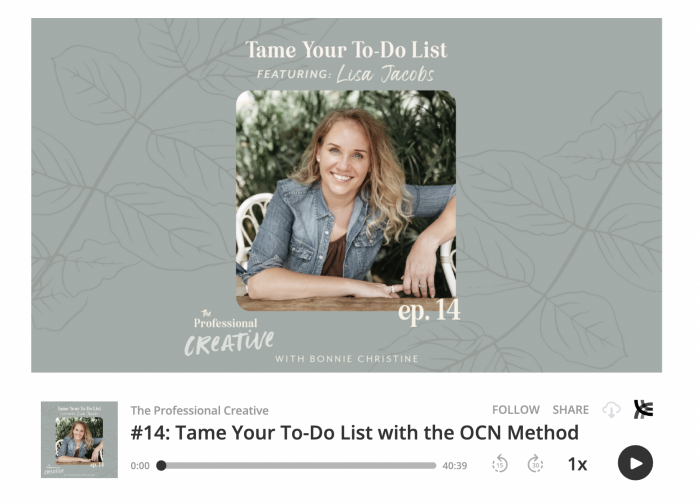 Episode 18: Annual Planning for your Best Year Yet
In this episode, Bonnie and I share our favorite ways to dream big when planning out the year ahead, along with the most important elements to consider and include.
Those are my features, but I highly recommend starting from episode one. For your annual planning purposes, you'll definitely want to add Episode 4: A Map to Success to your downloads—Bonnie developed this new success path last fall, and I am obsessed with it!

I've experienced the most euphoric delay in all things ambition here at the beginning of the year, and I am rolling with it! Like I said, it feels like a harvesting of all that 2022 had to offer, and I am collecting that bounty like gold, for all its worth. How about you?
Here's to Your Best Year yet!