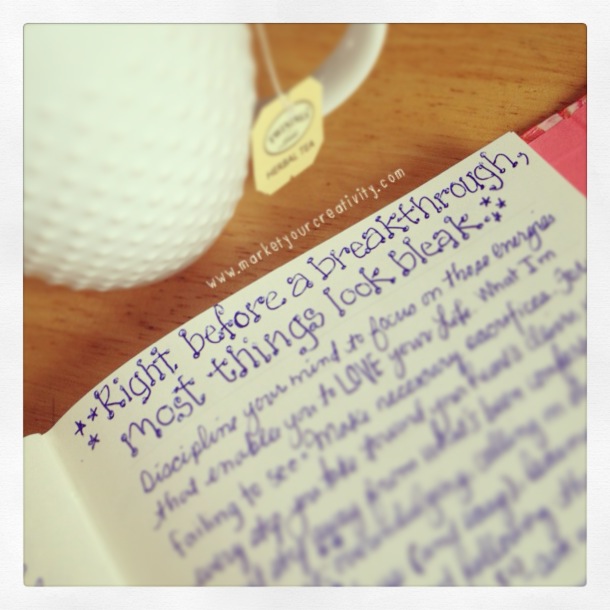 Last year around this time, I was preparing to launch my first e-program, Shop Fundamentals. That project was my only focus for a few months, and I didn't have any plans for after it was finished. What I learned the hard way is that that's the recipe for a post-production hangover. I spent the next two months aimlessly watching stats. All I could do was click around the internet all day, waiting for something else to happen.
After a few career break-throughs (such as the release of Shop Fundamentals) followed by a few very  s l o w  months in business, I shifted my focus to creating multiple big wins. I've lined up a series of big goals to follow one another, and I'm working on them well in advance of their public release.
I set some lofty intentions at the start of the year, and I intend to honor them! Ever since Megan Eckman guest-posted on Why Makers Need to Think Like Magazine Editors, I've been working ahead as much as possible to make sure I cross everything off my list. Stay tuned next month because I'm going to share how an editorial calendar has worked for me! You won't believe my results.
In the meantime, here's where to start in creating your big wins …
Do More of What Works
This is a huge issue for creatives everywhere, and I'm one of them. I often talk about how your creative business lives in your mind: when you're doing well, that's in your mind. When you're not doing well, that's in your mind, too! A lot of times we tell ourselves what's going to happen with the project we're working on. "This product's going to fly off my virtual shelves! I better make 50." Or, "This book is going to launch my creative career."
When reality strikes, and that product you have 50 of doesn't move or that book you wrote only sells a handful of copies … well, then what?
Over the summer, I created a new wrap bracelet that seemed so trendy and fresh. I made the design for my husband, children, and some friends to rave reviews. For all of us who had one, we never wanted to take it off.
So, in anticipation of this new design selling like hotcakes, I spent several hours making a large stock before listing it in the Energy Shop. They never sold. Not even one. New designs are always worth a shot, but I shouldn't have invested all of that material and labor until I had proof that my customers would love the design as much as I did.
A well-planned business is one that prioritizes what has already been proven to work. It's fabulous to experiment with new designs and keep things fresh and exciting for both you and your customers. However, be sure you're doing a lot more of what you know already works and brings in income.
If you're not bringing in income, that means you simply haven't found what works yet. Therefore, don't invest all your time doing what you've been doing! It's time to try new things and change up what you have to offer.
Plan multiple projects in advance
In other words, have a list of what projects you'll start next. For example, on my professional to-do list, I"m writing a second e-program, a book, and stocking the Energy Shop for my biggest sale of the year.
When you finish a big project, you will feel an impulse to watch it to see what happens for days (or weeks). It's natural to do so, but you'll have to fight that tendency and knowing what to work on next will be your best battle plan against it.
It's good to know which projects you'll do next because …
There will be burn-out
Flashback to last Thursday. I was hosting a sale at the Energy Shop, and there were about twenty new orders to ship; several of them contained custom sizes that needed to be made that morning. I took the task on first thing to make sure it went out in that day's mail, and by the time I finished, it was 11:45 AM. I needed to eat lunch, do hair and makeup, and prep my office for a live video webinar with Tim Adam at 2 PM.
The webinar ended well, but by 3:30 PM, I was spent … and my family was ready for dinner. I had a budget-friendly, made-from-scratch meal planned. However, every cell in my body said "NO" to more work in the kitchen, and I declared dinner (and a watermelon margarita) out.
The moral of the story is that each of us has a limited, but renewable reserve of will-power. Your self-discipline reservoir can be depleted, and once it's spent, it needs time to refill. You'll notice it after an uber-productive day.
Don't you love it when you wake up and, all day long, you just can't BELIEVE how much you're getting done? You go to bed feeling like a boss, and if it's Monday, you start daydreaming about all the work you'll get done that week. When you wake up the next day, you feel like a slug nestled underneath a rock. Nothing gets done.
As human beings, that is our nature. I have a will-power-hack in that I can quit writing and go "play with beads." After two weeks of pushing through the editing and organizing of a big writing project, making bracelets feels like a vacation! I'm still getting work done, but I'm able to ride the waves of my self-discipline reservoir a little longer.
How might you mix in your favorite parts of the job when your will-power reservoir runs low?