It's time to start preparing for the most wonderful time of the year for businesses big and small alike. We're about to enter the most profitable quarter and busiest season, so today I'd like to offer you some ways to encourage product gifting. More importantly, I want to leave you with a few ideas to keep that holiday rush coming back for more!
But First, A Few Tips on Copywriting
Always account for skim-readers. In today's age of catchy headlines, bullet points and lists, people rarely read the full story anymore. I take big issue with online sellers who write too much to allow their customers to skim. I'm a skim-reader, and when I see 10 paragraphs of un-bulleted type in a listing, I stop reading and leave … even if I was initially interested in the item. A subconscious alarm clock goes off that alerts: Time's up! It's obviously going to take ten minutes of reading to fully understand the product for sale, and I simply don't have the patience.
Write your copywriting the same way you'd write a good blog post: Keep it short, sweet and to the point. Add in bullet points if you need to make a list of any kind to keep it easy to skim. You can add bullets into the Etsy listing with your Mac keyboard command: option + 8 (same time). On a PC, I believe it's alt + 0149.
Additionally, the photograph you use should sell the product all by itself. Get used to this, as it's where the future of marketing small businesses is headed. Thanks to visual social media (such as Pinterest and Instagram), we've become more accustomed to "reading" images. So much so that we're starting to expect the image to clearly tell us what to expect before we read any words at all. What that means for Etsy sellers: No busy backgrounds, no extreme close-ups, and a bright and clean composition for every photograph in your shop.
Keep best-sellers in stock, and let people know what's popular! Order all of the supplies for your best-selling inventory in advance. Then, remember to use the power of social proof! You can help your customer find social proof on your business by using phrases such as, "best-selling," "back by popular demand," and "previously sold out" on items that have a history of doing just that. Your customers are influenced by people with similar tastes, and when they're shopping your brand and niche, they automatically find people with kindred styles in your sales history.
As customers, we LOVE to know what others are buying.
How to Boost Your Holiday Sales
Remember to keep the gift recipient in mind at this time of year. Customers are rarely buying for themselves after October; they're buying for their friends and family. Here are a few ways that you might encourage gift-giving and extra holiday sales:
Keep the Gift Recipient in Mind
Encouraging customers to gift your product is a great strategy during the holidays because when your customer gives your items to friends and family, the gift introduces you to a new customer. It's the best possible form of a word-of-mouth recommendation!
As you head into the holiday shopping season, try and imagine who your customers might be buying for:
Female Friends
Men
Parents
In-laws
Grandparents
Teenagers
Children
Babies
Hostesses
Coworkers and managers
White elephant gift exchanges
What items in your shop can be presented as gifts for any or all of the above recipients?
Provide Gift Suggestions for Their Loved Ones
This is the season to employ that email list you've been building! A lot of people don't know what to buy for presents, and they struggle to think of new gift ideas each year. Help your customers! Create a holiday gift guide using items from your shop, like so: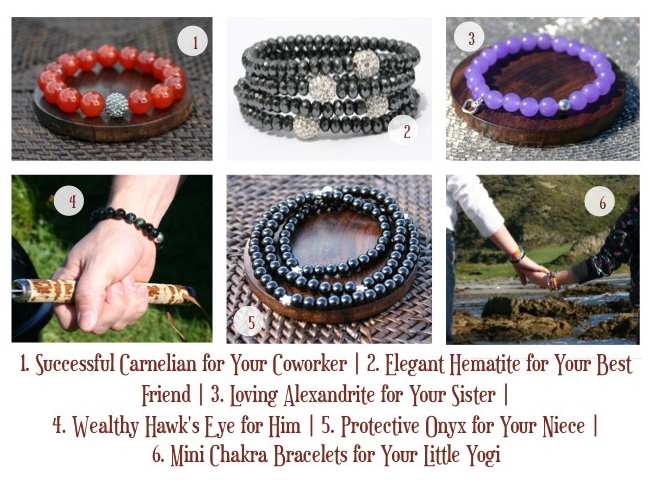 The above is an Energy Shop example which I created using Artboard for the Mac. I explained how I make graphics like this on the cheap in my article titled, Graphics, Typography, Font, Oh My! You could make a gift guide graphic for your products using a regular Word Document; no fancy software is required.
Another way to offer a gift guide is to use a free mail service, such as Mail Chimp. They offer templates that allow you to upload several pictures into an email, and you could provide gift suggestions in the text below each of those pictures.
Host a Customer Appreciation Special
I love a wintery customer appreciation special! Here's the one I created last year. A customer appreciation sale works like this: When I reach a landmark goal, say 100 sales, I celebrate by creating a deal in which I don't lose, but the customer clearly wins. The listing price pays for cost and materials, but I don't profit. I typically lower shipping costs to make it as much of a bargain deal as I possibly can. These sales are fun for the customer, and I know they enjoy the special treatment.  I appreciate the opportunity to express my gratitude for them.
What better way to thank your customers (and offer them affordable stocking stuffers) than with a customer appreciation special!
Offer Free Shipping
Free shipping has tested as one of the very best sales you can offer your customers. People simply don't like the added amount at check-out; it's not a fun surprise! I always offer free U.S. shipping in December, and my products already come gift-wrapped. If you want to ship 5 bracelets to 5 of your friends, I'm happy to eat the shipping costs!
Calculate what this would really cost your business, and see if you can swing it. Because of the price of my products, free shipping only equals a 10% discount off every order … that's completely doable for me. How much would free shipping cost you?
Host a Private Sale
This year, I will host my fifth annual Friday before Black Friday sale. It is, by far, my biggest sales weekend of the year. I build stock for it, and customers have come to anticipate it. For this sale, I offer a 40% discount–which is wholesale pricing for the Energy Shop. At that rate, I'm still able to get paid for my time and turn a business profit.
This is how I run the sale:
Thursday Night: The customers on my email list get an exclusive invitation. Since stock is limited, my list gets first dibs. I make sure to let them know that they're getting the coupon code early and a  jump on the crowd.
Friday before Black Friday: I publicly announce the sale via social media. Last year, I promoted the sale announcement on Facebook for $20. It was seen by approximately 9,000 people.
Sunday before Black Friday: I make a "Last Chance!" announcement on Facebook and Twitter.
The results: Approximately 60 sales and $800 profit (after cost of materials and fees) last year. This was actually my least profitable Friday before Black Friday sale. I was focused on building my first e-program, Shop Fundamentals at the time, and I wasn't able to create new designs or list as much variety as I would have liked going into the annual event.
This sale allows me to clear out old inventory and prep for the New Year, where I'll ring in new designs and replenish my storefront. The Friday before Black Friday is a special event in my shop, it's a weekend I look forward to all business-year long.
Market Like the Big Guns
I love a Target circular. I know I say this often, but hear me out one more time! 
 They're doing something right with that print advertisement, because not only can I NOT resist looking through it, it brings me into the store on a weekly basis.
In my first year of business, I started watching their holiday advertisements. I asked: How do they advertise for the major shopping holidays of the year (Easter, Mother's Day, Father's Day, Thanksgiving and Black Friday, and Christmas)? What makes those advertisements so stinking irresistible? And when were they coming out (how far in advance of the holiday)? I paid attention to when the spring, summer, fall, and winter themes hit the stores, and when the weather-related merchandising seemed to change in the circulars.
Target has an entire marketing department. Heck, they probably have several marketing departments. And they're doing a great job; me and every other woman I know are head over heels in love with that department store. What's more is that they're leaving all of their fabulous marketing strategy right on the table in front of you, tucked neatly inside your Sunday newspaper.
Decode it! Take it apart! Why is the holiday ad so appealing? What colors are you drawn to? What images are commanding your attention and influencing your shopping list? What sales are irresistible to you and why? What is compelling you to put down your morning cup of coffee, get dressed, and drive directly to Target?
There's marketing gold in the answers to those questions! Mine it accordingly 
Give Them a Reason to Come Back
Offer them a discount, upgrade their packaging, or include a postcard about something that's happening in January! Think of ways you could surprise your customer and go the extra mile. Have a marketing plan in place to ensure the holiday season will boost next year's business.
Here's to a successful end-year a big boost in holiday sales! Until next time~
P.S. The Luminaries Club is open for enrollment! Who's ready to shine with me?