I often catch many creative business owners (including myself!) doing "the scramble." In other words, we wake up today and ask ourselves: what I am I going to do today to get some sales already? And then the scramble begins:
Why, I'll send an email! I'll promote this post on Facebook! I'll make four new items and list them in the shop, and then I'll tweet each of them so everyone will come check them out!
See? I can absolutely promise you that creative business owners are the only small business owners in the world that approach business that way! There's no method to the madness, it's just a pure scramble for sales. Help us, Tom Cruise! (Please comment if you got that reference. 
 )
Today I'm going to show you how to stop doing the scramble once and for all, and how to create a marketing calendar.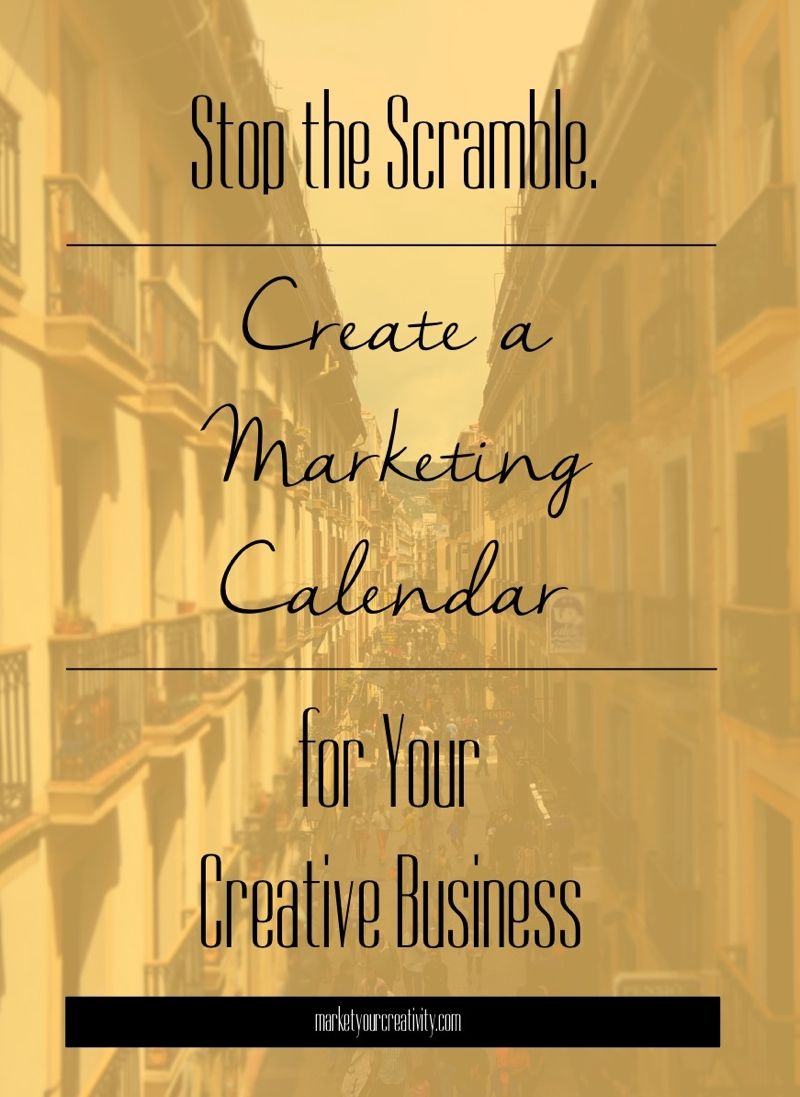 But first, a note on perspective
Our businesses are grown from love and passion, and that's personal. Therefore, our perspective is almost always too close, and that's the recipe for scrambling. We can always use a good dose of the bigger picture. In the movie, Mary Poppins, Bert says,
"What did I tell ya? There's the whole world at your feet. And who gets to see it? But the birds, the stars and the chimney sweeps."
When you work from home, it's easy to get lost in the maze of your own four walls. Spaciousness is a value in my life, and for me, small spaces = small ideas. Routine work conditions = ordinary outcomes. There's something valuable in getting out of your office, spreading out on the living room floor and brainstorming your dreamy ideas.
I often advise my coaching clients to purchase a children's giant drawing pad, like the Crayola Giant Floor Pad
 for major exercises such as the one we're discussing today. Here's a snapshot of my last planning and review session:
It's involved. And necessary. We often start our businesses flying by the seat of our pants, but you'll soon learn that day-by-day business strategy will keep you growing in whatever direction you're feeling that day. Instead, you want your daily activities to lead towards your ultimate dream destination, which takes planning, discipline, and a long-term strategy for success.
Stop the Scramble, Once and for all
To stop the scramble, create a business timeline for yourself and schedule your focus for the next twelve months in advance. You'll need to devote an entire morning to this exercise, at the very least. Let's get started:
Get a calendar, your planner, a notepad for to-do lists, a notebook to record and brainstorm big ideas, and a giant drawing pad and spread that all out on a large table, your bed, or a comfy floor.
Looking at the coming twelve months, take note of where you'll need time off: summer vacation, the winter holidays, etc. You can either make a mental note, or actually block this time from your calendar altogether. I use that knowledge to help me hone in on where I'll have the energy to invest in big moves. For example, I have a launch coming up at the beginning of October with some scheduled vacation time a few weeks later. I don't like to put any big business moves too close before or after my time off.
On a page of your giant drawing pad, divide the coming twelve months into four columns. It will look quite simple, like so:
Easy peasy! Now we're ready to do some planning!
Create a Marketing Calendar
Success doesn't just happen to people – you need a deliberate plan and actions you can take to achieve it! Imagine building your dream house without blueprints – you show up every day and let the bricks fall where they may. Do you think you would be perfectly content with the end-result after years of free-form building? No way!
A marketing calendar is your blueprint for creative business success. I offer my coaching clients a variety of customized marketing prompts, but you can easily create your own. I'll show you how in a moment, but first!
Think of any income-generating new projects that have been stewing on the back-burner in your business. This year's as good as any to go for them. Why don't you plug some deadlines onto your calendar to make sure they become a priority, because growth is critical to a small business' success. After you've assigned a deadline for that project, go through and list anything that must be completed in advance to ensure you achieve that goal.
For example, I'm organizing a women's creative retreat in 2015 with a  handful of other industry leaders. On my giant drawing pad, I have it written in under February, but I also have smaller deadlines beforehand, such as "Announce 2015 retreat" under October and "Open cart for early-birds" under November.
Understanding where big projects will dominate your time will help you better plan the coming year. It ensures that you're marketing less when your focus is required elsewhere for the business' growth.
Your marketing calendar can cover any and all of the following:
Sales and promotions. This not only helps you find more rhythm in marketing, it also ensures you'll be prepared for promotions (having stock & supplies on hand) well in advance.
Social media updates. Keep a running log of information, pictures, and conversations you can start with your customers on social media. This will help you tie themes together and keep the discussion on point.
Blog posts. If you blog for your brand, this will make an excellent editorial calendar as well. If you have a major sale coming up, you can hint towards it (and get people on your list to be the first to know) weeks in advance.
Projects and goals. It feels good to know what your next tasks are and cross the project off your to-do list well before it's public release.
Time off. Being a good marketer includes knowing when not to market and enjoy a break.
If you don't have a regular list of promotions and campaigns for your customers, here are some tips to get you started!
Watch the bigger businesses. When do they have sales? How do they advertise for the major shopping holidays? What makes their advertisements so irresistible? How far in advance of a shopping season do they start to promote? There's marketing gold in the answers to those questions! Mine it accordingly.
Pay attention to your own buying seasons. At which times of the year are you feeling most frugal? When you go out and buy an expensive treat for yourself, what makes you feel like you should go ahead and get it now? What occasions prompt you to spend the most? It's likely that your customers are following the same financial patterns.
Learn from the promotions that compel you to buy. What captures your attention? What compels you to buy right away? Did you know that for online storefronts free shipping is one of the most influential promotions in marketing? More powerful than even a Buy One, Get One offer? As customers, we're just thankful for no extra charges at the end of the transaction, and we're simply tired of being overcharged for shipping!
Tweet me a picture of your planning day! I'd love to cheer you on. Here's to your success,