At the start of 2014, I decided on full-disclosure and proceeded to share monthly income reports with the revenue I'd earned from both my Etsy shop (Energy Shop Jewelry) and this blog. Here's how the idea was formed, what it taught me and how you can apply it to your own business.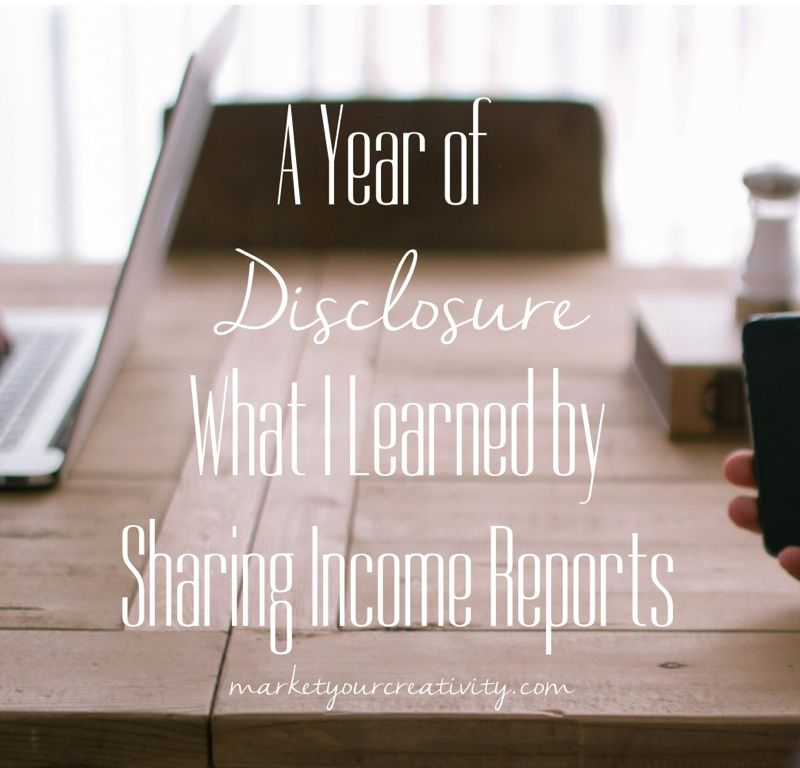 Why I Started Sharing Income Reports
I often share part of the reason I started the income reports: I read an article late in 2013 about a creative business owner, quite similar to myself, who announced that she made some astronomical figure each year. I'm not opposed to people making enormous amounts of money, in fact I'm all for it. However, this particular salary reveal just didn't make sense. As far as I could tell, there were no revenue-producing products or services that would generate such an extraordinary amount and it made me question the validity of the claim.
I took the article directly to my husband for a pow-wow. I presented him with the evidence, and then I asked him, "How? How is she doing that? I don't understand. Our businesses seem parallel, but hers makes four times as much? Where's that income coming from? And for what products or services?"
To this my husband replied, "Just because she tells everyone she makes that amount doesn't mean she does. You could easily say the same thing, and nobody would question it." And he's right!I supposed I could pluck a number out of the air and say I made it every year as well. At first glance, it would surely boost my credibility and that's pretty much all I'd need to do to get featured in books and magazine articles stating as much.
But, that's not why I'm here. I started this business to lead an inspired life, and to not only be there for my children, but to set an example for them.
There are shortcuts in this industry, but I've never taken them. I didn't buy an existing email list or website, I don't make false claims about my income, and if I don't believe in the value of my product or service with 100% certainty, I would never try to sell it.
I laid every brick of this building.
And again, that's only part of the reason I embarked on full-disclosure 2014. The other part of the reason, the one I've never shared here before, was that at the end of 2013 I wanted to quit this business once and for all.
I was headed into my fourth year in business, and my passion was fizzling. The Energy Shop was what it's always been: one unit in, one unit out. The product's never one and done (like a book, digital file or pattern can be). The shop requires constant attention and care, and sometimes I love feeding it just that. At other times, I resent it – especially when I have a stockroom full of expensive inventory that's not moving or giving back to my business' bottom line. Those periods are tough.
At the same time, this blog was growing but not giving much back either. My main sources of income from the writing side of my work came from passionless busywork and unequal partnerships. I was spending as much time guest posting as I was writing for my own site, and in hindsight, I can see where my burnout (which I was experiencing regularly) was coming from …
I was afraid to invest in my own vision, and it was slowly killing my career.
At the end of 2013, I seriously considered quitting. I talked with my husband about finding a traditional job, and what that meant for our family. We had moved into our new home, and frankly, our lives had become more expensive than ever before. Neither of us were looking at what my work brings to the table at the time, we were only thinking of the one major con: unreliable income.
And we wondered: Would a steady paycheck from a regular job beat the work and income I was creating from home? For the first time ever, we didn't just appreciate my pay, we actually needed it. It was covering bills and groceries, and before long, a car payment. I can't tell you how much anxiety that's given me this year, so much so that at times, it's hard to be grateful when I'm so busy feeling stress to create (out of thin air, mind you) more income for myself.
Is This Business Worth It?
This morning I read a passage from Marc and Angel,
"You have enough wealth to live comfortably. – You didn't go to sleep hungry last night.  You awoke this morning with a roof over your head.  You had a choice of what clothes to wear.  You have access to clean drinking water and electricity.  You are online right now.  You have plenty to be comfortable.  Being wealthy is a mindset.  Be sure you understand this.  Want less and appreciate more."
I'm going to print it out and hang it on my wall, because a creative career is demanding. I've been making it all up as I go along for five years now! I still don't know where next month's paycheck is going to come from; I'll figure it out next month. I don't know what's going to sell or what's going to fail. I don't know if I'll get paid for the forty hours I've already invested into my next project. It could be all for naught.
And that's why I need that passage from Marc and Angel. I'll get myself all wrapped up in a frenzy without it, and sometimes I need to mute the business frenzy to remember why I started this business in the first place. I already mentioned it, but it bears repeating: I started this business to lead an inspired life, and to not only be there for my children, but to set an example for them. My goal in 2010 was to be a work-at-home Mom, and I've achieved it.
At the start of 2013, there was only one con to my business in the quitting argument, and that was unreliable income. The pros seemed immeasurable: income from home, unlimited potential for growth, school holidays off, children's sick days off, flexibility of schedule, no commute, etc. The list goes on and on, and I've thanked my lucky stars all year long when I've realized that a traditional job would never fulfill or challenge me the way this one does.
I tracked my income this year as much for myself and my family as to share with you. And all year long behind the scenes, my husband and I compared my work and salary to other spouse's traditional jobs (in other words, the second income of the family). This year, I remembered why I started, I removed myself from the passionless busywork and unequal partnerships, and I invested in my own vision.
Here are the numbers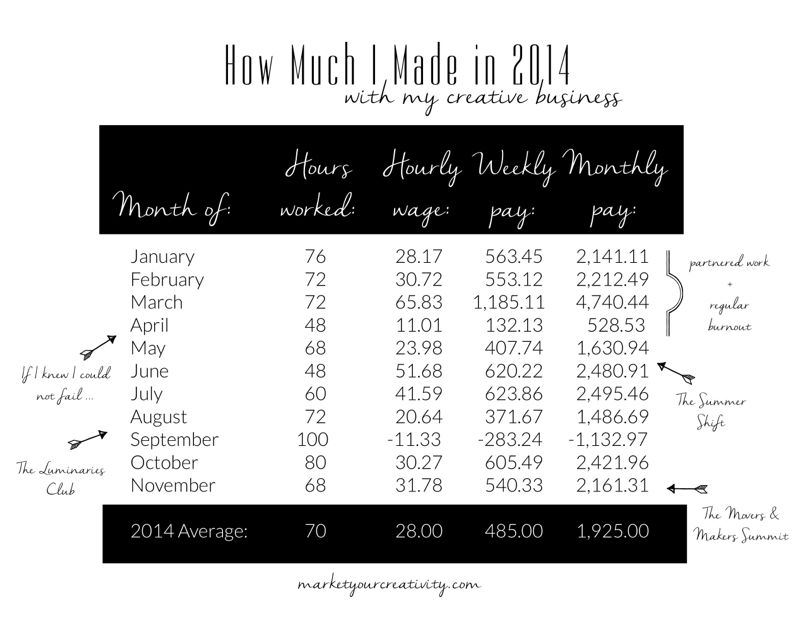 This year, I've earned $21,166.87 (not including December) and that's about $5,000 less than what I've averaged (take-home pay) for the last four years since opening shop in 2010. I estimate my gross income will be approximately $31,000 for 2014, and I'm especially proud of that number and the work I put in.
This year, I gave up easy paydays to do all the things I would do if I knew I could not fail. I'm almost through the list, and of course I don't know that I won't fail. I'm going for it anyway, and you know what? It's already resulted in some of the most meaningful work of my career.
As you can see from the graph above, I came into the year with part-time employment as an editor for another website (in addition to my own), and I was also teaching a business course with a partner. It resulted in my biggest payday of the year (March), but that included a one-time payment for three months' worth of work.  In hindsight, that work caused burnout and more loss of income than it was worth.
It also took me away from my vision and the things that I want to build. In April, I wrote my "If I knew I could not fail, I would …" article and started to follow those dreams. I haven't had burnout since! I spent the summer months working with dreamy client for good pay. In September, I reinvested my paycheck (and then some) into The Luminaries Club and The Movers and Makers Summit.
Though I've paid myself a bit less this year, I'm thrilled to have invested in my vision for the future. I've decided to continue my income reports into 2015 so that you can see how it all pays off.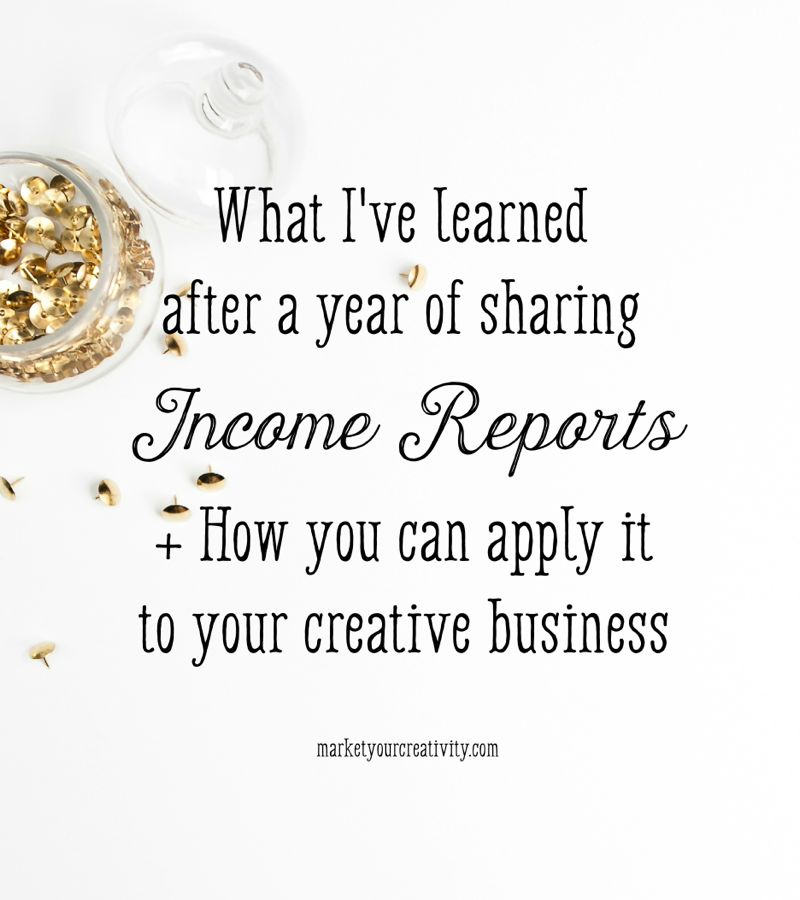 Lessons Learned
The following are my biggest takeaways from the year of income reports and full-disclosure.
1. The journey's not always scenic, but it's necessary.
Of the people who like to travel, some enjoy the journey as part of the experience – they see getting there as part of the adventure. Others just want the destination – the only reason they travel is to get somewhere; they'd teleport to their destination if they could, but that's not possible.
Regardless of whether or not you enjoy the journey, it's a required part of the experience.
When my husband got his first overseas assignment back in 2003, we moved our young family to Lusaka, Zambia (Africa) for a three-year tour. I'd never been so far from where I grew up, and I was terribly homesick while we were away. During the tour, I had a recurring dream that I was coming home to Pittsburgh to see my family and friends, and the dreams would be so vivid! I'd hug my grandparents and cry for how I'd missed them! It all felt so real that I believed it to be true, and over and over again, I'd wake up devastated that it was only a dream.
After some time, I realized that the dreams never included the grueling two days of travel it took to get from Lusaka to Pittsburgh. To avoid the devastation upon waking, I started to insert a question into the recurring dream. In the midst of the hugging and homecoming, I'd ask myself: Do you remember the journey? Of course, the answer was always no. I could then enjoy the dream for what it was and save myself the gut-wrenching homesickness in the morning.
Without the journey, the dream can't be real.
In business, I've realized that my journey is not always scenic, but it's always necessary. Sometimes, it's a little sleep-deprived and wine-soaked. The road I take to making big goals come true involves my hair in messy knots, forgotten showers and chicken nuggets for dinner.
Even though I desperately want to arrive at the destination, I wouldn't trade the journey for anything. It's teaching me everything I need to know for a successful arrival.
2. Create a system of delayed gratification.
I like this rule for two reasons: (1.) it's realistic; and (2.) it keeps you humble. Instant gratification, as rare as it may be, seems to float straight to your head.
Success in the creative industry is all about long-term strategy. I coach many clients who want instant gratification for their marketing efforts yesterday already. And, I can totally relate. I recently launched a monthly gathering for the creative community called Create Happy Hours. I'm not seeing thousands, or even hundreds of people in attendance. I'm hosting tens of people there (if I'm lucky).
This is where we need to adopt what Tony Robbins calls a "privileged perspective." Meaning, look at your goals the way the world might consider them from the outside looking in. For example, when I told you that my Create Happy Hours aren't bringing in hundreds, I don't imagine any of you would tell me to quit for lack of instant results.
I imagine you'd say:
The idea's still catching on. It hasn't failed; it's simply gaining momentum.
Let's be honest, how many of us think like that when all of our hopes + dreams + sometimes, finances are riding on this idea?! I sure don't. When less than 20% of registrants showed up to the first Create Happy Hour, I was ready to quit. But I'm a creative business coach, I've seen it a thousand times, and I knew I had to shift my perspective and keep at it.
I like to create a system of delayed gratification by working ahead. This is a pretty epic post I'm writing (the rough draft is well over 2,000 words), and if I published it today, I'd sit around and wait for shares, comments and feedback to roll in. If I got them, I'd be pretty full of myself! I'd ride that wave all day and some of tomorrow too. If I didn't get the response I was anticipating, I'd be crushed and deflated. It's pretty much a lose-lose scenario.
Instead, I wrote this article a few weeks in advance. By the time it comes out, I'll be onto the next thing. If I receive shares, comments and feedback on it, I'll remember the work I put in and gratefully receive your response to it. Then, I'll get back to work on the project at hand. If I don't get any feedback, I'll be too busy to notice. It's a win-win scenario!
3. You don't need to feel like doing it to get it done.
This lesson rocked my world. I wonder how often we creative business owners act like spoiled children …
I want instant gratification!
I'll throw a tantrum if something doesn't go my way in business!
I'll quit if I don't get the attention I feel I deserve!
I'm entitled to lots of traffic and sales!
I mean, come on! Haven't you felt all of those things at one time or another? I know I sure have. We allow ourselves to procrastinate on the parts of our work that aren't fun to us. This year, I tried this revolutionary thing! I told myself,
It's alright to not like this part of the job, but it's still your job to get it done. Get to it.
I learned a lot this year, and this is only part of the story. Stay tuned for a full list of my biggest lessons of 2014 where I'll be discussing them + tips for your New Year review).
Want the specific details? Find them here …
Year-end summary
November's income
September + October's income
August's income
July's income
June's income
May's income
April's income
March's income
February's income
January's income
Until next time and all the best,