As an Etsy seller, I know you've put a lot of work, pride and creative energy into the shop you've built. We may not always like their policies or changes, but they are a business first and foremost, and they operate like one. Make sure you do the same! Here are a couple of potential dangers to remember when selling on the Etsy marketplace, and five ways to protect yourself.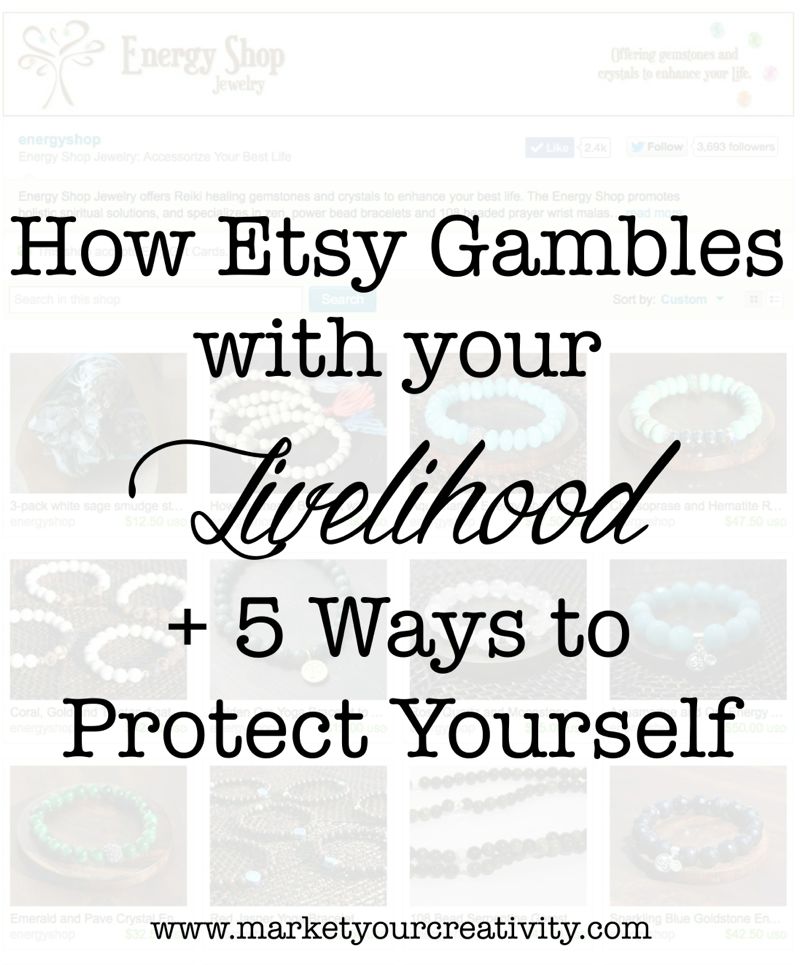 Etsy can close your shop at anytime, without warning.
My Etsy shop (Energy Shop Jewelry) has generated a second income for my family since 2010, and I've always been careful to honor Etsy's terms of use (though I'm admittedly no expert). In 2012, my shop was suspended without warning.
This is how it happened: About one week before my shop was deactivated, Etsy's integrity department sent me a questionnaire which included 3 parts and about 15 questions. The person who wrote it thanked me for my time and for being part of the community. The email went on to explain that they had reason to believe I wasn't complying with their rules. It was made clear that I needed to defend myself, but they did not state any specific accusations.
At the Energy Shop, my jewelry is handmade by me in my home, and at the time, I had one person working for the shop who did my shipping and handling from their home. I thought I was complying with all of the rules on Etsy, so I was very confident in filling out and returning the integrity report. They required receipts for my supplies, pictures of my workspace, and photos of myself and the person who works with me. I had the entire questionnaire filled out and returned practically upon receipt. The day after I returned the investigative report, I received a reply that thanked me for my response. Case closed, or so I thought.
One week later and without notice, Etsy deactivated the Energy Shop. The email stated:
"Unfortunately, your shop does not appear to qualify for the Etsy marketplace. We are a venue for independent artists to sell their own handmade goods as well as Vintage items and Craft Supplies.
As your items do not appear to meet the criteria to sell on Etsy, your shop has been deactivated."
And that was that. I'm not going to lie, I actually wept. I had invested two years of dedicated work and tens of thousands of dollars. All of that vanished in an instant, and my site was replaced with this message on Etsy.com:
Uh oh! A stitch has gone awry.
I replied to the suspension email as calmly as I could, begging for them to tell me what had happened. I still had no idea what I had done wrong! I frantically started searching for a phone number that I could call; I wanted to square things away as fast as possible. I found a corporate listing for Etsy's Brooklyn office through an internet search, but it went straight to voicemail stating that they don't respond to phone calls.
Stunned, I was forced to sit down, wait for their reply, and let sink in what had happened. To be honest, I felt betrayed! Not only had I built this successful shop on Etsy, I had brought hundreds of customers to the community. I've paid thousands of dollars in fees. I have ruthlessly promoted the site and the promise of success to its sellers on my blog. And with a single click of the mouse, they erased me.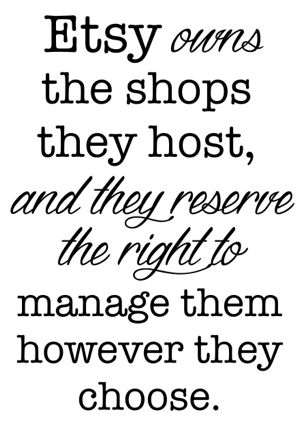 Through an excruciatingly vague back-and-forth, I was able to get my shop reinstated after about 24 hours downtime. It was a wake-up call for me. I thought I owned my small business, but by having my only presence on Etsy, it turns out that I don't. Etsy owns the shops they host, and they reserve the right to manage them however they choose.
Here's how to protect yourself:
Buy your own domain name. I can't control what Etsy does with my shop, but I can control the traffic I send there. I own the domain name energyshopjewelry.com and that's what I print on my Instagram images, business cards and other promotional materials. It's the link I've left  in all of my articles and newsletters for the last few years, so I ensure my traffic moves with me.
If you're using a .etsy address, go buy your own url right now. If you ever move your business, your customers will still be able to find you (versus the dreaded "uh oh! A stitch has gone awry" message).
Keep a copy of your testimonials. If you were to move from Etsy right now, how much credibility would you lose? When my site was down, I had nothing to prove that I have repeatedly exceeded the expectations of thousands of customers. In fact, I had very little to prove my business even existed! You have worked hard to build your business' brand, so be sure to keep a hard copy of your testimonials on backup.
Backup your photographs. I have an external hard drive to keep my images and copywriting on file. That represents hundreds of hours of my time, and when my Etsy shop vanished, so did all of that hard work!
I still sell on Etsy, and I'm now running it by myself again from my US-based home. Etsy sent me an email just recently asking me to again explain my operation and list my employees. I quickly replied, explaining that I don't have any employees (I haven't hired any help since that first incident). Weeks went by, and I assumed they'd recorded my reply … until I received the same request from them as if I hadn't replied at all.
That takes me to my next point,
Etsy can be careless with its seller's fate.
Etsy is not only careless with its seller's accounts, it's also quite reckless at times.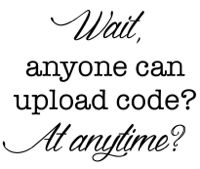 When The New York Times interviewed Chad Dickerson on Etsy policies, he was candid in his response. He spoke in a tone I'm sure he would never use to address the Etsy community, and I found it quite difficult to digest.
When The New York Times asked Mr. Dickerson, "Do you see your employees as hackers?" He answered,
"Absolutely. The internals of the company really embody the hacker spirit. The empowerment of the company is really on the edges. For example, we have 100 engineers, and any single engineer can deploy code to the live site at any time. It happens about 30 times a day."
To this Nick Bilton (the interviewer) replied,
"Wait, anyone can upload code? At anytime? Has this ever gone awry?"
Mr. Dickerson replied:
"Of course! We do blameless postmortems about it all the time– which is incredibly important. We believe that if you have a blameless process, you actually get to the root of the problem quicker and people don't feel like they have to hide information. We don't enjoy making mistakes, but we give an award to the person who makes the most spectacle mistake."
How free they are with the website that hosts part of my family's livelihood. Funny, Mr. Dickerson has never mentioned this (and with such a humorous spirit to boot!) in the Etsy forums.
Here's How to Protect Yourself:
Unfortunately, there's not much you can do about Etsy's business policies except to remember that Etsy is a business, and they're looking out for number one. 
I consider Etsy a starter home for a budding creative business, and I suggest you do too. It's not the end-all, be-all of selling online, and it's a common disillusion that your business will take off the minute you open shop on Etsy. For me, it's been like a gateway drug to the world of creative entrepreneurship. It's a brand- and reputation-builder. It's made as a place for creatives to build, but it's very possible to outgrow its 26-pages of rules that are ever-evolving, but limiting (and sometimes vague) all the same.
With Etsy now allowing manufactured products, it's only getting more and more difficult to navigate the crowded website. Going forward you'll want to:
Build your own network. I'm a big believer in industry networks and what they're going to mean for our future. Etsy is still somewhat of a gatekeeper in a new era that doesn't need gatekeepers! Never let them be an excuse as to what's holding your business back. Work around them by combining your efforts with other talented leaders in your field.
Next year, that's my business' focus and I strongly suggest you consider teaming up with others as well. My motto is: combine your individual lights to become a beacon for success and shine brighter than ever before.
Focus your marketing efforts on what's working. It's not Etsy ads or search, I can tell you that. For 2015, look to visual platforms, such as Pinterest and Instagram. It's where makers are finding the most success right now.
With those warnings in mind, I wish you the best of luck in wherever your creative endeavors take you,