Here are 3 common Etsy mistakes you probably don't realize you're making.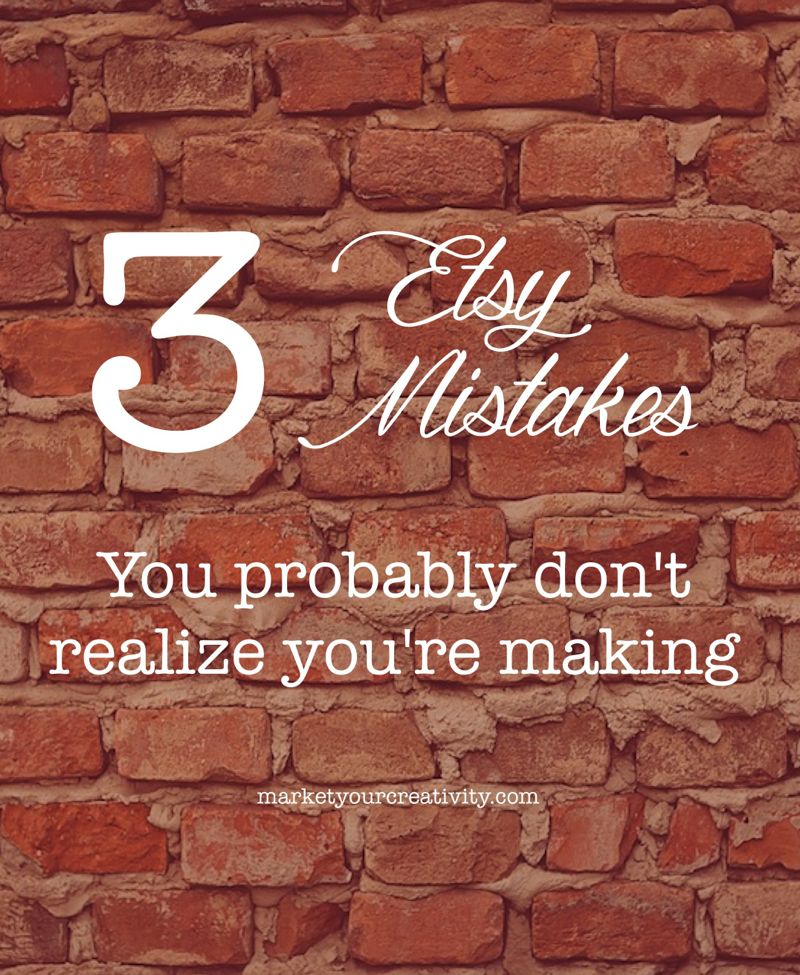 1. You rely on Etsy for record-keeping.
You need a proper email list, and you need it now! I don't say this to panic you, but rather as a word of caution. Etsy can close your shop without warning (they've done it to me in the past), and without proper record of your customer's emails, sales and transactions, the aftermath is a nightmare.
Don't wait until you absolutely need a mailing list; that's a mistake I made with both my Etsy shop and this blog, and it was a costly one. When I first started out, I was keeping track of my email opt-ins with my gmail account. By the time I transferred the Energy Shop list to Mail Chimp, I had 250 emails to import, and the service  was a lifesaver.
Mail Chimp is free for up to 2,000 subscribers. Once signed up, you can build a landing page where your customers can opt-in. (Click here for my Energy Shop example.)
The reason I chose Mail Chimp for my Etsy shop is because it's a slow-growing list. The reason that it's so slow-growing is because Etsy does not have email opt-in forms on storefronts, even though they KNOW how important email lists are to small businesses.
The only way for me to get customers on the Energy Shop list is by including a link to the opt-in page…
in my Etsy shop announcement (though the link is not live),
with my "thank you for your order" automated emails,
as a response to custom requests that I'm not able to fill at that time, and
on my own social media accounts. I'll occasionally post the email opt-in page before a big private sale to entice more Facebook and Twitter fans to sign up.
I use Aweber for this blog, and pricing starts at $19 per month. Using Aweber, you can connect to your Etsy in 6 simple steps and, after a sale, your new customers will automatically be subscribed to your list (after confirmation on their end). Here's how to connect your accounts:
Login to your Aweber account
In the upper right-hand corner, find the label "My Apps"
Under "My Apps", scroll down to find "Etsy"
Click on the "Etsy" app, and hit the "enable" button
Click "Allow access" on Etsy (make sure you're logged into the Etsy account you want to link)
Follow the steps prompted by Aweber to choose which list you'd like to add new sales to
2. You rely on Etsy for traffic
The internet is vast and ever-expanding, and you leave business on the table when your marketing strategy is based on the Etsy marketplace. You need to set up your shop's SEO to improve your global rankings for all the searches taking place outside of Etsy.
To improve your SEO, you'll want to pay attention to three places, in particular: (1.) The shop announcement, (2.) your tagline, and (3.) your categories. Here's what comes up when I search for my shop:
Next, notice where you'll find those words and sections on my Etsy storefront:
As you can see, Google pulls my shop name and tagline first, my shop announcement second, and my most popular shop categories third. Be sure to use relevant keywords that will help your customers find you in all three areas.
3. Inconsistent Lighting (Product photos)
You've heard this tune time and time again: perfect that product photography! Click here for a list of my do's and don't of product photography. But wait, there's more …
Make sure you use the same lighting (shoot at the same time of day with the same type of weather in the same spot, i.e. clear sunny day at 1 PM near kitchen window) for consistent lighting throughout your storefront. When you're first starting out with product photography, it seems like a small detail, but it makes a huge impact to the storefront's overall cohesion.
Bright, overexposed photos next to dark, shadowy photos diminishes the value of your offerings and is a noob giveaway! Learn and apply this lesson early on.
Here's to your success and all the best,