Today I'm going to show you exactly how I've tripled my blog traffic in the last three months – I've been looking forward to this post for several weeks! My website reached another level around September '14, and now I'm waking up to more views than I used to see all day (this time last year). A lot of the information I share today can be adapted and applied to your online storefront as well, so let's get right to it!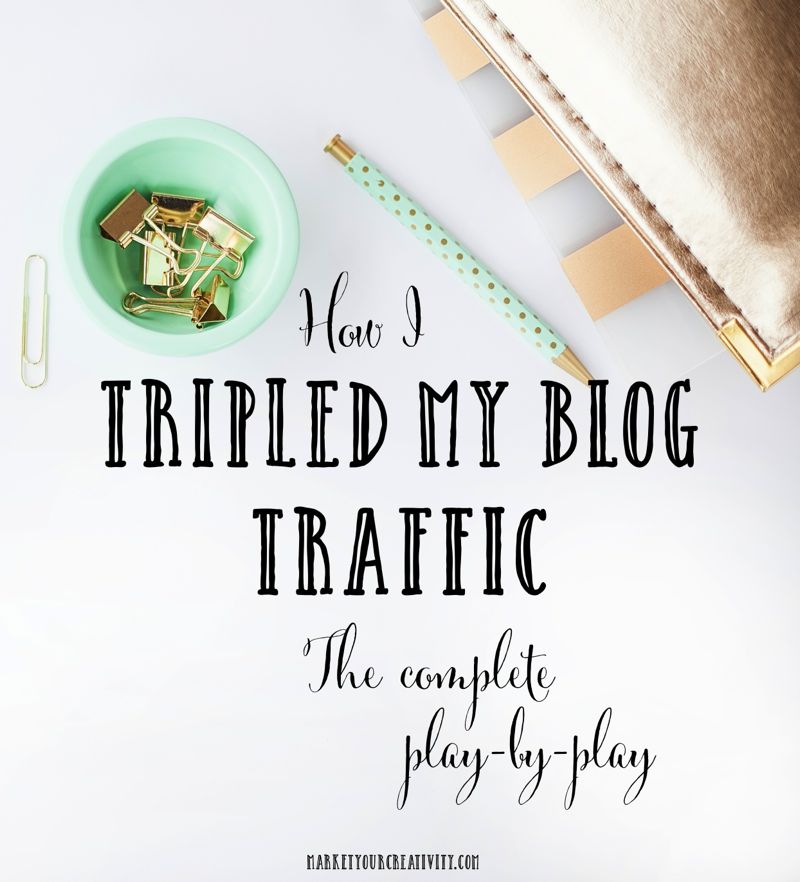 I'm reading a book by Tony Robbins, and one of the lessons he repeats often is …
Success leaves clues.
I thought about that advice when I inserted the gorgeous graphic above because it's clue #1! But today, I'm not going to make you look for the clues; I'm here to share the play-by-play: everything I've done to triple my traffic in the last three months.
Site Redesign
On September 1, 2014 I launched a new blog design. Before the new Marketing Creativity by Lisa Jacobs, my website looked like this:
It was blocky and chunky, and I was hiding behind it. I've had this blog since 2010, and I didn't even add that little profile picture of myself until early 2014! I was modeling after other industry sites, which are largely contributor-based (they run on guest posts). However, Marketing Creativity is all me, almost all of the time. I needed to finally present myself and, not only share, but show my expertise!
I had been searching for a website designer for years. I know from past design work that you have to hire with a very clear picture of what you want the outcome to be. By the time I found a great web designer, I also had a strong vision for what I wanted, my own preferences for graphics, fonts and colors, and a lot of people to solicit feedback from during the process.
It's very easy to see the early drafts of your hired design work and get so excited about the fresh changes that you overlook little details you don't want to live with forever. I really took my time on the latest redesign, and I was patient with the launch. I knew I'd rather get it right the first time!
Mid-design, I also decided I couldn't live with my wordpress.org host for one more second. That leads me to another switch I made …
Host Upgrade
Seriously. People don't want to wait for your $4.95/month hosting plan to load your site. They really don't! I was miserable with my last host; I've actually cried tears over it. During the design process, I had my web designer switch me to the best Wordpress host available (I chose Pagely, and I think WP Engine is a close second).
Editorial Calendar
Next, I created an editorial calendar and stuck with it. It makes a huge difference to schedule your posts in advance and promise your upcoming enticing content.
I now post in-depth articles every Tuesday, Thursday and Sunday.
To help keep myself accountable, I started a weekly inspiration post that publishes every Monday and lets everyone know what posts are coming out that week. I write and schedule those a few weeks in advance. When I fall behind schedule (as I am this week), I know I have to deliver that juicy "How I Tripled My Traffic" post I promised – no matter what!
Increased Content
Before September '14, I spent a ridiculous amount of hours writing guest posts for other sites, and now I see the error of my ways. Don't get me wrong – guest posting is still a great way to connect + collaborate in the industry, and I very much enjoy sharing info with my favorite creatives on different sites, such as Going Home to Roost. When I write for her, I'm not in it for the traffic; I do it for the camaraderie.
That said, there's an old school strategy that's becoming somewhat of a myth: guest posting will introduce you to a new audience and grow your site. That used to be very much the case, but unless you get onto a blog that boasts hundreds of thousands of readers and avid followers, it involves much more giving than receiving.
For example, a single one of my guest posts generated over $800 worth of income and ad revenue for another blogger in just one month. Over time, it's made thousands, if not tens of thousands of dollars … and I never saw a penny of it. People poured over the article, yet I never got a spike in referral traffic. Readers recognize me from that story and write me questions through my Etsy shop, but most of them don't even look close enough to realize that I have my own blog full of similar, quality content.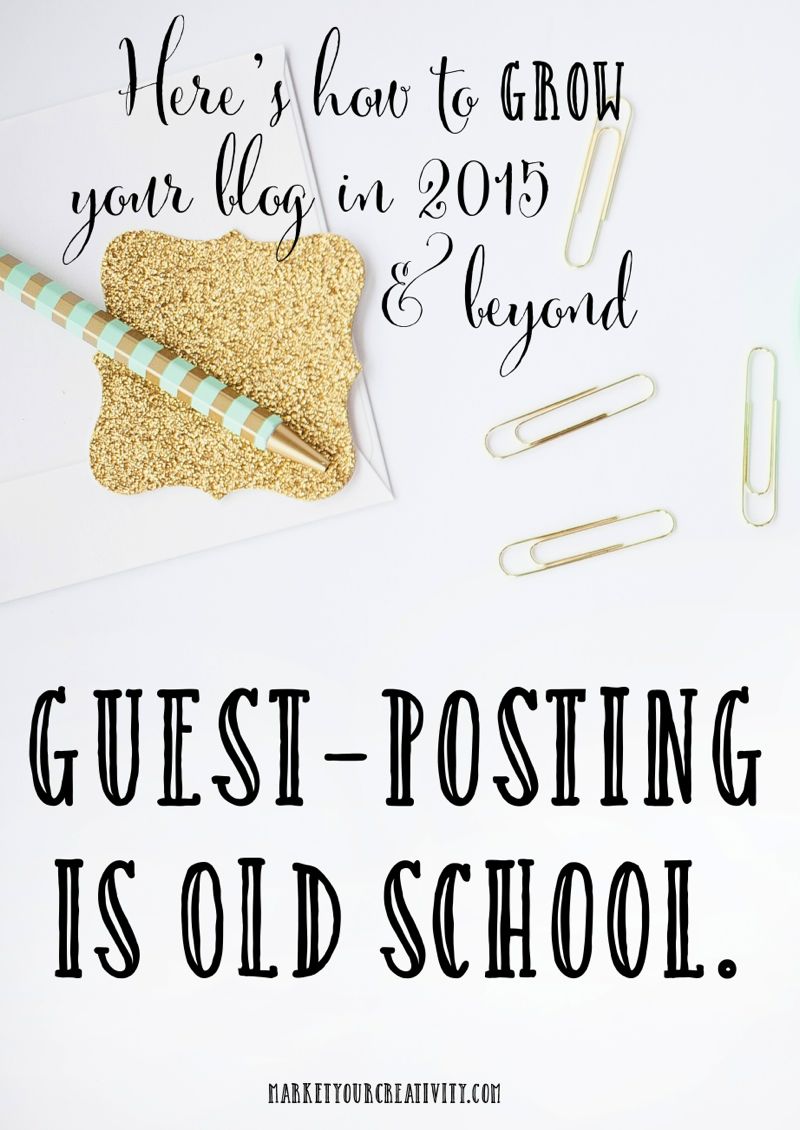 In other cases, I've dedicated time and energy to connect + collaborate with bloggers who appear popular and influential online … only to find out that people aren't really listening to them. For three years, I longed to guest post for what I believed to be a major industry blog, and when I finally got my chance? I wrote fabulous, in-depth articles that resulted in less than a handful of referral clicks.
That's why increasing the quantity and quality of your posts for your own site is a better long-term strategy. Share your links freely, write teasers and summaries for others, but save your best work for your personal domain.
Pinterest Referrals
You can use your marketing energies however you like, but for me in 2015, there's NO PLACE like Pinterest. In the last few months, I've studied how to write headlines and create images for Pinterest so that my articles will go viral. I'm so excited for what's in store for my new marketing strategy + my Pinterest account, I can hardly contain myself!
Investing your marketing energies into a Pinterest account is equivalent to investing your money where it can accumulate compound interest. It's a long-term strategy for growth, and each pin continues to pay out over time. I challenge you to name one other social media account that promises the same!
>> Here's my Pinterest strategy. << I sure do hope you'll use it.
More Frequent Newsletters
Finally, with an increase in content, I felt justified in upping my newsletter schedule from monthly to bi-weekly. In most bi-weekly issues I'm sharing more than I used to share all month!
In the last three months, I also saw a huge spike in email subscribers. Because I use Aweber for this blog's email list, I get charged more the higher my subscriber count. Therefore, I need the list to return on my investment somehow, and the extra traffic and ad clicks (from increased newsletter mailings) help to neutralize the cost.
And that is the play-by-play! One of my goals for 2015 is to triple my traffic a second time by continuing to invest in these strategies. If you implement any of the above (or have something else that works that you'd like to share), please tell me about it in the comments below. Here's to your success,