Last year, a client of mine asked my advice for a successful website launch. I came up with a list and shared it in a blog post titled, How to Launch Anything & Make it Rain. It's full of universal marketing tips that can be applied to whatever you want to announce in a big way: online shop, blog, product line or book.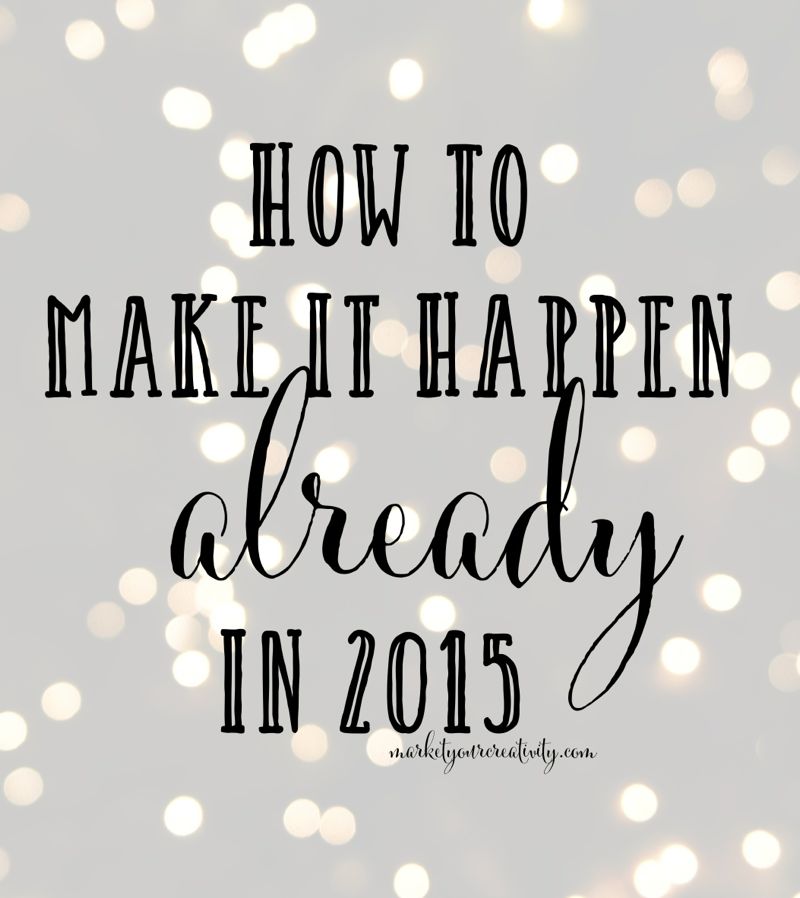 Since then, I've successfully launched three types of products: The Luminaries Club (a membership program), Your Best Year 2015 (a book) and the Movers & Makers Summit (a live event). I learned so much from those projects, I found myself compiling another "how to launch anything" post that you're sure to love. So without further ado …
Here are five steps to make it happen already in 2015:
1. Start before you think you're ready.
The single biggest threat to our goals is setting vague, distant deadlines for their completion. When I wrote my first "If I Knew I Could Not Fail, I Would …" list last year, I didn't plan to do any of the items on the list anytime soon! In fact, I only wrote the post to demonstrate how fun the blog topic was:
I'm anxious to share, but this is something that I think about all the time. If I knew I could not fail, I would…
Focus all of my efforts on group coaching
Lead live, in-person workshops for groups of 100+
Host a women's retreat for 20 creatives
Start a podcast
One of my previous clients commented that I should do all those things, even if I might fail at one or two. It knocked me off my seat; I couldn't believe how right she was.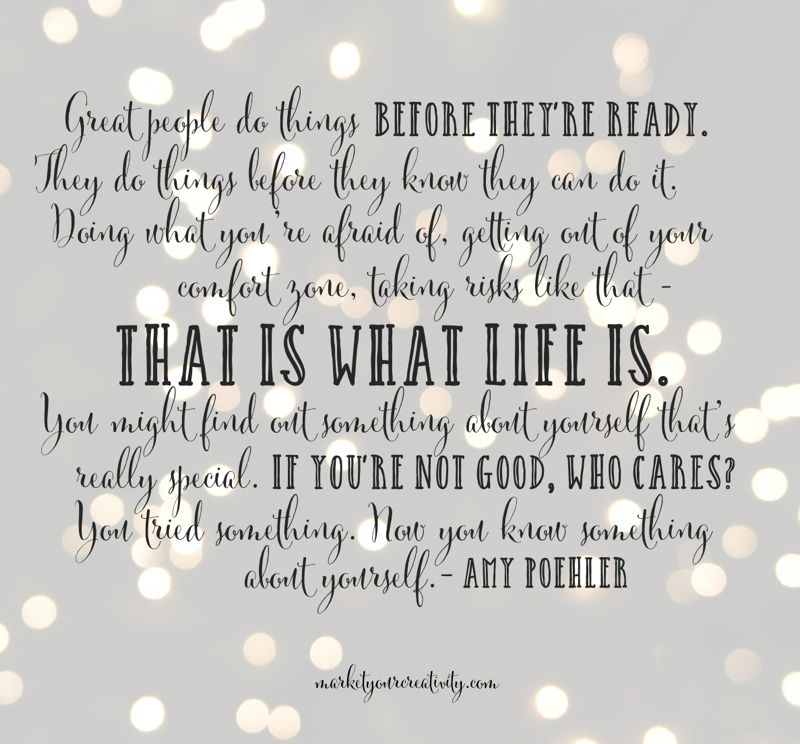 I didn't feel ready yet, but I accepted the challenge. I got right to work on, not one of my big goals, but all four of them! I launched a group coaching program, The Summer Shift and worked with a handful amazing clients. I'm hosting a women's retreat, The Movers & Makers Summit for 20 creatives next month in Charleston, SC. After looking into it further, I didn't want a podcast, but I host live end-month chats in its place. Finally, the in-person conference for 100+ is already in the works for early 2016.
I never would've gone for those things last year if I hadn't shared my list and listened to the feedback it received, but I'm so glad I did! I now consider the "If I Knew I Could Not Fail" list a necessary exercise (+ challenge) to be completed every year.
2. Create a marketing plan & stick with it.
Brace yourself: Sometimes you'll release your glorious, passionate creation into the world and nobody will even notice its there. When this happens, the majority of creatives will ditch the new creation out of sheer disappointment.
Don't be one of them! It's not only your job to create the product, it's also your job to help it find success. For every new project you release, launch it with a 3-6 month marketing plan. As any good marketer will tell you, the release date is the beginning of the campaign. Here's how I usually run my launches:
3 months before: Announce product and release date
6 weeks before: Regular mentions and reminders of release date
7-day launch period: Everything's about the product, all the time
3 months after: Regular mentions and reminders of product
People need time to consider the offer, but don't let them forget about it! Make several notes that span six months surrounding the product's launch in your calendar to gently remind your customers that your new creation exists.
If you've never done this before, it may seem "salesy", but it's actually a very natural part of the process. When you work on a big project launch, you become pretty obsessed with it. You'll be able to go on about it all day, and there's no better people to discuss it with than the very people who want to bring home the finished product!
3. You have to ask for the YES!
For me, the after-promotion comes very naturally too, but this is where most people drop the ball. Again, don't be one of them! After a project launch, we think the sales we got are the people who wanted to say "yes" and the rest of the people rejected it, so that's that. Right? Wrong! Very, very wrong!
Before I continue, I want to credit the concept behind the following graphics to Derek Halpern of the blog Social Triggers. I learned this lesson from him, and I know you'll be able to put it to good use.
When we create a product and list it online, we see the customer's next action as a very black-and-white move. They buy or they don't. They will or they won't. They're always either a YES or a NO.
But that's not how you shop! These days, impulse buys and door-to-door sales pitches are becoming a thing of the past because of … the internet. You have all day to compare prices, choose your best options and read reviews. If you're still unsure about the purchase, you can jump on Facebook and ask your friends what they buy to receive instantaneous feedback.
Black-and-white yes or no's are a thing of the past.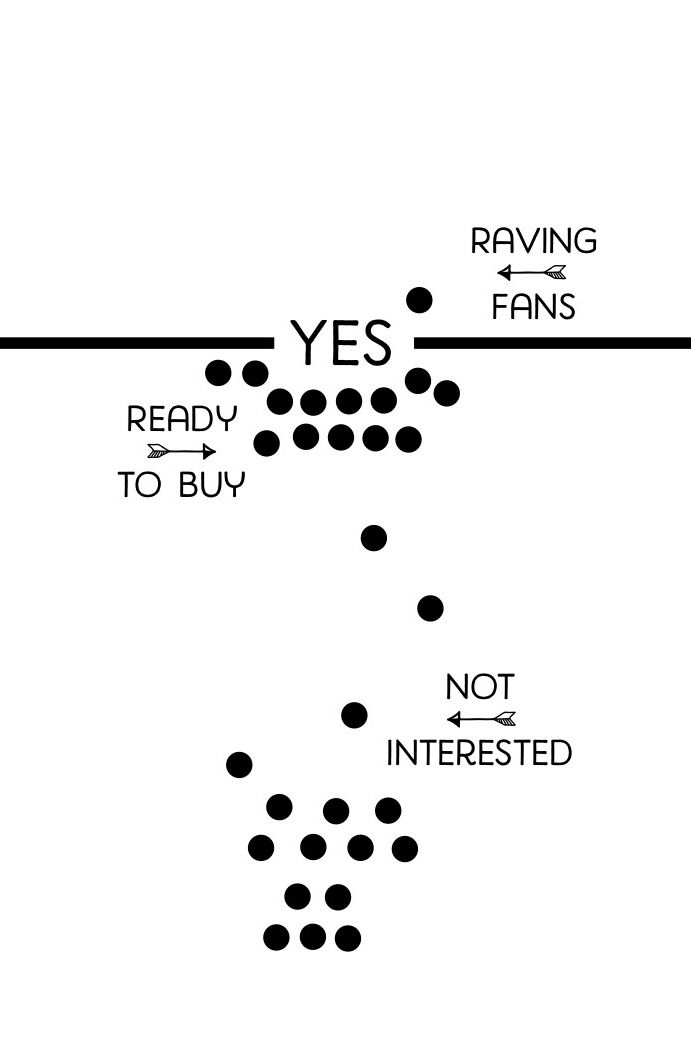 ​The above graphic shows how we typically perceive our customers will receive our offer. After you launch, you figure, if they said yes – great they have the product now; If they said no – oh well, maybe next time.
Raving fans are the people who love and follow your work and are eager to buy. The customers at the "YES" line already know and trust you, and you can pretty much expect they're ready to buy when you make the offer. The customers well below the "YES" line are not interested, and you're most likely expecting them to say no before you even make the offer.
This is where your customers ACTUALLY stand: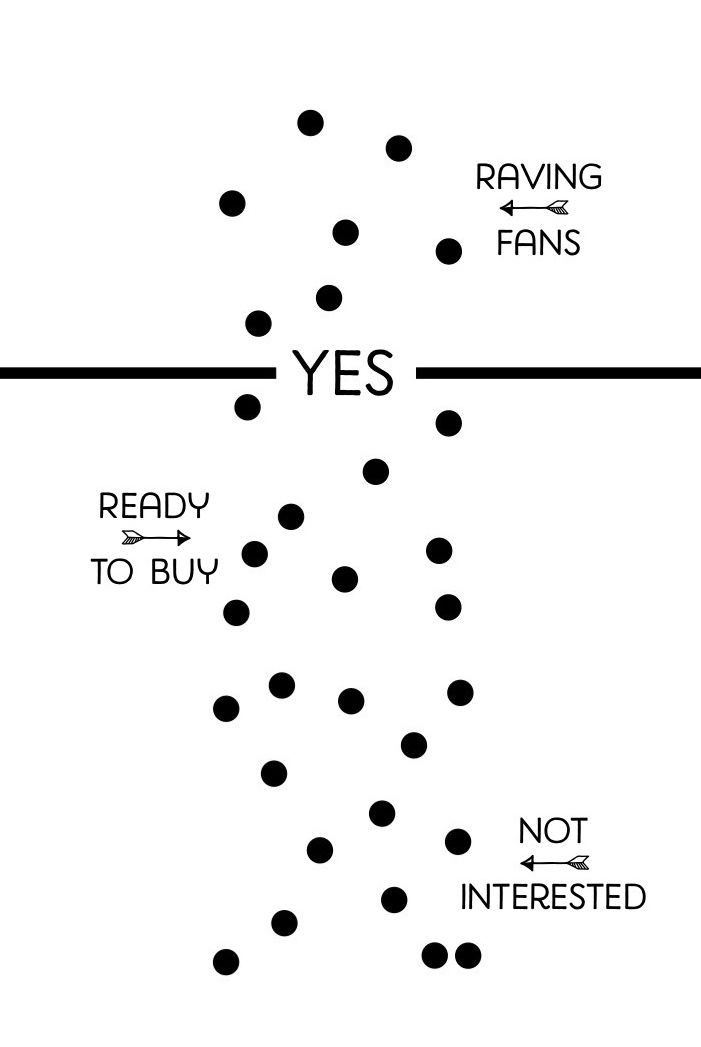 ALL of the people standing between "ready to buy" and "not interested" are MAYBES. ​And when you don't follow-up on your offer or follow-through with your marketing calendar, you leave their business on the table.
[Tweet "You've been leaving business on the table! #mindblown How to Make it Happen Already in 2015"]
4. Meet your deadlines, no matter what.
Publicly announce your deadlines at least one month before the project's release so that everyone will know when to expect it. And then, meet that deadline no matter what.
The hardest project I have ever launched was The Luminaries Club. I desperately wanted to push the deadline back, but I had been talking about it's arrival for months, and I was determined to make it happen even though there were several technical issues (the day before deadline, the check-out button still wasn't working). The launch date was October 1, 2014, and I solved the last issue and wrapped production the night before at 11:56 PM. I lost my marbles in the process, but I got it done.
5. It's meant to be hard.
I love Mossa workouts; they're so incredibly challenging. Right when I reach a personal breaking point, the instructor says …
It's meant to be hard.
It's always exactly what I need to hear in order to keep going. When we meet a point of resistance, it's often in our nature to say: I can't do this; it's too much for me, even though we know that challenge creates change. However, the majority of us are eager to surrender back to the safety of our comfort zones when the going gets tough.
Don't be one of them! Remember: it's meant to be hard. If you want to create extraordinary results, you have to first accept and complete the difficult challenges.
I refer to the month that I built The Luminaries Club as "weepy September." I was prone to sobbing in public. My patience and willpower were completely depleted. My children nicknamed me "Grumplestilskin." I wanted nothing more than to call the whole thing quits. But then I remembered, it's meant to be hard.
6. Go for broke.
If you're not willing to go broke for it, then it's not good enough yet. My most successful launches have been that passionate: I believed in the product so much that I was willing to invest, promote, sacrifice, invent … to do whatever I needed to do to make it the best that it could be and get it out into the world. You've got to deeply believe in it if you want others to do the same.

By the way if you loved this post, you will absolutely love The Luminaries Club. It's full of business lessons, creative camaraderie, and helpful resources just like this. (See what I did there? Follow-through, my friends.)
Here's to your success! Until next time and all the best,