I must admit from the start: the title above is slightly deceptive; I'm not giving away $500, I'm investing it in you. It's a business grant.
Furthermore, I'm not giving away $500 … I'm actually giving away $1,000 in business grants this year (two at $500 each). I'm also offering $1,036 in scholarship funds for The Luminaries Club. But, I'm getting ahead of myself!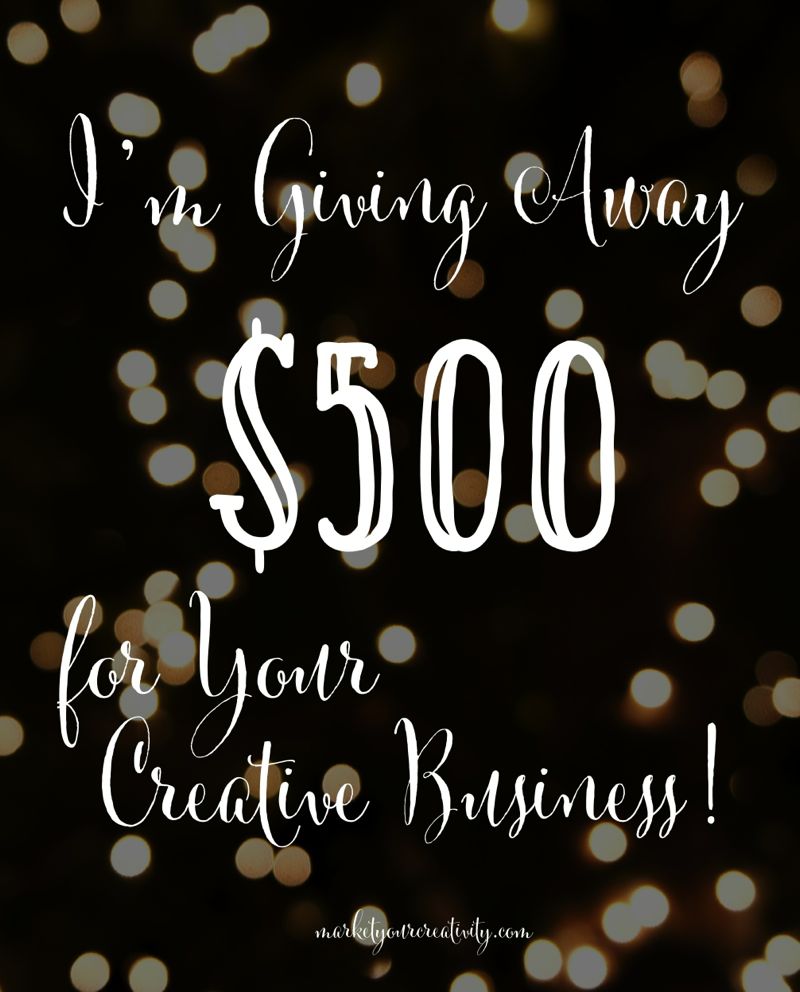 Back in September I had my site redesigned, and part of the reason for doing so was because I wanted to place advertisements. (You'll see them to your right under "sponsors".) I'm very familiar with the creative community: handmade sellers, indie entrepreneurs, and makers and artists of all kinds. I know you well. And I know how you feel about ads and blatant marketing:
ugh. spam. commercials. gross.
But here's what I realized: the advertisements are sponsoring my time. Which means, I am able to create more VALUABLE content and offer it here FREE OF CHARGE because the ads can potentially pay for what I'd make coaching and investing my time elsewhere. They're a good thing!
Not only that, I've watched larger blogs generate enormous amounts of revenue from their ad spots. I've always dreamt of funding other women's creative visions, and when I rebuilt this site for better ad revenue, I decided to give back at least 50% of it in business grants. It's going to be a cash exchange; no strings attached!

It took a few months to get the ball rolling, but my ads are currently generating approximately $100 per month. Every big dream has to start somewhere, and so …
I'm giving away $500 Cash!
I'm giving the first grant of $500 in May, and I'll give another $500 away in October. This is not a sweepstakes or giveaway – there's no cheesy raffle,  you don't have to "make me a video," or any of that other nonsense. I already know you're creative and original; no hoops necessary. But, here's the catch – I'm only giving these business grants to members of The Luminaries Club.
Why? Because I know they mean business! They're invested in themselves, they've invested in the club to further their careers, and I want to circle back and invest in them. Luminaries will simply need to answer two questions:
What would you do if you knew you could not fail?
What are you going to spend the money on?
That's it! I'll pick the answer I like the most and then give the person who wrote it $500. I'm collecting entries right now inside the Luminaries Club forum! (Again, you must be a member to apply.)
Maybe you're not a Luminary, you need a business grant and you truly can't afford the $27/month club dues right now. I completely understand, and that's why I've decided to give away 4 full scholarships (valued at $259 each) to worthy candidates.
Before I share the form, please be sure to answer the specific question I ask. I won't issue the scholarship to people who tell me about their illnesses, hardships and/or disadvantages in life. That's not what this is about. There's only one thing I want you to tell me, and that is:
What are you going to build?
I'll choose four candidates for scholarship based on your answers. I'll contact the winners via email by March 6, 2015. Thanks for your support, and here's to shining brighter in 2015,