Welcome back to the business-boosting 5-day series, How to Build a Business Your Customers Will Love! On day 1, I covered how to take back the reins on your career to be sure you're headed in a direction that you really want. You can't please your customers if you're not happy first!
Today (day 2), we're going to look at what's involved in owning the business: what it requires of you, what you can expect and what you'll need to do to keep it growing. Day one was about choosing your destination; today is about mapping the route and preparing for the journey ahead.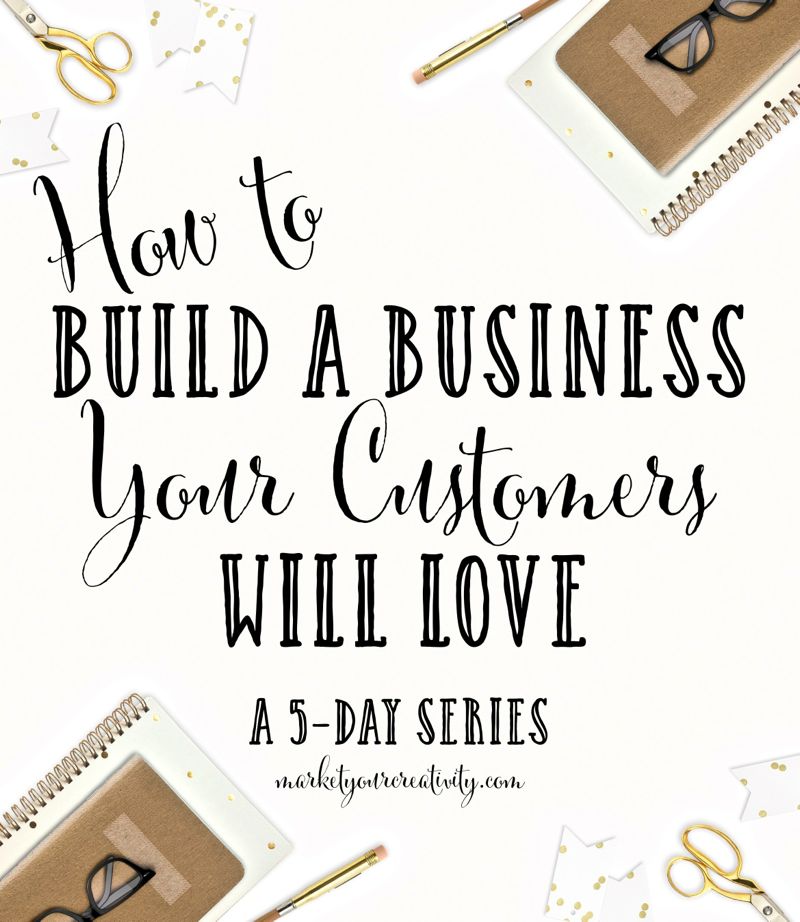 Competitively Speaking, Think Abundance
I loved talking shop from the beginning of my business, but I didn't have a blog or proper outlet for it. (This blog, Marketing Creativity was created several months after I marketed my Etsy shop to sold out success back in 2010.) I was posting threads in the Etsy forums, of all places. I still laugh at myself for turning up there time and time again! It's not the friendliest (or sanest) meeting ground for creative entrepreneurs, as many of you know.
I started my first topic months after opening shop explaining how I'd made 450 sales in less than 90 days. I shared all of my marketing strategies and explained that I am not the competition. I wrote, "I am always your friend. We have neighboring shops and we help each other, whether you realize it or not."
However, my logic sparked a debate (#obvi, I was in the forums) with a reader who wondered: if I wasn't trying to "outsell" the competition, then why do I advertise?
That kind of scarcity thinking never fails to throw me. To believe that another person's success somehow takes away from what you can accomplish is downright baffling. In fact, it's quite the opposite; when an individual creative business stands out and makes an impact, our industry looks better (and earns more) as a whole.
I said to the reader,
To me, that's like saying if you and I were fishing the ocean for dinner, we're competing with each other. I don't see it that way. I see it as both of us pulling from the bounty of the ocean.
In other words, don't get mad and jealous that I'm putting food on the table; it's wasted energy. Instead, ask me what bait I'm using! Going forward, be careful of the reptilian-side of the brain that shouts, "If they have, I'll have not!"
Creative business owners are regularly reporting six-figure salaries from their work-at-home careers. And that's amazing. That's really good for us all. With nothing but the most respectful admiration, I say, "Yes please! That's for me!" Keep it positive and forward-moving, and don't see the success around you as competition. Rather, see it as proof that you can do what you love and make a killing at it!
Dissolve Attachments To the Outcome
In traditional jobs (that we've all had at one time or another), you do two weeks' worth of work and then receive two weeks' pay, like clockwork. That's the first outcome you'll have to dissolve attachments to! It doesn't always work like that in creative business, and especially not in the first three years.
In the beginning you can and should expect months to go by when it feels like you're doing more giving than receiving. This isn't a traditional job! When you build a business, you're not entitled to sales. It's your job to not only create the product, but also to find paying customers and keep them coming back for more.
The real secret to my success is my persistence. I am constantly forcing myself to keep working when it seems like nobody's …
buying,
listening,
reading,
caring,
supporting or
sharing
And it happens ALL THE TIME. Sometimes, even when my business is thriving on paper, to me it still feels like nobody's out there.
Create and Remind
To me, creating is both the best and worst part of the job. When your work feels on purpose, it's easy to get swept away in the creative process. It reminds me of childhood, when an afternoon of playing was gone in a flash. My days are often so fun that weeks, even months go by in a flash of inspiration. I love that about being a maker, and I'm sure you can relate.
To grow your business, however, you sometimes have to do things with your creations that you've never done before – such as, list them online for sale or show them at a market. Other times, you want to create something you've never made before in order to expand. The project quickly becomes overwhelming and exhausting.
And what's worse? Sometimes you release your glorious, passionate creation into the world and nobody even notices it's there! How many times has this happened to you? And how many times have you ditched the new creation altogether out of sheer disappointment?
The key is to not only create, but also to remind the world that your creations exist. The sooner you develop this habit in business, the better. Disappointment is a real danger in creative, passion-based businesses. It will cause you to drop a project when it doesn't get off the ground as you'd expect.
That's why, for every new project I release, I launch it with a 3- to 6- month marketing plan. It's not enough to create a product, you also have to make sure people know about it. And oftentimes, the first announcement is only the beginning of the campaign – especially when you're selling a quality product at a higher price. People need time to consider the offer, but don't let them forget about it. Make a few notes that span the next few months in your calendar to gently remind your customers that your new creation exists.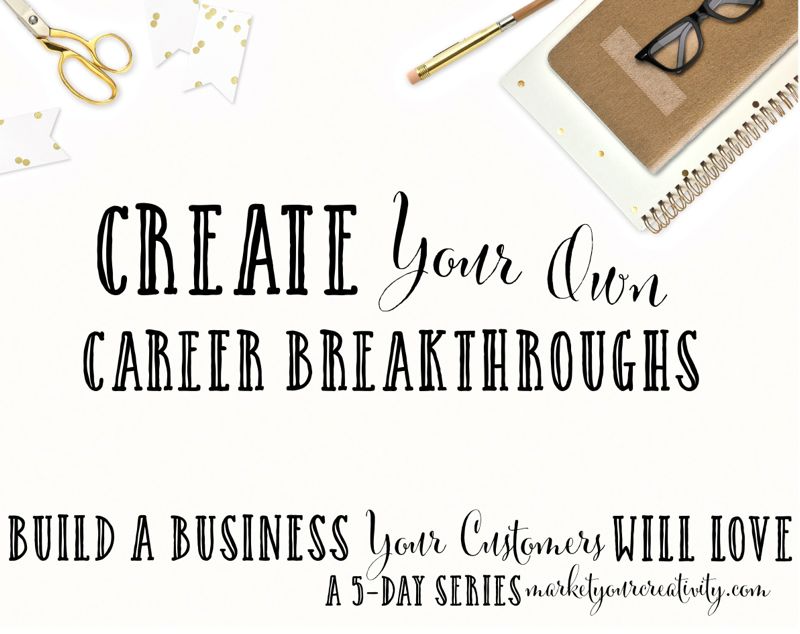 Understand the Long-Term Build
I'm launching something revolutionary this month – something that does not exist specifically for our industry, something that "business gurus" charge thousands of dollars for, and something I've created just for you (at a price you can afford).
I've been fighting creative entrepreneurs' need for instant gratification for years. It's a huge obstacle to overcome when you're transitioning from an amateur to a professional business owner.
If you've ever …
Felt incredibly disappointed by a lack of results
Felt drained and resentful of your own business
Considered quitting this work that you love to do
Felt stuck in a rut
Been frustrated by comparisons to those around you
Wondered what you're doing wrong …
Then we desperately need to talk. You need a better understanding of the long-term build and a clearly marked destination. Don't let a lack of direction keep you from reaching your dreams!
ILLUMINATE: THE CREATIVE BUSINESS COURSE
This is a new offering and available exclusively inside The Luminaries Club. This 9-month course offers advanced marketing, sales and growth strategies and a highly interactive lesson plan that walks you through the inner-workings of a thriving online business.
Imagine knowing what you need to work on every day and following through on your tasks. Imagine having a smart and organized business plan that's designed to deliver you to your desired results. Inside The Luminaries Club, I'll show you exactly how to create that for yourself.
Here's what you can expect from Illuminate, the best creative business course on the market:
How to create your own career breakthroughs (versus waiting for the ever-elusive "big break")
The psychology of selling and how to overcome the fear of self-promotion
How to rise above a crowded marketplace and appeal to your niche
Word-for-word marketing scripts that feel good and convert sales
The psychology of pricing (and what yours is saying about your product)
How to stop worrying about the competition (and leave them in your review mirror)
Conversational scripts to help you turn new visitors into raving fans
A marketing playbook! An easy-to-follow template that helps you know what to promote and when
Tips to help you turn your storefront or blog into a cash machine (because that's its most important job)
Again, this offer is available exclusively to members of The Luminaries Club. When you take the course, you also get everything that comes with the club!

Ready for more? Learn what to focus your working hours on at any stage of the game on day 3. Until next time and all the best,