Welcome here! It's Day 5 of the business-boosting 5-day series, How to Build a Business Your Customers Will Love! If you're just finding the series, it's not too late! You can catch up now …
:: day 1    :: day 2    :: day 3    :: day 4
On day 1, I covered how to take back the reins on your career to be sure you're headed in a direction that you really want. You can't please your customers if you're not happy first! On day 2, we touched on what's involved in owning a creative business: what it requires of you, what you can expect and what you'll need to do to keep it growing. On day 3, we discussed the actions you need to take to keep your business going in the right direction. And most recently on day 4, we talked about how to set your business up to work for you (rather than you always working for it).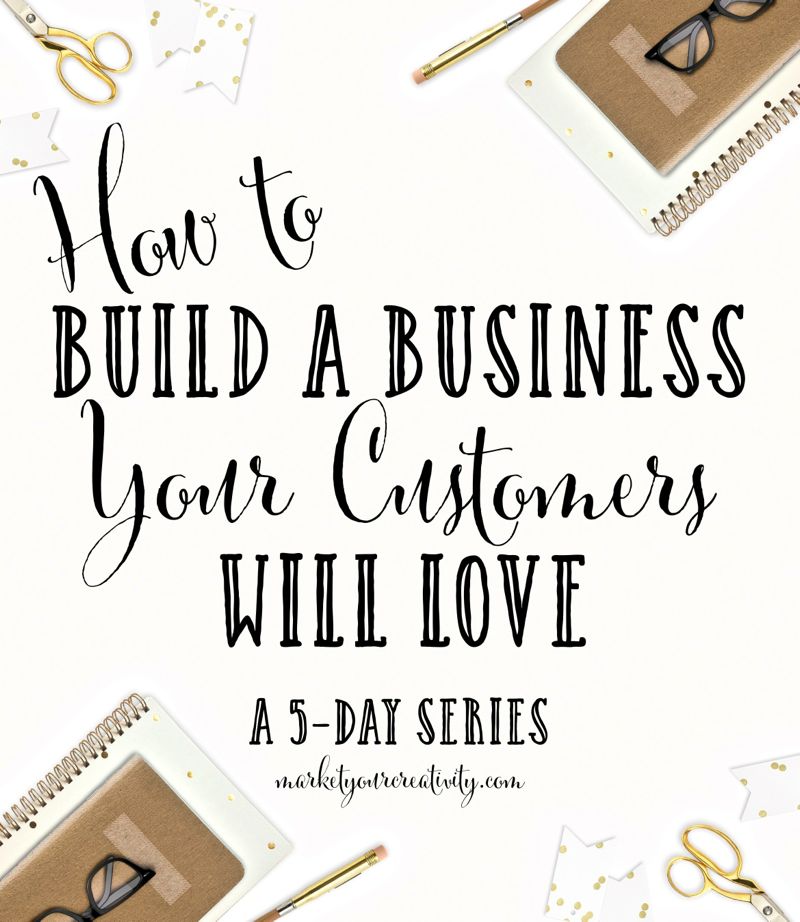 If you'll notice, the bulk of this series is focused on creating a happy business owner first. The truth is, without the right systems and policies in place, you won't want to make your customers happy; you'll feel more like a servant to their preferences. They'll be managing your business while you struggle to please their growing demands, and that's the fastest route to burnout and failure.
More than ever before, I'm realizing that success in online business is created through one person's clear vision and their ability to create a system that builds toward it.
This year, I've been rejecting clients who aren't willing to decide on a vision for themselves. If a potential client refuses to spend two hours doing the business-clarity exercises I provide, in turn, I refuse to work with them. After years of experience with this, I know we'll both end up disappointed by their lack of results.
It's no different than someone asking for travel directions and not having any idea where they want to go. Imagine being hired as a travel guide for that person! From Alice's Adventures in Wonderland,
Alice: Would you tell me, please, which way I ought to go from here?
Cat: That depends a good deal on where you want to get to.
Alice: I don't much care where.
Cat: Then it doesn't matter which way you go.
Let that be the biggest takeaway from this series: Decide where you want to go. Have a clear destination in mind, because if you're scattered and all over the map, your customers will never follow your lead.
That said and on this final day of the series, I want to talk to you about how to connect with your customers in a way that feels good and converts. I know that many creatives hesitate to make contact with customers for fear of being "spammy" or "annoying."
However, holding yourself back from making the sale serves no one and causes unnecessary suffrage to your business' bottom line.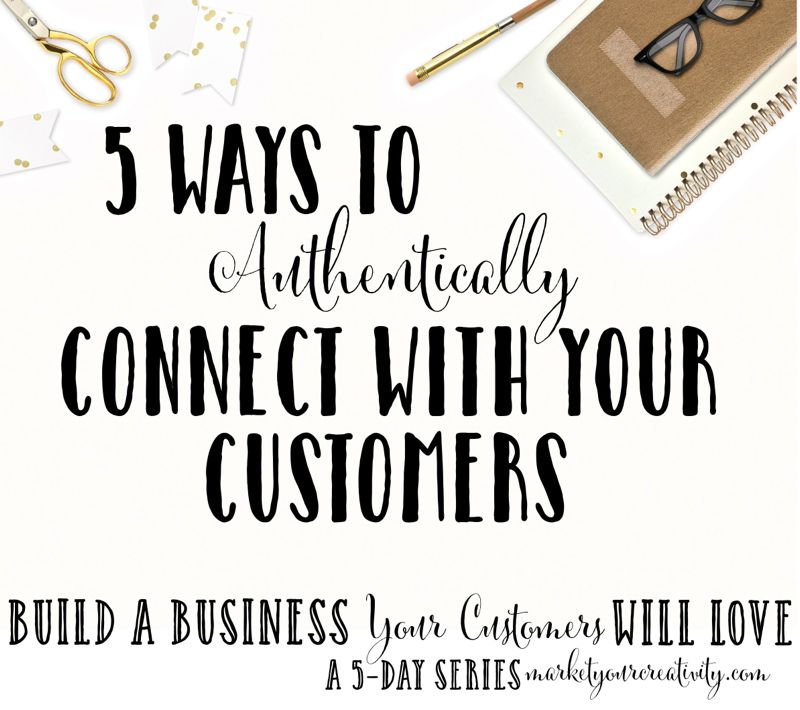 The main reason I love marketing is because I see it as an authentic form of connection. Marketing is really just flirting. It's showing off your talents + skills and asking the customer, "Is this for you?" If not, that's okay; there's nothing pushy in the following techniques. If so, enjoy every fateful match!
Here are 5 ways to (authentically) connect with your customers:
:: Your email list. Before you embark on your marketing campaign, be sure to have this business staple in place! I manage my email lists with Aweber. I used to recommend Mailchimp as well (I have experience with both, and Mailchimp starts out free). However, I'm hearing more and more people complain about Mailchimp's pricing tier, and there are a few ways in which I can confidently say that Aweber is the superior service.
Please note: You can start on Mailchimp (free) and transfer to another service later. However, Aweber is extremely protective of your customer's inbox, and they'll make everyone on the list reconfirm the transfer. You will lose a great number of subscribers in the process.
I prefer Aweber over Mailchimp because:
Aweber has easy Etsy shop integration, and it's one of the few (if not the only) email service providers that offers it. What that means is, when you get a sale on Etsy, Aweber will send them an opt-in confirmation for your newsletter. << This is incredibly valuable to your bottom line and worth every penny.
You can try Aweber for $1, and pricing starts at $19/month thereafter. I know that's not "free," but the best tools never are. If you have a long-term strategy for growth, Aweber's pricing tiers are much better than Mailchimp's. I recently read the account of one blogger who pays $50/month to email just over 3,000 subscribers one measly newsletter! That's more expensive than Aweber's current fees.
You can purge your list without disrupting anybody. This is a feature I recently discovered, and it's quickly become my favorite. When you're first building your list, you want every last email you can get on there! But as your numbers grow larger, so do your monthly fees. I'm nearing the next pricing tier, and right now, I want to do everything I can to save myself the cost of subscribers who don't really care to be on my list. Aweber allows me to pick a date range (say, 9 months) since last open, and remove that list as a group. They weren't interested in what I sent anyway, and the rest of my list remained undisturbed.
What should I say to my customers?
Your customers are waiting to hear from you. They join your mailing list because your marketing (flirting) worked, and they're interested! My customers are so grateful for my email marketing that I get a long list of "thank you" notes from many of the campaigns that I send.
Here's a quick list of how to approach your customers (and what to avoid):
Imagine one individual, I like to think of them as I would a new neighbor that moved in across the street, and greet them in an introductory manner (at first). This starts out somewhat awkwardly for everyone.
Over time, as you get more comfortable and your list gets to know you better, your conversations will become more natural.
Do not call your customers "fans," "followers," "email subscribers," or any other generic term. It's insulting! I call my community what they are: friends, and they're precious to me. I respect them. I write to them with the utmost gratitude, keeping in mind that they've invited and accepted me into their lives.
Always have a good reason for writing. I don't disturb my customer's inbox unless I have an outstanding offer or enough content for them to enjoy with a hot mug of their favorite brew.
:: Share testimonials. Have you run out of things to say on social media? Good! Share a quote from one of your customers who loved their product with a link to that item for sale.
For better results, get the customer's permission to use their photo and screen clip that bad boy! There's no social proof more powerful than a good review next to an image of the person who wrote it.
For even better results, offer a daily deal (aka discounted price) on the item when you share the testimonial!
:: Blog. Blogging helps everybody in any stage of their life refine their message. It forces you to sit down and ask: What do I want to say to the world? And once you start sharing that message, it only gets better. The writing begins to reveal your inner truth.
If writing is not your thing, find your own way to blog! Film video, take pictures, share a daily quote … there are plenty of ways to express yourself.
If this is the creative business that you were meant to run, you're probably eating, sleeping, and living your brand. It's time to share that with the world, and the conversational-style outlet a blog offers is often the best way to do it. It's an excellent source of traffic referrals, and it also boosts customer relations.
:: Use | wear | share it wherever you go. I recently read a story by Cameron Herold in which he promoted his local painting company by having his employees wear t-shirts emblazoned with the company logo wherever they went. For example, if he wanted to recruit new employees for his business, he'd buy his current workers a beer in exchange for them wearing their t-shirts to the local pub that weekend.
Aside from wearing and using your own products, what are some creative ways you could start spreading your logo and getting it in front of more people? You could …
send your friends and family a free product with stacks of your business cards to hand out in exchange
get your logo printed onto a t-shirt and wear it to your next industry-related event or marketplace
carry free samples and offer them to anyone who inquires in the product you're wearing or seems to have similar taste
give your products as gifts to the community each season (think: teachers, hairdressers, favorite restaurant waiters, etc.)
:: Pinterest. Best free advertising in the whole wide world! Seriously. Pinterest has become my biggest traffic referrer of all time, boosting search engine traffic in the process, and it has greatly reduced my marketing and advertising costs. Here's my complete strategy on how to increase traffic to your shop or blog using Pinterest.
Ready to Take It to the Next Level?
I'm launching something revolutionary this month – something that does not exist specifically for our industry, something that "business gurus" charge thousands of dollars for, and something I've created just for you (at a price you can afford).
I can help you define your success, map your journey and get started on your dream career. Please be sure to check out my latest offering, Illuminate: The Creative Business Course available exclusively for members of The Luminaries Club.
Imagine knowing what you need to work on every day and following through on your tasks. Imagine having a smart and organized business plan that's designed to deliver you to your desired results. Inside The Luminaries Club, I'll show you exactly how to create that for yourself. Here's what you can expect from Illuminate, the best creative business course on the market:
How to create your own career breakthroughs (versus waiting for the ever-elusive "big break")
The psychology of selling and how to overcome the fear of self-promotion
How to rise above a crowded marketplace and appeal to your niche
Word-for-word marketing scripts that feel good and convert sales
The psychology of pricing (and what yours is saying about your product)
How to stop worrying about the competition (and leave them in your review mirror)
Conversational scripts to help you turn new visitors into raving fans
A marketing playbook! An easy-to-follow template that helps you know what to promote and when
Tips to help you turn your storefront or blog into a cash machine (because that's its most important job)
Again, this offer is available exclusively to members of The Luminaries Club. When you take the course, you also get everything that comes with the club!

Until next time and all the best,