Welcome here! It's Day 4 of the business-boosting 5-day series, How to Build a Business Your Customers Will Love! If you're just finding the series, it's not too late! You can catch up now …
On day 1, I covered how to take back the reins on your career to be sure you're headed in a direction that you really want. You can't please your customers if you're not happy first! On day 2, we touched on what's involved in owning a creative business: what it requires of you, what you can expect and what you'll need to do to keep it growing. And most recently on day 3, we discussed the actions you need to take to keep your business going in the right direction.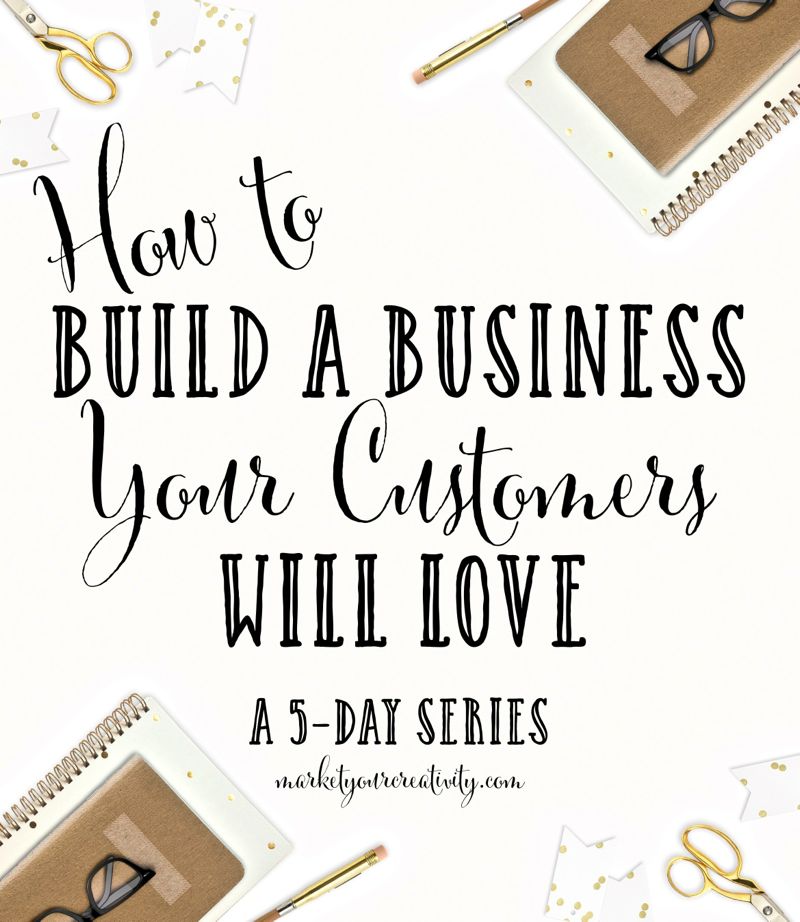 I strongly believe that every place you spend time at on the web should offer a return on your investment. Your online storefront should drive sales, your blog should continuously attract new readers and visitors, your social media should engage and grow your presence, and your Pinterest account should drive steady traffic to your websites.
A good online business is a well-oiled sales machine, and each stop on the web should be doing its job. Today, we're talking about creating policies and systems that are set once, yet continue to serve your business over time.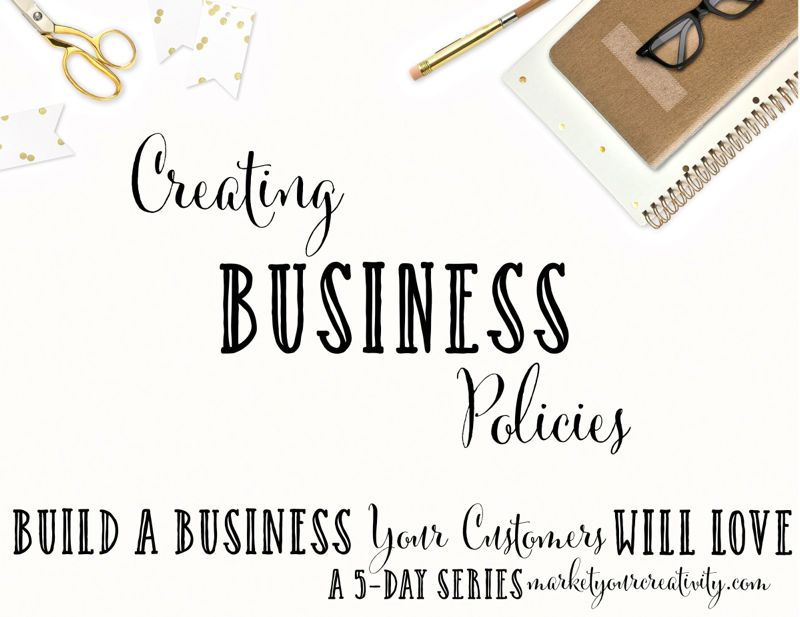 The Web You Create Online
First thing's first, let's make sure you've got the following polished and perfected before worrying about anything else. These are the most important touch points for your business …
:: Your storefront. This is the money spot, but not always the most important. Many people will buy into the ambience and atmosphere you create … they want to experience a piece of your business.
For example, think about your favorite booth at an art show – the one that draws you in from across the room. That booth offers an experience; you feel compelled to take a piece of it home. In turn, think about what your brand represents: is it warm? Magical? Cozy? Bright? Innovative? Dainty? What adjectives describe it best?
Once you've defined your brand, take a moment to self-critique your online storefront: does your shop send that message upon arrival? What might you do to create an ambience that compels your visitor to take a piece of your business home?
:: Your blog. I feel very strongly about blogging, and I urge all creatives to do it. When we gathered for the Movers & Makers Summit, one thing we noticed as presenters was that we all credited blogging as the most valuable tool in building our online success.
A blog is like an ongoing conversation between you and the customer (or reader). It's a living, active form of communication, and you're able to showcase so much more than just your product. A blog is where "your people" can really get to know you better. By sharing your thoughts and feelings, it makes you relatable, and helps your customers to feel understood.
:: Your social media accounts. In the beginning, time is most definitely on your side. Create an account on Facebook, Twitter, Pinterest, Instagram, and wherever else you think your customers like to hang out. You don't necessarily need to use all of these accounts often or long-term, but you'll find that at least two social media outlets will be critical to your business' success.
Remember, It's Always About Them
As you're building your presence online, please remember this advice written by Claude Hopkins in the 1920's:
"Remember the people you address are selfish, as we all are. They care nothing about your interests or your profit. They seek service for themselves. Ignoring this fact is a common mistake and a costly mistake in advertising. Ads say in effect, 'Buy my brand. Give me the trade you give to others. Let me have the money.' This is not a popular appeal."
Triple the importance of this advice for today's world of fans and followers. Consider this:
PEOPLE FOLLOW YOU ON SOCIAL MEDIA BECAUSE IT SUITS THEIR INTERESTS … NOT NECESSARILY BECAUSE THEY'RE INTERESTED IN YOU.
Therefore, any interaction you have on social media should be catered toward them. Do you like to be referred to as "fans" or "followers"? I sure don't! I call my community what they are: friends, and they're precious to me. I respect them. I write to them with the utmost gratitude, keeping in mind that they've invited and accepted me into their lives.
And there you have the basic components of a successful online platform. When you look at the big picture, it's not all that complicated, is it? Each point of your online web has a job to do; spend a lot of time polishing and perfecting these points so that you can rest easy knowing that they'll perform long-term.
Set Policies for Yourself
Now that you have a system in place (the online web that's working for you), next you need to determine how you will show up for your business every day. You need a schedule, you need to know what to work on, and you need to be a reliable employee to your creative career.
Your policies are not necessarily written to be published and sent to your customers. Acting as a private guideline that reminds you of your preferences, the work you want to say "yes" or "no" to, and the boundaries you want to establish is usually enough to make them very effective.
Answer the following questions in writing:
The best way to reach me:
The best time to reach me:
How I prefer to be treated:
What I will not tolerate:
Hours of availability:  Work –   Personal –
My pricing:
My policies for those seeking advice:  Work-    Personal-
My confidentiality agreement: Work-    Personal-
My customer service guarantee:
My policy on canceling/scheduling appointments:
My volunteer policy:
My policy on partnerships and collaborations:
My policy on sales and delivery:
My policy on refunds and returns:
If you'd like to see an example, I've shared my policies in the blog post titled, The Zen of Working at Home. Your customers will love you more if they know where they stand with you, and vice versa. An important business rule is to not let others manage your time or energy. Ever.
It's your job to make sure your online business is doing its job, and setting up a clear system + policies is the best way to manage it.
Ready to Take It to the Next Level?
I'm launching something revolutionary this month – something that does not exist specifically for our industry, something that "business gurus" charge thousands of dollars for, and something I've created just for you (at a price you can afford).
I can help you define your success, map your journey and get started on your dream career. Please be sure to check out my latest offering, Illuminate: The Creative Business Course available exclusively for members of The Luminaries Club.
Imagine knowing what you need to work on every day and following through on your tasks. Imagine having a smart and organized business plan that's designed to deliver you to your desired results. Inside The Luminaries Club, I'll show you exactly how to create that for yourself. Here's what you can expect from Illuminate, the best creative business course on the market:
How to create your own career breakthroughs (versus waiting for the ever-elusive "big break")
The psychology of selling and how to overcome the fear of self-promotion
How to rise above a crowded marketplace and appeal to your niche
Word-for-word marketing scripts that feel good and convert sales
The psychology of pricing (and what yours is saying about your product)
How to stop worrying about the competition (and leave them in your review mirror)
Conversational scripts to help you turn new visitors into raving fans
A marketing playbook! An easy-to-follow template that helps you know what to promote and when
Tips to help you turn your storefront or blog into a cash machine (because that's its most important job)
Again, this offer is available exclusively to members of The Luminaries Club. When you take the course, you also get everything that comes with the club!

Click here to continue to the final day of the series! Until next time and all the best,