Even though I'm fearlessly charging into my fifth year of business, I'm still surprised by the number of mental blocks and subconscious, emotional saboteurs that physically slow my progress. It seems that now more than ever, I need to set big lofty goals, notice the anxious feelings that immediately arise, and then ask myself: What's holding you back from going for this?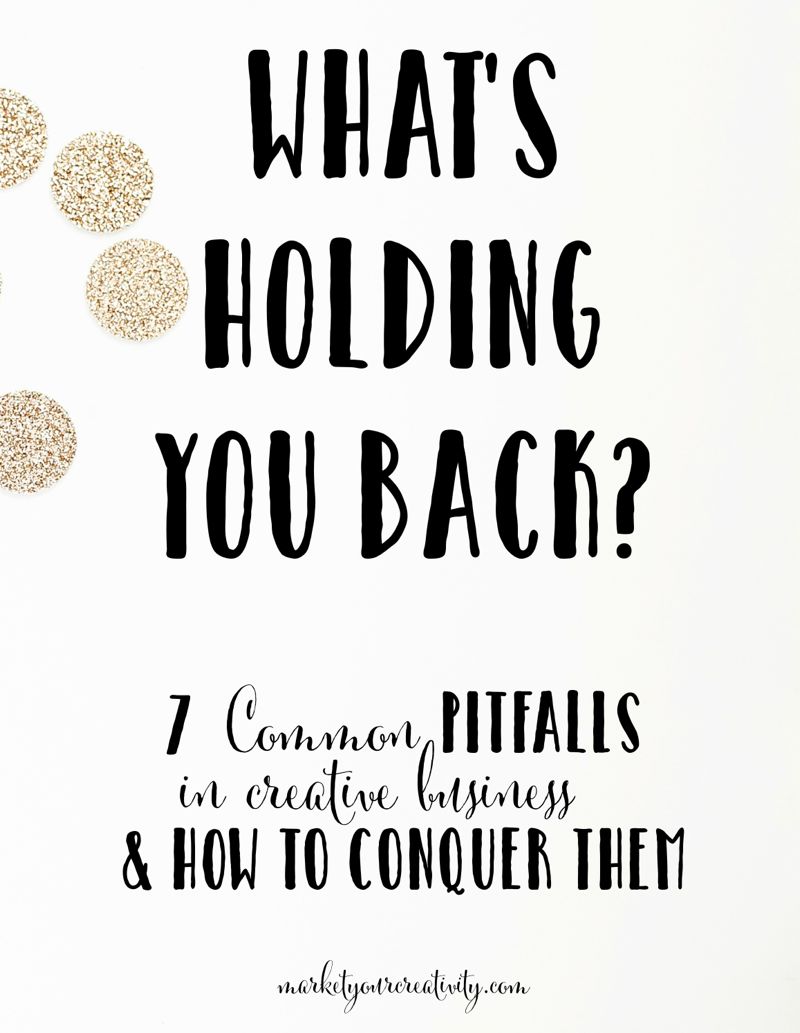 Here are seven common ways creatives hold themselves back from going after what they really want:
#1 // You're waiting to start. 
The single biggest threat to our goals is setting vague, distant deadlines for their completion. When I wrote my first "If I Knew I Could Not Fail, I Would …" list last year, I didn't plan to do any of the items on the list anytime soon! In fact, I only wrote the post to demonstrate how fun the blog topic was:
I'm anxious to share, but this is something that I think about all the time. If I knew I could not fail, I would…
Focus all of my efforts on group coaching
Lead live, in-person workshops for groups of 100+
Host a women's retreat for 20 creatives
Start a podcast
One of my previous clients commented that I should do all those things, even if I might fail at one or two. It knocked me off my seat; I couldn't believe how right she was.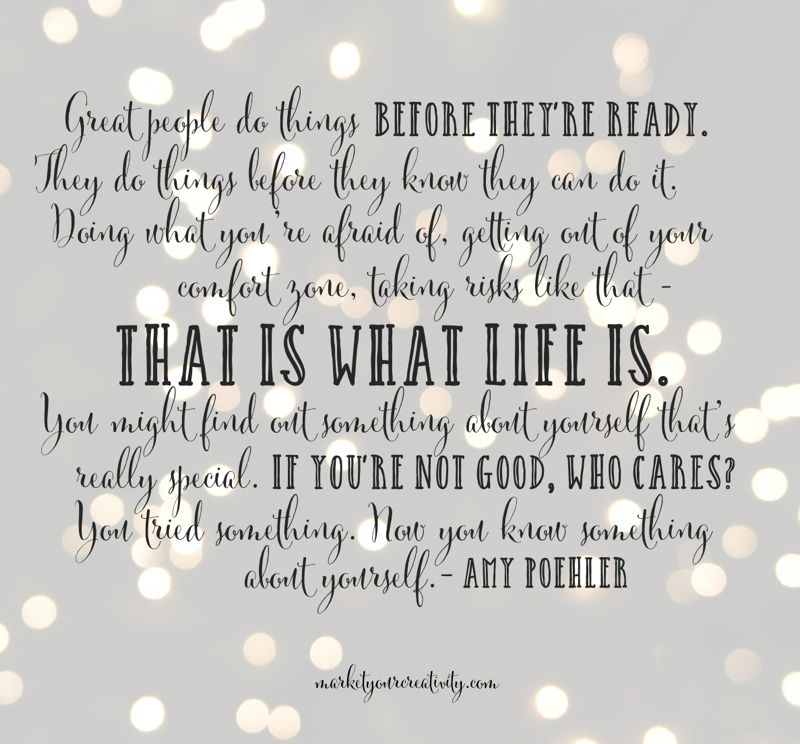 I didn't feel ready yet, but I accepted the challenge. I got right to work on, not one of my big goals, but all four of them! I never would've gone for those things last year if I hadn't shared my list and listened to the feedback it received, but I'm so glad I did! I now consider the "If I Knew I Could Not Fail" list a necessary exercise (+ challenge) to be completed every year.
#2 // You don't know what you really want.
Right? How can you go after what you really want if you're not even sure what it is? This year, I've been rejecting clients who aren't willing to decide on a vision for themselves. If a potential client refuses to spend two hours doing the business-clarity exercises I provide, in turn, I refuse to work with them. After years of experience with this, I know we'll both end up disappointed by their lack of results.
It's no different than someone asking for travel directions and not having any idea where they want to go. Imagine being hired as a travel guide for that person! From Alice's Adventures in Wonderland,
Alice: Would you tell me, please, which way I ought to go from here?
Cat: That depends a good deal on where you want to get to.
Alice: I don't much care where.
Cat: Then it doesn't matter which way you go.
More than ever before, I'm realizing that success in online business is created through one person's clear vision and their ability to create a system that builds toward it.
Decide where you want to go. Have a clear destination in mind, because if you're scattered and all over the map, no one can follow your lead.
#3 // You're hanging on to past rejections.
I have a major confession, and you're hearing it here for the first time: I was deathly afraid of launching the Movers & Makers retreat. Long before the Energy Shop and Marketing Creativity (both opened 2010), I was trying my hand at blogging (but I didn't really know what blogging was), and I created a lifestyle website (but I didn't know what that meant yet). I'd never heard of WordPress or Blogger, so I used a website builder to create a place where I could talk about recipes, raising children and building a happy home; all of the things I love about being a stay-at-home mom.
I had maybe 2 readers, and they were both members of my family. About five articles in, I decided I wanted to host a private retreat (much like the Movers & Makers Summit). I had no readership, let alone an email list. Still to this day, I wonder: Who did I think was going to come?
It was on the delusional side of the above "Start before you think you're ready" advice. I was following the "If you build it, they will come" mentality that I now heavily advise against. To kick off my plan, I booked a conference room and blocked 10 suites at a 5-star resort on the waterfront of Chesapeake Bay, Maryland with a non-refundable $1,000 deposit.
It didn't take long for me to realize the mistake I'd made. I lost $1,000 of my family's personal finances on that grand idea. It was an error that taught me a lot about online business, humbled me greatly, and (subconsciously) held me back for years.
Cut to 2014 (about 6 years later): Though others were partnering on The Movers & Makers Summit, I wouldn't let anyone else invest their money. I was too scared this big idea would flop. Again. Just thinking of announcing the retreat took me back to that time in my life where I'd failed, and the past rejection of it all shattered the confidence I had in the present-day offer.
I arranged the retreat with a worst-case scenario in mind: If we don't sell tickets, I would use every extra cent of business funds I earned to pay for the accommodations, and take my family on an (unscheduled + very expensive) weekend getaway.
That's not too bad for the worst thing that could have happened, but I was still secretly petrified. I also knew I had to go for it again. I love event planning, and I was craving a deeper, in-person connection with the creative community. It's something I've always dreamed of doing.
For every Movers & Makers ticket sold, I had an absolute Elf moment – "Thank you for coming! They told me you wouldn't come; I LOVE you for coming!" And getting past that deeply embedded fear of rejection paid off in the end. The weekend was magical; you can find recaps and photos here and here and here and here.
And by the way, I'm not scared anymore. Our next event will seat 100+, and with a fabulous business partner, a growing email list and a lot of lessons learned, it's sure to sell out long in advance.
#4 // You expect instant gratification. 
Instant gratification has become the bane of my existence both personally and professionally. You can set out with the best intentions to invest in a better, future you, but it can be so. hard. to make the necessary sacrifices in this moment.
Wherever possible, I try to set myself up on a system of delayed gratification. I like it for two reasons: (1.) it's realistic; and (2.) it keeps you humble. Instant gratification, as rare as it may be in creative business, seems to float straight to your head.
Success in the creative industry is all about long-term strategy. I coach many clients who want instant gratification for their marketing efforts yesterday already. And, I can totally relate. Last year, I launched a monthly gathering for the creative community called Create Happy Hours. I wasn't seeing thousands, or even hundreds of people in attendance. I hosted tens of people there (if I was lucky).
This is where we need to adopt what Tony Robbins calls a "privileged perspective." Meaning, look at your goals the way the world might consider them from the outside looking in. For example, when I told you that my Create Happy Hours aren't bringing in hundreds, I don't imagine any of you would tell me to quit for lack of instant results.
I imagine you'd say:
The idea's still catching on. It hasn't failed; it's simply gaining momentum.
Let's be honest, how many of us think like that when all of our hopes + dreams + sometimes, finances are riding on this idea?! I sure don't. When less than 20% of registrants showed up to the first Create Happy Hour, I was ready to quit. But I'm a creative business coach, I've seen it a thousand times, and I knew I had to shift my perspective and keep at it.
I like to create a system of delayed gratification by working ahead. This is a pretty epic post I'm writing (the rough draft is well over 2,000 words), and if I published it today, I'd sit around and wait for shares, comments and feedback to roll in. If I got them, I'd be pretty full of myself! I'd ride that wave all day and some of tomorrow too. If I didn't get the response I was anticipating, I'd be crushed and deflated. It's pretty much a lose-lose scenario.
Instead, I wrote this article a few weeks in advance. By the time it comes out, I'll be onto the next thing. If I receive shares, comments and feedback on it, I'll remember the work I put in and gratefully receive your response to it. Then, I'll get back to work on the project at hand. If I don't get any feedback, I'll be too busy to notice. It's a win-win scenario!
#5 // You change nothing and expect different results
If you're anything like I was, you're showing up year after year in business, doing the same thing and expecting different results. Let me save you the five years it took me to learn this lesson: That strategy just doesn't work!
Mid-January, I was sitting down with my books when I realized that I had scheduled another year of work that was almost exactly the same as the last four years. But, I want different results! 
Insanity: doing the same thing over and over again and expecting different results. – Albert Einstein
So, I did some work with Your Best Year 2015 and filled out another "If I Knew I Could Not Fail, I Would …" exercise. That resulted in the best plan of my life,  and by that I mean, this plan wakes me up at 4:30 AM because I'm so excited to start working on it everyday.
Ask yourself what you would do if you knew you could not fail, and then take one giant step toward it. And then another. And then another, because that list is what your life is calling you to do.
#6 // You don't know what to do next.
When I set out in 2010, my number one goal was to be a work-at-home mom. I successfully achieved that within the first two years, but fours years later, I had failed to set a follow-up goal for myself. This left me in a dangerous rut, taking on freelance work I had no passion for, and ready to quit my creative business once and for all.
It's important to always have your next goal ready. Again, if you knew you could not fail, what would you do next?
#7 // You're playing small. 
Be ready to go for broke because, if you're not willing to go broke for it, then it's not good enough yet. My most successful launches have been that passionate: I believed in the product so much that I was willing to invest, promote, sacrifice, invent … to do whatever I needed to do to make it the best that it could be and get it out into the world. You've got to deeply believe in it if you want others to do the same.
Ready to take it to the next level?
I'm launching something revolutionary this month – something that does not exist specifically for our industry, something that "business gurus" charge thousands of dollars for, and something I've created just for you (at a price you can afford).
I can help you define your success, map your journey and get started on your dream career. Please be sure to check out my latest offering, Illuminate: The Creative Business Course available exclusively for members of The Luminaries Club.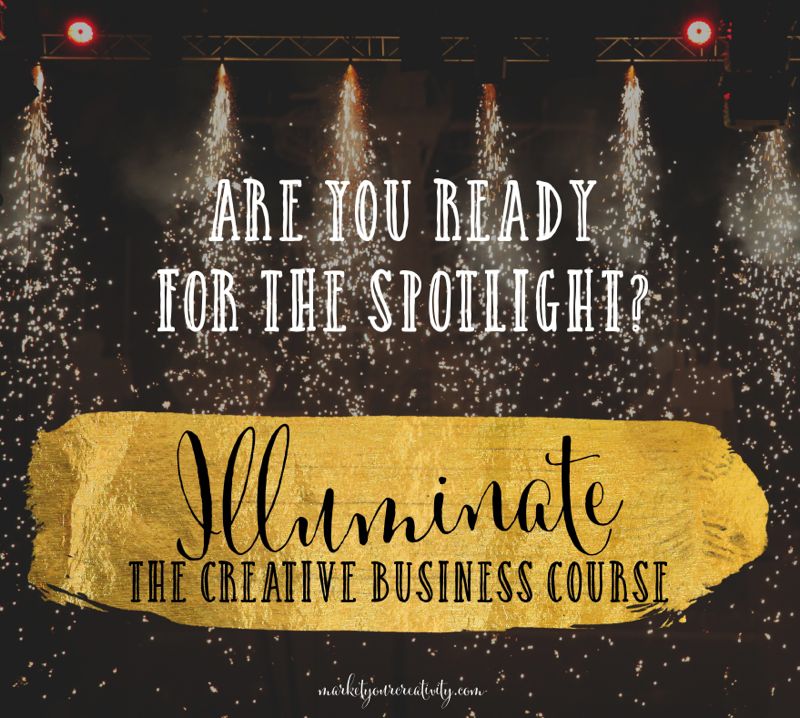 Imagine knowing what you need to work on every day and following through on your tasks. Imagine having a smart and organized business plan that's designed to deliver you to your desired results. Inside The Luminaries Club, I'll show you exactly how to create that for yourself. Here's what you can expect from Illuminate, the best creative business course on the market:
How to create your own career breakthroughs (versus waiting for the ever-elusive "big break")
The psychology of selling and how to overcome the fear of self-promotion
How to rise above a crowded marketplace and appeal to your niche
Word-for-word marketing scripts that feel good and convert sales
The psychology of pricing (and what yours is saying about your product)
How to stop worrying about the competition (and leave them in your review mirror)
Conversational scripts to help you turn new visitors into raving fans
A marketing playbook! An easy-to-follow template that helps you know what to promote and when
Tips to help you turn your storefront or blog into a cash machine (because that's its most important job)
Again, this offer is available exclusively to members of The Luminaries Club. When you take the course, you also get everything that comes with the club!

Until next time and all the best,