Hello, lovely creative! Welcome to a new and ongoing series on Marketing Creativity: Marketing Hacks (coming to you in volumes), and these are building off the post, The Ultimate Guide to Marketing for Creatives. In case you're just joining me, it's best to start there for a complete picture of all that we're going to cover.
This series is inspired by the creative business course I'm leading inside of The Luminaries Club. We're finally through the introductory classes, and we're getting into the meat and potatoes of business building which is centered around marketing. And that's my sweet spot!
I know some creatives don't necessarily love the idea of marketing (and selling), but I gush over it. I consider myself the perfect "strategary" – a term I coined to describe my passion for business strategy, planning and organization. I spend a lot of time sharing that passion with my premium clients (aka The Luminaries), but I don't write about it often enough. Therefore, I'm excited to show you a more in-depth look into my consulting through this series + offer a new way to look at marketing for your business.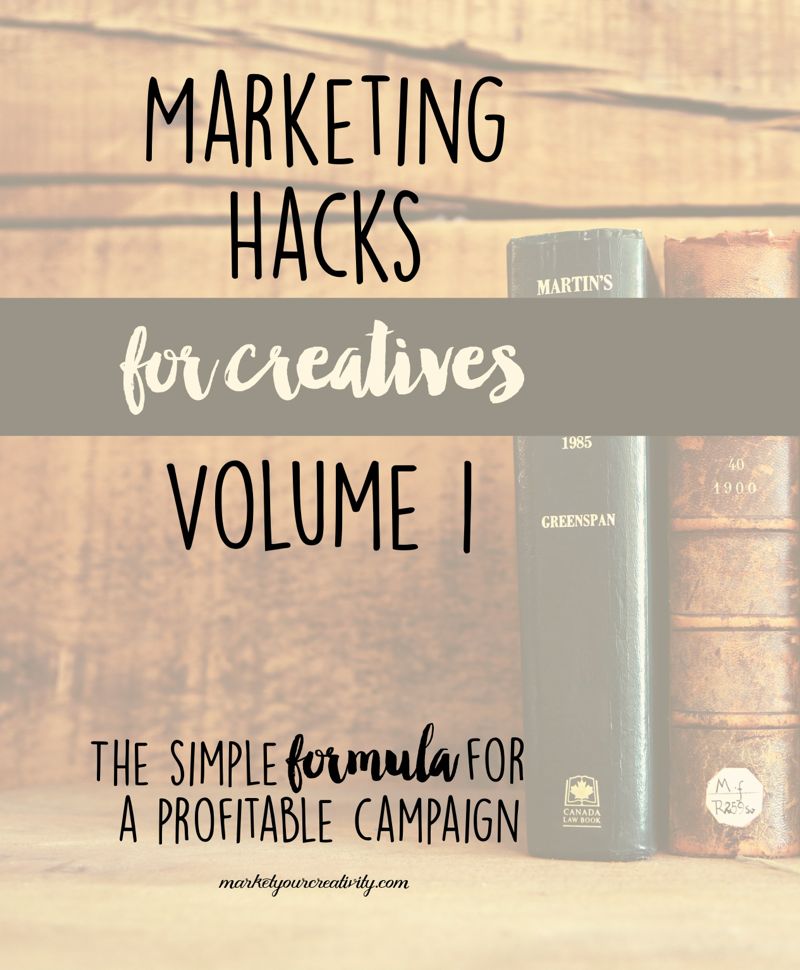 Marketing is a System
Marketing is thrown around as a general term that can confuse and overwhelm. More than anything, it's an semi-automated system that you create to work for your business. When done well, your marketing system will be amazingly simple, yet incredibly effective.
A good marketing system covers all of the following, all of the time:
Identifying who your potential customers are
Reaching your potential customers
Engaging with your potential customers
Establishing trust with your potential customers
Converting potential customers into actual customers
Following up and building relationships with actual customers
In order to be doing all of these things all of the time, you need to create what's known as a "sales funnel." It's a living web of landing sites and touch points in which visitors will find you.
In other words, it's your marketing system's job to cover all of the above tasks, and you employ your blog, online storefront, email list and social media accounts (the touch points of your sales funnel) to get the job done. You want to intentionally design each space you create online so that it performs at least one of the six required tasks of an effective marketing system.
For example, once I identified who my potential customers are, I use my Twitter and Pinterest accounts to reach them, and this blog is written to engage and establish trust with new visitors. Marketing Creativity does that effectively by answering many problems my ideal customers face, while simultaneously showing my experience and knowledge of the industry.
My email list is also good for establishing trust, as I have an automated email that goes out to new subscribers to better introduce my business to people who have just found me online.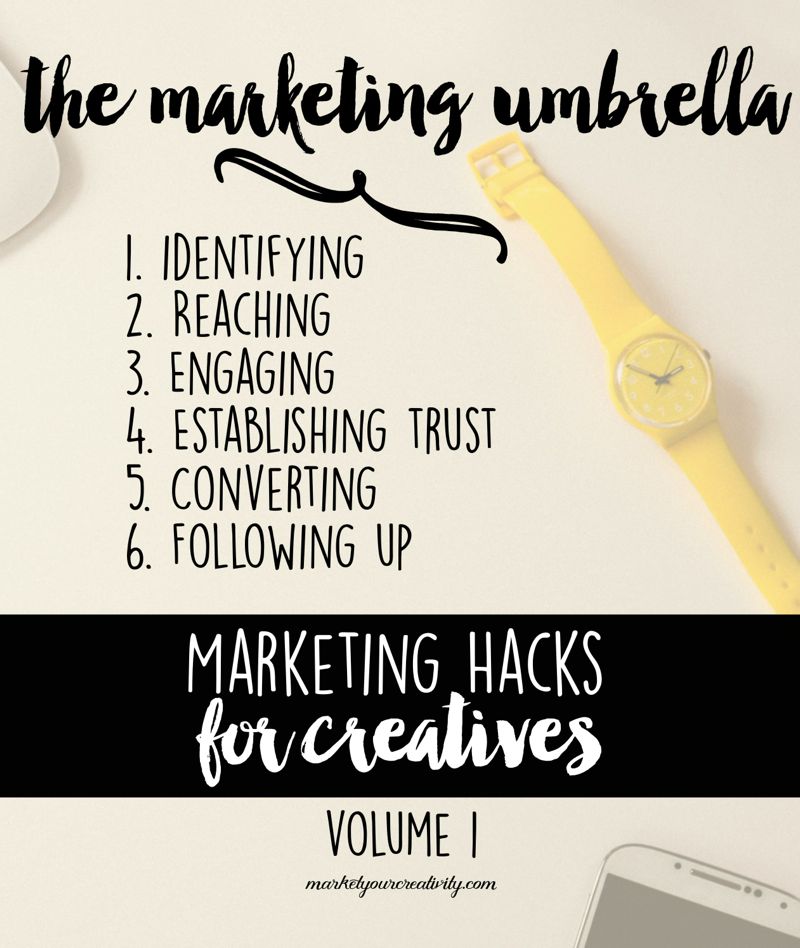 When I meet a potential customer, let's say you've just found my article on Pinterest, I am not asking for the sale. That honestly wouldn't be good for either of us [in the service industry. However, it's perfectly fine to ask for the sale on the first encounter in retail]. I am, however, subtly asking whether or not my teaching style is a good fit for your business. Am I providing valuable information for you?
I continue to establish trust with my potential customers through various articles, newsletter updates and free offers. It's typically via email that most potential customers will convert into actual customers over time.
Further reading: Identify your ideal customer, The Ultimate Guide to Marketing for Creatives
---
The Goal
Every good marketing system should have a desired end result, and that end result should substantially contribute to your business' bottom line.
In my example, the marketing system I created was built to achieve one business goal: Welcome 500 members to The Luminaries Club.
Notice that my system wasn't created just to recruit sign-ups for The Luminaries Club, but rather to ask them: Am I a good fit for your business? And if so, please consider joining my club so that we can work together in a way that's beneficial to us both.
Before you post another blog or share another picture on Instagram, ask yourself …
What has to happen this year in order for me to feel like an absolute success?
How much business (sales/customers/etc.) do you have now?
How much business do you want to have by the end of the year?
You may have just created your marketing goal, but hold on a second!
"You don't want to get to the top of the ladder only to find out you had it leaning up against the wrong wall." – Jack Canfield
Question your goal to make sure there's not a better way of doing things. For example, many of my previous clients wish for "more wholesale orders", but I'd hate to see you off on a marketing campaign with the intention of finding more work at your own expense.
I've done my share of wholesale orders through The Energy Shop. Trust me, direct sales double the profit and cost half the work. When people look for more wholesale, I always read into that as their meaning what they really want is more validation and reliability. They want to feel fulfilled and busy; what they don't yet realize about wholesale is that they'll more likely feel underpaid and resentful. Right ladder, wrong wall.
In that example, you want to question your goal and see if your time is better invested in a crash course on marketing to build a system that brings you more direct sales (and profits).
Further reading: Build a Business Your Customers Will Love
---
The Main Formula
The main formula for a marketing system (regardless of whether or not you're service or retail) is to continuously strive to meet new people in your targeted audience, and then …
connect > capture > convert
When done properly, your marketing system is building a better relationship with your ideal customer over time. And though it's referred to as a "sales funnel", it's not so much funneling a sale as it is laying the groundwork for a loyal and lasting relationship.
That's one of my favorite parts about being in online business (especially as an introvert). Rather than being "on" all of the time to network and connect with potential customers, you can create a webpage that resonates with new dream clients time and time again. It gets you past the small-talk stage, so that when you encounter them in realtime, you can get right down to business!
Further reading: Create a Sales Funnel for Your Creative Business
---
Keep it Front & Center
It dawned on me last year that we're all running our businesses day-by-day (including me), and if you reflect on that for a moment, you'll realize how disturbing it is. We're the only small business owners in the world who try to succeed this way! A serious business person doesn't scramble, she schedules. A real businesswoman doesn't try something one day, check stats, and give up! No, she persists in her plans.
Worse, human beings are extreme creatures of habit. I have a new motto for the year: It's okay to obsess over your goals. Why obsession? Because …
If you are not actively creating and enforcing new patterns, you are unconsciously falling back into old ones.
Be sure to keep your marketing goal front and center so that it will keep you on track all year long. Every week, I write a reminder to find 500 new members in my daily planner. I write that so as not to find myself on a road named "More of the Same" – a dead-end I've been down too many times before.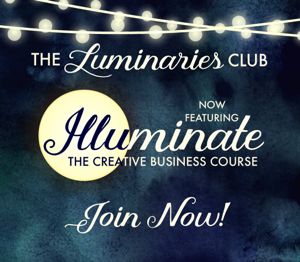 Thanks for reading! If you loved these tips, please be sure to check out The Luminaries Club. I'm currently teaching a 9-month creative business course that will help you build a marketing system to drive more sales, customers and clients to your online web.
This post is only the appetizer! Click here to join, embark on the Illuminate course and learn marketing for creatives like you've never seen it before!
Here's to your success,