Hello, lovely creative. I'm so glad you're here because today I'm sharing a great resource, The Ultimate Guide to Marketing for Creatives! I know that traditional artists and makers love what they do so much that they sometimes cringe at the idea of targeted marketing. In fact, the notion of cold-selling what's been made with a warm heart makes some creatives downright uncomfortable!
Moreover, marketing has become a very general term that confuses many and leaves most makers overwhelmed. However, it simply means finding the customers who desire your work and pointing them to it. It's actually a service you're doing to the people who will value your art.
Today, I'm going to offer you the basic ingredients of a winning marketing campaign.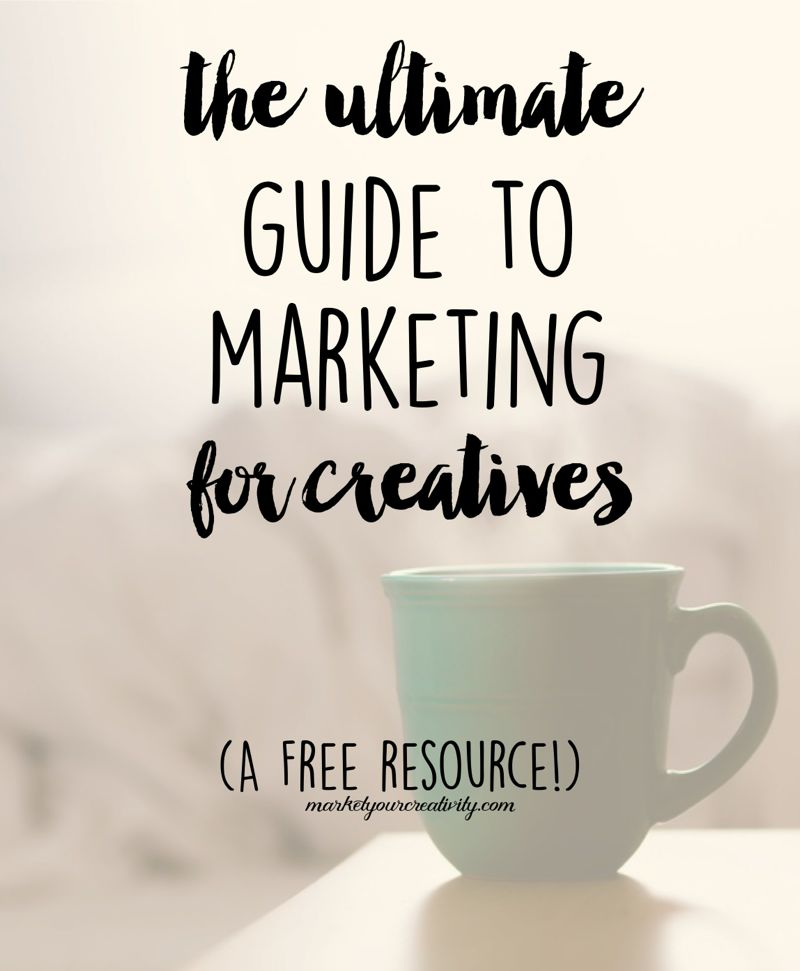 For clarification purposes, all of the following activities fall under the marketing umbrella:
Identifying who your potential customers are
Reaching your potential customers
Engaging with your potential customers
Establishing trust with your potential customers
Converting potential customers into actual customers
Following up and building relationships with actual customers
And as a creative entrepreneur, you want to be doing all of these things, all of the time. I'm going to briefly walk you through every leg of your future marketing campaign.
1. Identify Your Potential Customers
If you say, "My product is for everybody,"  you might as well say it's for nobody. It's very important that you narrow your target market so that you can better understand how to appeal to your niche.
The big question is: Who is the perfect customer for my product?
Her style, personal taste and budget will perfectly match your brand. Imagine the ultimate fan of your work by writing up a description of just one person on paper. There are a million things to explore about your ideal customer, but let's start here:
Is she married or single?
What age range does she fall into? (i.e. 18-24, 25-32, 33-40, etc.)
Does she have children?
Does she spend a lot of time on the internet?
Which websites does she frequent?
Which magazines does she subscribe to?
Depending on the product you're selling, some of these questions won't matter much for your ideal customer, but others will hold vital information. There are a lot of clues about where you can find your potential customers online and how you can approach them hidden in the answers to questions like these.
For example, if your ideal customer doesn't spend a lot of time online, she probably only frequents major websites, such as Facebook and Pinterest. Therefore, you'll learn that you're wasting your time trying to find potential customers on industry blogs … where she's probably not hanging out. You can then focus your marketing efforts where you know you can find her.
Related posts: How to Target the Right People + Get Found in an Overcrowded Marketplace, How to Appeal to Your Niche
2. Reach Your Potential Customers
There are several ways to reach your potential customers, and I list them here from most effective to least effective:
Direct Contact – Email and newsletters
Referrals – Peer and customer word-of-mouth recommendations
Public Speaking – Featured speaking or teaching gigs
Blog and Social Media – Writing and general communication
Industry Shows and Events – Local displays and tables
Paid Advertising – Pay-per-click and sidebar/banner ads
From a quick glance of the list, you can see that email marketing is king while other time-consuming tasks, such as building a booth at a local show, are often highly overrated.
The big question is: How do people typically find products like mine?
Public speaking is near the top of the list because it adds instant credibility when you're called to speak or are otherwise showcased as an expert in your industry, and it can take years to reach the well-known status it requires.
Direct contact via email, on the other hand, is something you can (and should) implement into your business plan immediately. Make sure the things you do and the places you spend your time online help you reach your potential customers.
Related posts: Q&A: Online Advertising, How to Gain PR for Your Etsy Business, How I Tripled My Blog Traffic in 3 Months

3. Engage with Your Potential Customers
Creatives often get themselves caught under a "jack-of-all-trades" category. Because we operate like that, the branding is often askew and mismatched, the message is all over the place, and while it's a subtle layer of psychology that most people don't pay attention to, your potential customers become confused.
A successful business needs to be one face, one brand, and one source of expertise for their customers. It needs to have a clear purpose in order to stick.
Therefore, you want to home in on what it is you have to offer your ideal customer. When you're able to think of your customer's needs: whether you fill a void in their life by offering information or inspiration, make their house feel more special by creating home decor they love and adore, or make them feel more complete and confident by giving them that one special accessory for their outfit – whatever it is, there's a purpose for your product in the customer's life, and it's your job to clearly identify it.
The big question is: What's in it for them?
Matter of fact, don't think of it as a product or a purpose. Think of it as a solution. There's emotion attached to solutions. As business owners, we need to breathe in that emotion – fully absorb it and own that expertise – and then share it with everyone we touch.
Related posts: 5 Ways to Authentically Connect with Your Customers, What Matters Most to Your Bottom Line
4. Establish Trust with Your Potential Customers
The recipe for a trusting customer-to-business relationship is made up of proven authority, credibility, social proof and reputation. It's something that is built over time, but there are parts of your expertise you can showcase to speed up the process.
The big question is: What makes me the best person for the job?
Wherever possible (on your landing pages, website, social media accounts), be sure to share your brand's social proof. From Wikipedia,
"Social proof is a psychological where people assume the actions of others in an attempt to reflect correct behavior for a given situation. This effect is prominent in ambiguous social situations where people are unable to determine the appropriate mode of behavior, and is driven by the assumption that surrounding people possess more knowledge about the situation."
For our purposes social proof means that showing that your brand is popular with others, and that it's an established business with a good reputation, immediately boosts its credibility to new visitors.
Social proof helps the customer feel "at home" while shopping with you. On Etsy, it's the combination of history and experience (as well as the site-familiarity that Etsy provides) that helps the customer trust the transaction. Social proof can also come from word-of-mouth, product reviews, and brand recognition (i.e. "Oh! I've heard of the Energy Shop before! My best friend LOVES her bracelet.").
You can help your customer find social proof on your business by using phrases such as, "best-selling," "back by popular demand," and "previously sold out" on items that have a history of doing just that. Your customers are influenced by people with similar tastes, and when they're shopping your brand and niche, they automatically find people with kindred styles in your sales history.
Related posts: 5 Ways to Authentically Connect with Your Customers, Create a Sales Funnel for Your Creative Business
5. Convert Potential Customers into Actual Customers
Too often, people feel entitled to sales simply because they listed a product or service online. There's so much more to it than that!
The big question is: What makes my customer want to buy?
Sometimes you release your glorious, passionate creation into the world and nobody even notices it's there! How many times has this happened to you? And how many times have you ditched the new creation altogether out of sheer disappointment?
Disappointment is a real danger in creative, passion-based businesses. It will cause you to drop a project when it doesn't get off the ground as you'd expect. You forget that it's not only your job to create that product, it's also your job to help it find success.
That's why, for every new project I release, I launch it with a 3- to 6- month marketing plan. It's not enough to create a product, you also have to make sure people know about it. And oftentimes, the first announcement is only the beginning of the campaign – especially when you're selling a quality product at a higher price. People need time to consider the offer, but don't let them forget about it. Make a few notes that span the next few months in your calendar to gently remind your customers that your new creation exists.
Related posts: How to Launch Anything and Make it Rain, 5 Reasons Your Customers Aren't Buying (and What to Do About It), Stop Making These 3 Etsy Mistakes (and WHY They're Killing Your Sales)
6. Follow Up and Build Relationships
Many creative entrepreneurs see a sale as a one-off deal, but to me, it's the beginning of a beautiful relationship that I will treasure for years to come.
The big question is: How can I WOW them?
You are the expert in your field. The customer came to you because you have knowledge and talent that they appreciate. That means your shop is full of items that they want. Own your expertise, and be each customer's personal stylist by using your listings to suggest what other products you have that will work for them.
Related posts: How to Make it Happen Already, The Real Secret to My Success, How to WOW Your Customers and Keep Them Coming Back for More
The Fun is Not Over!
Based on the popularity of this post (and my absolute LOVE for marketing), I'm writing a monthly follow-up series titled, Marketing Hacks for Creatives. Put your marketing hat on, and let's get down to business!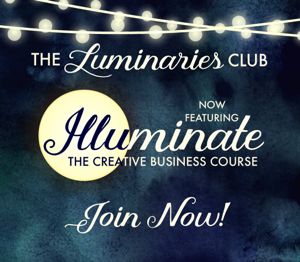 Thanks for reading, and if you loved this guide, please be sure to check out The Luminaries Club where I teach a creative business course full of marketing strategies and techniques just like these (only bettah)!
ALSO! This just in! Come check out my FREE to join Facebook group: Female Creative Entrepreneurs by Marketing Creativity. There I host pin-, link- and blog- parties so we can help boost your reach and reward your marketing efforts! I look forward to meeting you there. Until next time and all the best,