Hello, lovely creative! Today we're going to talk about a handful of Etsy myths that are ruining your storefront and killing your sales. Quite frankly, I'm tired of proving them wrong! In this article, I want to layout all the facts and dispute the noise that seems to be getting louder in the cottage industry.
When it comes to seeking advice for your product-based business, please double-check TWO very important factors:
Has the "expert" ever sold a physical product online? (You'll be surprised to discover that most creative business experts have NEVER sold a physical product online, they've only ever sold advice to people selling products online.)
Does the "expert" have a successful online storefront or business for that product that showcases proven sales?
If the answer is "no" to either of those questions, their advice has little value in our industry. If the answer is "yes", consider trusting them as an expert.
While I answer "yes" to both, that's not to say that some advice that contradicts my own isn't right or wouldn't work; I'm open to different ways of doing things. I'm also very comfortable when my clients take what they like and leave what they don't, but I'm done disputing the myths and theories of online "business gurus" who will say anything to get in front of the growing community of Etsy sellers.
Here are the Etsy myths that are slowly ruining your chances of a successful business: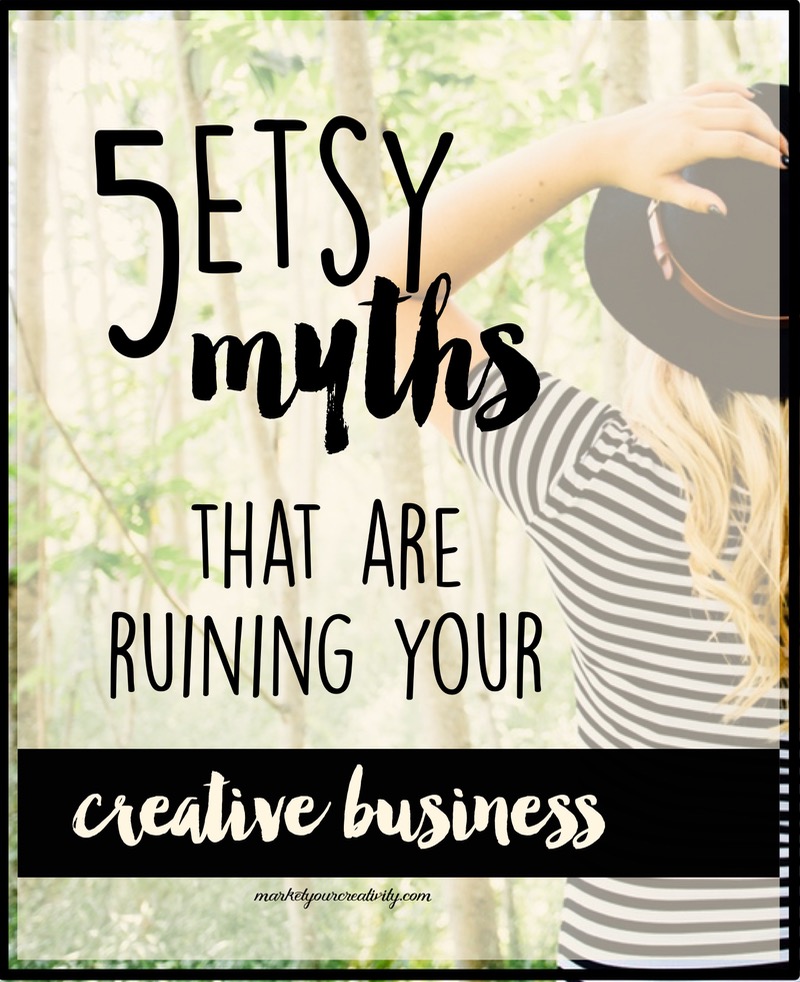 1. Create as many options and listings as possible! 
As makers, we've been told to customize, add options and list as many items as possible to get more sales. And you've done it all, so …
Why aren't your views converting into sales?
Because extra options, customizations, choices and contact requests only serve to interrupt a very delicate buying process. It essentially overwhelms the customer and turns them off. They come to you as the expert, and they want a "get in, get out" user experience that allows them to quickly make a decision and check-out.
Exception to the rule: Personalized products (engravings, monograms, etc.) and suppliers. If you sell supplies, more listings and more styles works – even on Etsy.
Further reading: 5 Surprising Reasons Your Customers Aren't Buying (and what to do about it)
2. The customer loves your handmade story!
This myth contradicts every thing we've ever known about customer decisions and the buying process. Listen to this advice from Scientific Advertising written by Claude Hopkins in the 1920's:
"Remember the people you address are selfish, as we all are. They care nothing about your interests or your profit. They seek service for themselves. Ignoring this fact is a common mistake and a costly mistake in advertising. Ads say in effect, 'Buy my brand. Give me the trade you give to others. Let me have the money.' This is not a popular appeal."
The customer doesn't visit your storefront to find out more about you and how you make your product. This myth has been perpetuated by the idea of a "handmade marketplace" and Etsy's overall branding, but business is business. The customer is always asking: "What's in it for me?"
Your listing could say:
(1.) "I created this afghan using pure alpaca yarn. I carefully knitted each garter stitch. It's lovingly packed by me, and then delivered to you, with a note of gratitude."
Or, it could say:
(2.) "This warm, luxurious afghan was created from the best-quality, softest yarn that money can buy. The neutral colors will enhance any living room; it will look gorgeous draped over your favorite chair. This blanket is waiting to be well-loved; Your family will fight over who gets to use it!"
As a shopper, which of the above paragraphs appeal to you? Example 1 is written by the seller, for the seller. Whether you realize it or not, when you write a listing like this, you ask the customer to envision you knitting away in your home. When I read example number 1, I picture my grandmother. I remember her sitting by a fireplace crocheting an afghan, and I really loved her afghans, but that's because they came from her. I don't necessarily want an afghan made by a stranger's grandma in a home I've never seen before.
Example 2 is written by the seller, for the customer. I don't need to know what your living room looks like in order to make you think of it. I certainly don't know what your favorite chair looks like, but I bet you could easily picture it with a pretty knitted afghan draped over it!
Exception to the rule: Your "about" page and personal blog articles. Your customer comes to these pages after taking greater interest in you and your brand.
3. Stuff your titles to get found in Etsy search!
I am dumbfounded when people tell me how much stuffing their titles with every keyword imaginable has helped their views. DUMBFOUNDED, I tell you!
So your views increased when you stuffed your titles full of every keyword imaginable? Yeah? Then what happened?
"Not everything that can be counted counts, and not everything that counts can be counted." – Albert Einstein
Anybody who teaches you how to get more VIEWS by making changes to your storefront that drastically reduce your chances of making SALES is setting you up for failure. If you asked this growing group of stat-lovers, views are the new currency … only, they're worth nothing. A good marketing system doesn't result in VIEWS, it results in SALES.
I get asked a lot of questions about Etsy-related tags and materials, as in, "How do I get found through Etsy's search?" If there was an effective method for doing so, I would share it freely. But the truth is, Etsy changes its algorithms and code regularly. (If you want proof, just read this interview from Etsy CEO, Chad Dickerson where he jokes about "blameless postmortems" for "spectacular mistakes.")
I don't rely on Etsy for traffic, and I won't advise anyone else to do it either. You're in a marketplace that now has more than 1,000,000 sellers. The advice I give is about being found outside of Etsy through search engines, and pulling the traffic onto your site. You should absolutely use keywords in tags and materials, but at the same time, it's important that you learn to stop relying on Etsy for the results you want.
No exceptions.
Further reading: Use Keywords Wisely, Stop Making These 3 Etsy Mistakes (+ WHY They're Killing Your Sales)
4. Find the magic keywords to gain more business.
Keywords are only the beginning to getting found in search. If you've been selling online for anytime at all, you've probably heard the term "search engine optimization" (SEO). From Wikipedia, SEO "is the process of affecting the visibility of a website or a web page in a search engine's 'natural' or un-paid ['organic'] search results." The idea being, the better ranked the website, the higher it appears in search results, the more visitors it will receive from search engine users.
While it's true, relevant keywords are the number one way online sellers and bloggers try to influence SEO results, there's more to the story.
Here's what it really takes to get found: My strategy has always been to attract customers elsewhere on the web and point them to my site. Whether I'm writing a guest post, populating a Facebook ad, or pinning items on Pinterest, I see my online presence as a web that invites like-minded people to connect with me. If our interests match and we form a connection, my articles and pins eventually lead them to my online store – a funnel that I built with intention.
What do my hundreds of guest posts, Marketing Creativity website, Facebook account, Pinterest account, and Twitter account have in common? They all link to Energy Shop Jewelry.
[Tweet "Want to know the real secret to high-ranking #Etsy SEO?"]
In SEO speak, those links I've created to my online storefront are called "backlinks." From Wikipedia, the number of backlinks a website has is "one indication of the popularity or importance of that website." If you were to run a google search on "Energy Shop Jewelry", "energyshop" or even "Energy Shop", you'll find my site on page one of the results. That didn't happen overnight, and it was certainly no accident.
The web of links I've built online is the real secret to my high Google rankings. Yes, I use relevant keywords. But I mean, really, wouldn't it all be a bunch of nonsense if I didn't? Good keywords evolve over time the more you refine your voice and the better you learn to connect with the people who truly matter.
5. You can't build an email list from your Etsy sales.
Of all of these fatal errors, this might be the deadliest of them all. When you make a sale on Etsy, that's your customer. Etsy is the host of your storefront, and while they might like to claim every customer as their own, they're not doing the making, the packaging, the shipping or the customer service.
Don't fear Etsy's TOUs (and those crazy forums!) so much that you give up your rights in business.
For the record, Etsy's TOUs on this state:
Etsy has not (and cannot) take away permission for you to contact your customer after they've made a purchase from you. The idea that they even have control of whether or not you do so is absolutely ludicrous to me …
Etsy is a host for your storefront, not the CEO of your company! 
Now, let's say I were to go throw this information into the Etsy forums. Can you imagine the outrage, especially after not being able to find this rule inside the 26 pages of Etsy's Terms of Use? But, guess what else:
It's not SPAM, and it's definitely not illegal to build your list.
Contacting your customers after purchase falls under the CAN-SPAM Act, which covers all commercial messages ("any electronic mail message the primary purpose of which is the commercial advertisement or promotion of a commercial product or service").
Here's what:, nobody – anywhere at any time –  said it was illegal to contact a customer after they've made a purchase with you. That's a myth of epic proportions, and scared creative entrepreneurs spread it relentlessly to hold each other back.
There are seven rules you must follow to comply with the CAN-SPAM Act, they're rather easy to follow, and email managers (Aweber, Mail Chimp, Constant Contact, etc.) are designed to ensure that you don't break the law.
In fact, Aweber (a popular email management service) integrates with Etsy. This integration requires permissions from both companies (in other words, it's Etsy-approved), and it means that new customers are automatically added to your business' email list upon confirmation.
If you're not convinced that you need an email list for your business yesterday already, click the link below to see how my email list repeatedly earns me thousands of dollars every time I run a campaign.
Further reading: How to Launch Anything and Make it Rain