Today we're talking copywriting for your creative business, and more specifically, how to write product listings that sell. If you are struggling with:
How to convert views into sales
What to say in your listings, or
How to entice customers to check-out and buy now …
Then, it's time to learn more about this aspect of online sales. Copywriting is what you may already be calling your "listings" or "descriptions." It's when the text you use helps to advertise your products.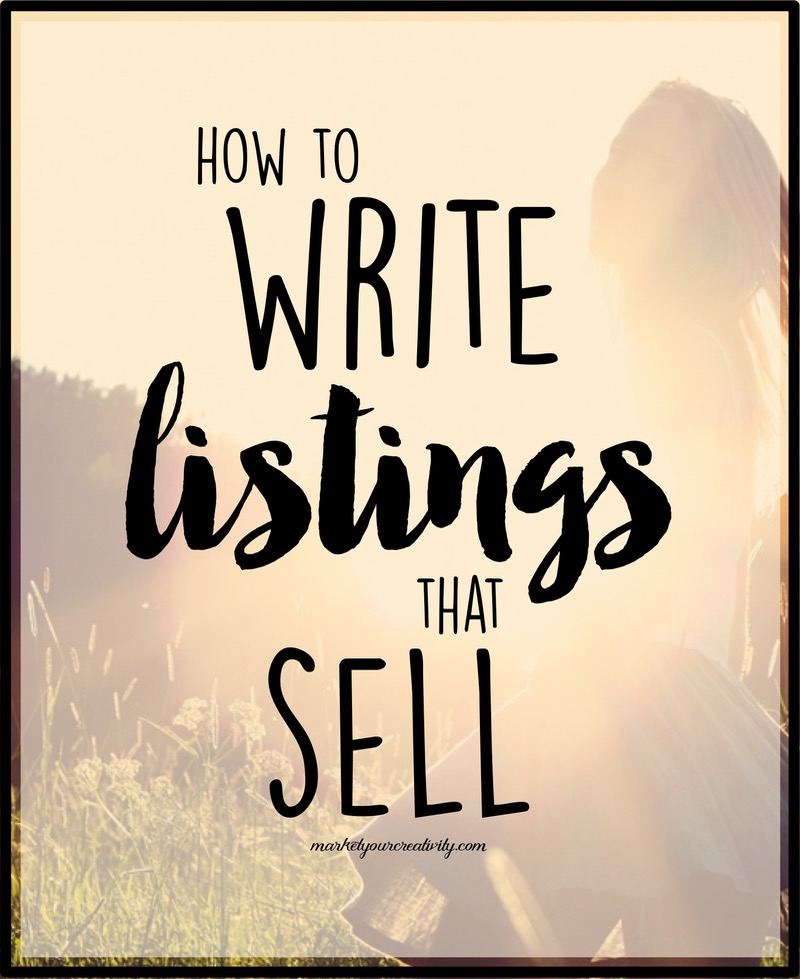 The Buying Process
If there's any topic I could get lost in all day long, it would definitely be the buying process and how your marketing system should intertwine with the customer's user experience. I love to look at why the customer buys when they do and what helps them make that decision.
Think about how long you think about some purchases. Have you ever …
Browsed an Etsy shop for weeks, and though you love and adore the product, you still haven't made the decision to buy?
Daydreamed of an expensive addition for your home, but talk yourself out of making the investment over and over again?
Added a much-needed book to your wish list, then left it sit there for months?
Why do we do this? It's simply human inertia. From Wikipedia,
Inertia is the resistance of any physical object to any change in its state of motion, including changes to its speed and direction. It is the tendency of objects to keep moving in a straight line at constant velocity.
And it's your listing's job to shift the customer's inertia, help them overcome their resistance to spend, and reinforce their decision to buy.
Your Listing Should Be a Sales Conversation
But, I bet it's not doing its job.
Before we talk about sales conversations, allow me to show you how close you are to making the sale when the customer is reading your product's listing. First, let's look at the buying process in the physical world. When you leave your house to go shopping for a specific item in an actual store, you …
Enter the store
Scan the aisles for what you want
Spot the item you're looking for
Pick it up and check its pricing
Decide to buy
Now, we'll look at the buying process for online shopping, which is somewhat similar. When you shop online, you …
Search for the product you want
Scan the storefront for the right style and pricing
Click the item you were looking for
Read its listing
Decide to buy
When your customer has clicked on your product to read its description, they are 4/5ths of the way through the buying process! They are only one step away from the sale.
If your product views aren't converting to sales, your copywriting needs help!
Here's the Fix!
Copywriting is an advanced marketing technique, and one of my favorite topics of all! I am so excited to announce that I'll be teaching a day-long course, Copywriting for Crafters on CreativeLive, that will leave you educated and empowered to write listings that sell!
Remember: when your customer is reading your product description, they are on step 4 of 5 in the buying process. They're only one step away from check-out, and I'll show you how to use your listings to …
Answer the customer's questions,
Alleviate their doubts,
Reassure their buying decision, and
Lead them through to check-out.
You're going to love every minute of my course! Get ready to write listings, descriptions and sales pages that sell. Click here to save it to your wishlist  (you'll be first to know about rebroadcasts + special offers). If you can't attend live, you can purchase the course for anytime, unlimited access. I will not disappoint! See you then,