Are you ready to grow an email list for your creative business? Starting from scratch to build an email list can feel very overwhelming, and I get it. You already put yourself out there by creating a product and building a storefront. And we all know what the email list is for: direct contact and marketing.
It's another stretch of your comfort zone in an already vulnerable situation.
There are many new questions that come with building an email list, but a high number of interested subscribers practically guarantees success in online business. It's a must.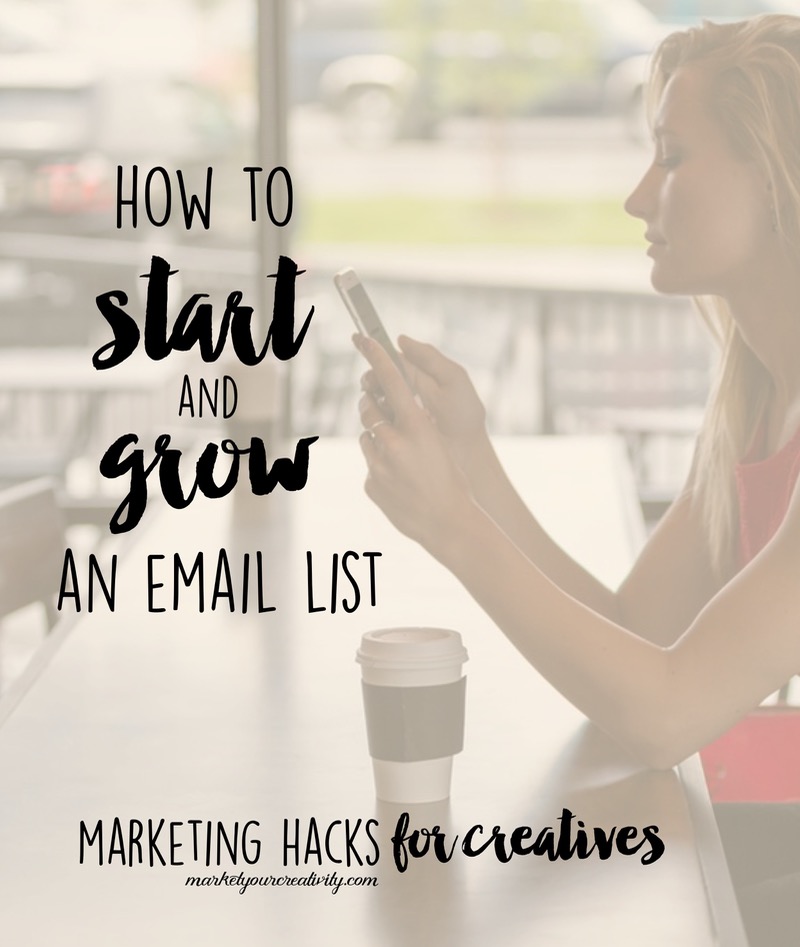 If I haven't convinced you by now, an email list is mandatory for growth and profit for your creative business, and I'm determined to get you started today! After all, getting started is the hardest part.
In fact, just last week I mentioned that it was more challenging to find my first 250 subscribers (back in 2010) than it was to find my last 2,500 subscribers (last quarter).
For Energy Shop Jewelry, I've found that every email on the subscription list is worth $1 during a promotion. In other words, when there were 250 people on that list, a promotional email with a coupon code inside generated approximately $250 in profit. The same thing happened when there were 500 people on my list, and again when there were 750 people. The dollar amount I profited continued to increase with the number of people who subscribed.
At the time I took the following screen clipping, there were 989 subscribers on my list and I sent them a sale promotion that lasted three days …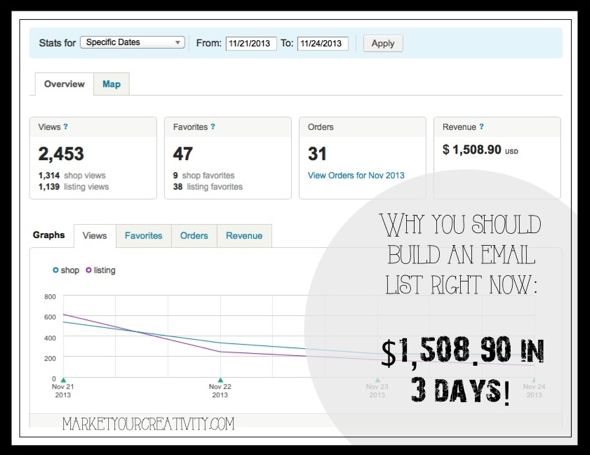 As you can see, the dollar amount the email earns either exceeds or comes very close to the number of people on the list! That is how valuable each subscriber for your mailing list will be! When I have an excellent month at the Energy Shop it's because I connected with my mailing list subscribers and offered them a special promotion.
How to Grow Your Email List
Now, I'm sharing tips about growing your email list today, but if you haven't even started one yet, I'm not letting you get away without a quick-start guide so you can create one right now (see below).
Before You Begin
I want to give you three effective strategies to grow your list, but before you embark on these strategies, you want your opt-in boxes and links everywhere. Here's where you might consider adding more …
Blog sidebar
Blog header
End of blog post
Link in shop announcement (second paragraph as to not interrupt SEO)
Facebook tab (get instructions from your email manager)
Facebook call to action
Share in anticipation of upcoming sale ("Sign up for an email exclusive!")
Send link with sales order receipt
Use the Hello Bar

3 Effective Strategies for Growing an Email List
Here are 3 effective strategies for growing an email list, even if you're starting from scratch.
#1 Pair Up with the Competition
I have always preferred niche collaboration over competition. It's a waste of energy to rival another business, so my feeling is, let's work together and help each other out!
In the past, the best way to partner up with someone else in your niche was to guest post. The strategy was: I write a high-quality post for your site, and in exchange, you introduce me to your audience. If the guest poster's article was good and the host's audience was large, it was a win-win for everybody.
However, guest-posting is an old-school strategy that's become somewhat of a myth. It's not the best use of your time, unless you get a spot on one of the major sites in your industry. People rarely click through these days – in order to increase our productivity, we've learned to stop falling down that rabbit hole.
Before I move on to what does work, let me give you a tip on how to determine whether or not guest-posting is a good idea:
Download or open Google Chrome as your computer browser,
Grab the Alexa extension. (All of this is free.)
Use Alexa to rank your site alongside some comparable sites in the industry
Offer guest posts to the most popular
Be sure to give readers a reason to click back to your site
Most sites will allow you to leave a link in your bio (at the end of the post), but you need more than that to get readers to click through. You either need to leave an offer somewhere within the article (such as, "click here to download my full report on the subject") or use your website as an example in the post. One of my guest-posters shared Etsy alternatives and used her new site as an example of what Shopify can do, earning her loads of click-throughs.
Host an online conference for your industry or ideal customers. The Makers Mentors conference and Thriving Artist Summit are two of my favorite examples of this! Each speaker shares the presentation with their list which, in turn, introduces that list to all of the other speakers at the event.
There's also the potential to earn money by selling tickets, and both examples I included have generous affiliate programs as well (this helps the speakers get a kick-back for their time).
Create a gift guide. The potential for this hit me back in 2011 when one of my favorite Etsy sellers emailed her list a promotion … for other creative businesses! She sent a gift list full of all the other handmade artists she was buying that year, thereby introducing new makers to her audience.
If you collaborated with a few complimentary products in the industry and agreed to share their products with your list in exchange for them sharing yours with theirs, there's no limit to how many people you could reach!
Teach what you know. If you make a product, don't forget the teaching side of the business as well! A how-to book might take one person months and months, but how fun would a knitting book with a different technique from all their favorite sellers be to organize and create? Everyone would write a segment, and the person who puts it all together gets special credits and props from all contributors. SIGN ME UP!
#2 Scratch an Itch (aka The Offer)
In this strategy, you want to dismantle your ideal customer's main problem or pain point with an actionable, easy-to-implement formula. And then give it away for free. This can be as simple as a one-page cheat sheet (a summary or informational guide to your product) or as involved as an e-book, but it's got to be good.
Now, if you're selling something that doesn't involve a whole lot of information (fashion jewelry, for example), an enticing discount on the customer's first sale works well too. I like a 20% off your first order deal (with sign-up to email) or a $50 off a more valuable product (something that's 200 or more).
And by the way, I always give share this advice after I've shown how valuable an email list. Remember that $1,500 email? I run that campaign several times per year. When sellers hear "discount" or "coupon", they think: LOSS! But, that's just not the case. Small businesses know that finding new customers is much more expensive than keeping them satisfied (through repeat business).
So if the offer cuts into your profits on that first sale a little bit, chalk it up as marketing expenses well-invested and ensure that customer will want to come back for more!
In either case, let's be crystal clear. The offer is guaranteed to cost you in either time or money because you need to give potential customers a very good reason to pick you out of millions of online sellers. It'll be worth the initial investment, I promise!
Example offers:
A discount or coupon
An informational guide your customer can use (for example, I could offer a crystal meaning + care guide to Energy Shop customers)
A list of resources, a la The Little Black Book
A combination of reports and popular blog articles, a la Market Your Creativity
A printable quote (for photographers, artists and graphic designers)
A desktop wallpaper a la Going Home to Roost
A free tutorial or pattern
A style guide
An extremely useful newsletter a la Abby Glassenberg or Amy Lynn Andrews
#3 Be Persistent in Your Efforts
When you decide you're all in, when you stop checking views and start taking consistent action, your business will find new customers and build momentum.
Riddle me this: Why do you think it was harder to find my first 250 subscribers than it was to find my last 2,500? It's because the hard part is gaining the momentum of growth in the beginning, before you have an outer force to back your efforts. Support happens gradually (over the years), and then, the numbers start to compound.
You have to be one determined cookie to fully back all of your own efforts for years. But in the end, it's soooooooooooooooooo worth it.
Bonus Tip: Grow an Email List from Your Etsy Sales
Did you know you can grow an email list from your Etsy sales? It's true! The details are under the #5 myth in my article, >>>  5 Etsy Myths That Are Ruining Your Business <<<.
By the way, if you loved this article, you'll love my newsletter. (See what I did there? 😉 )
How to Start an Email List
As if this post isn't long enough. I simply cannot let you spend one more day trying to build your business without one, though! It'd be the equivalent to building a house without the foundation; all your efforts are bound to sink!
I have two favorite email managers:
A great starter option: Mail Chimp (free up to 2,000 subscribers)
A great next-level option: Aweber (starts at $19/month)
I prefer Aweber because it's more affordable than Mail Chimp's paid subscription (for bigger lists), and it offers Etsy integration (meaning, when you get a new sale on Etsy, Aweber adds that customer's email address and sends them an opt-in confirmation).
It's a great tool to remember (and you can always export your list and upgrade later), but today I'm going to walk you through the Mail Chimp sign-up (because it's free and now that you know how to get started, you have no excuse not to have an email list!)
Create a Mail Chimp Account
>>> Click here to open a new window <<< and start the Mail Chimp sign-up process (this is not a sales pitch, I'm not affiliated with Mail Chimp).
Click "Sign Up Free" (Top right corner)
Enter the email, username and password you want associated with your new account and click "Create Account"
Check your email and activate your account
Enter your information, press "Save and Get Started"
You have an email list!
They offer a guide to getting started, but one of my favorite features is that you're able to create a link to share (as mentioned above, in shop announcements, "thank you" emails, and various communications with your customers and followers).
To create your first opt-in link, choose "Lists" from the navigational menu and name your first email list (this is sometimes displayed, so your business name is a good one to choose).
Click "Create List"
Enter your list details, and click "save"
You're redirected to your first list page (find the name you chose at the top, and a navigational bar below)
Click "Signup forms"
Click "General forms"
Customize and find the signup form URL just above the customizations
You have your first opt-in form!
Congratulations and good work. You're on your way, babe! Here's to your success,