Riddle me this: What's top secret, insanely useful and completely free? Why it's The Little Black Book for Creative Business, of course! You get a complimentary copy of this tremendous resource when you sign up for my email list, and if you already have your copy, I'm sharing the third edition (what's changed) here today.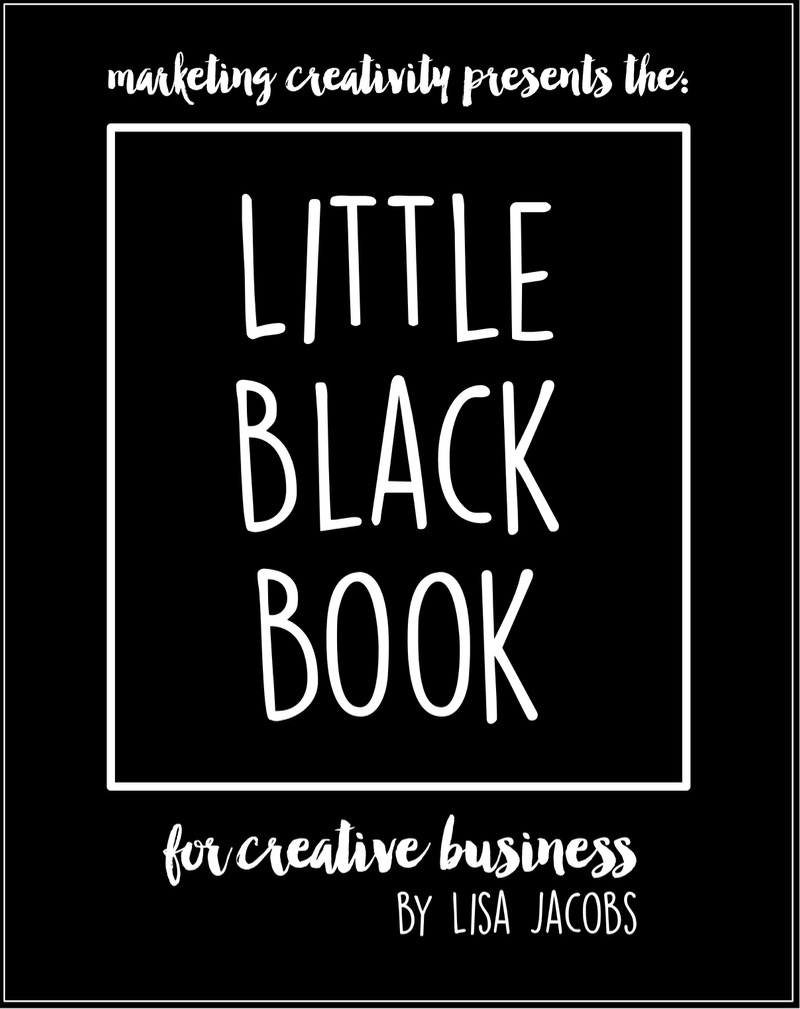 After releasing this a few months ago, things quickly changed in my business and I soon realized I'd have to include regular updates to The Little Black Book for Creative Business. Not that I mind! I love this little nugget of insider information, and I know you will too! If you haven't gotten your copy yet … what are you waiting for? Sign up and you'll get this + a free copy of Market Your Creativity (a $25 value).
For those of you who already have a copy, here's what's new and different inside the book:
Resources
Scrivener (for both Mac and PC) – This is a writing app that I recently discovered and absolutely love! It's like a notebook for your project, and everything about the piece – your research, notes and outline – can be easily organized in one space.
I downloaded a free trial through the link shared here, and found it so insanely useful, I had to buy!
Email Marketing
Aweber – I love and highly recommend Aweber for email marketing. I appreciate the ease of creating pop-ups, opt-ins, and newsletter templates. I love the list and subscriber management, and I love the customer service.
Aweber also offers Etsy integration! What that means: when a customer makes a sale, they are added to your list and prompted with an opt-in confirmation! This makes them SO worth the investment.
Infusionsoft – Infusionsoft is next-level email marketing, otherwise known as customer relationship management. It's much pricier, and I don't recommend the investment until your list is well over 5,000 emails and you have a strong understanding of how a marketing system should flow.
It also takes time to learn and set-up, and I highly recommend learning the Infusionsoft software yourself (versus having someone set it all up for you). I've noticed many current and former role models using this system, and I could hardly wait to justify its expense for my own business.
Before Infusionsoft, my offerings felt jerry-rigged together with multiple plug-ins (and the bugs that go with them), forms and websites that I was counting on behind-the-scenes. Now everything about my business is run through Infusionsoft, and while it does cost a pretty penny (starting at $199/month), I've been able to drop other expenses and the extra fuss and troubleshooting that went with them. Infusionsoft even powers my membership site, the sales of my digital downloads, and credit card processing.
I'm 90% of the way of being full transferred, and it's taken me about eight weeks to learn the backend and write all new campaigns. Believe me, I wouldn't have invested this time, energy and money if I didn't think it was going to be worth it in the end! I'll update you with my results soon.
Webinar and Video
WebEx – I needed a webinar system I could rely on for monthly training inside The Luminaries Club. WebEx offers professional online meeting spaces I can trust.
iPhone 6 + this little boom mic + this lighting set = All I need to take great quality clips for training videos and blog posts.
In just a few days, I'm going to show you exactly what I can do with this amazing + affordable setup at home. I filmed HD video with my Canon Rebel right next to video filmed with my iPhone 6, and the iPhone 6 blew my expensive camera out of the water!
Marketing Boosts
An all-new section to The Little Black Book!
Are you frustrated by low engagement or struggling to convert views into sales? Well, you're in luck! I have some useful tools and resources designed to boost your marketing efforts and help you better connect with your potential customers.
Female Creative Entrepreneurs by Marketing Creativity. This free-to-join Facebook group is growing rapidly and will soon boast thousands of sellers who are at the ready to help boost your promotional efforts. Following my own prompts (M-F), I boosted my Facebook reach by 600%! Please read the entire blog post to see how we do it + keep it a professional experience, and then come on over and join us!
Pay attention to the bottom of the post where I continuously update and add links to the monthly series, Marketing Hacks for Creatives (coming to you in volumes). I already have two out: The Simple Formula for a Profitable Marketing Campaign and How to Self-Critique Your Marketing System.
I am beyond grateful for this quick and easy tutorial from The Nectar Collective, How to Set Up Rich Pins on Pinterest. The number one reason I wanted rich pins for my own site was because your account gets knocked by Pinterest if you repin a bunch of spammy links (the site can tell they're not good links, even if you don't click them and have no way of knowing they're junk). People don't have to worry about this when they see it's a rich pin (includes site name, post title and favicon, like so). I've wanted rich pins forever, but I don't read, write or speak website code. Melyssa teaches how to do it in 3 simple steps (for wordpress.org users). It took a few weeks for Pinterest to approve mine, but I officially have rich pins!
In my popular article, How I Tripled My Blog Traffic: The Complete Play-by-Play, I openly hated on guest posting. My main issue is, bloggers can grossly over-inflate their reach and influence. Even when another blogger does have good reach, very few readers click-through unless you give them a very good reason to.
Two valuable tips here:
BEFORE you request a guest post, download Google Chrome for free (if you're not already using it), and get the Alexa extension (also free). Then, pull up a few of your favorite industry websites and COMPARE THEIR RANKINGS! I'm going to write a whole post about what you can learn by using this extension soon.
Work in your site as an example. My all-time best-performing, hosted guest post was by a Luminary who prefers Shopify over Etsy. She wrote the post, Why I Left Etsy: Hosting Alternatives, and because she used her storefront as an example of what you can do with Shopify, it earned her a lot of clicks and visitors.
Finally, I want to share the best free resource for gaining Pinterest traffic that I've come across. It's by Erika at olyvia.co, and it's titled, The Ultimate Guide to Getting Followers + Repins. I consider myself pretty good at Pinterest, but this article made me even better!
How to Calculate Growth Percentage
You know what's embarrassing? Being in front of a live audience on a conference call and taking a wild stab at growth percentage because you paid WAY MORE attention in English studies than you did in math.
By the way, if you attended the Makers Mentors conference and watched me fumble over growth percentage, I'd like to proudly state that I increased my website traffic by 433%. (My wild stab was 300%. Again, here's the complete play-by-play on how I did it.)
If you're wondering how it's calculated, let me show you what my 14 year-old daughter taught me. To calculate growth percentage, here's the formula:
new – old
                         old                x100
Example: Before I created my free-to-join Facebook group, I was reaching an average 100 people (of my 1,500+ fans) with each post. After I created the Facebook group, I started reaching an average 700 people with each post!
The math goes like this: 700 (new) – 100 (old) = 600. 600 (sum) divided by 100 (old) = 6 x 100 = 600%.
I grew my Facebook traffic by 600%! And you can, too. Read more about it >>> right here <<<.
And That's Just a Snippet!
The office equipment I use and swear by;
The apps and software I cannot live without;
My favorite branding and design resources;
Payment processing and email management systems I use;
How I create e-books and downloadable files; plus,
LOADS of extras, such as: how to find virtual assistants, how I manage my schedule, and a slew of other fabulous resources!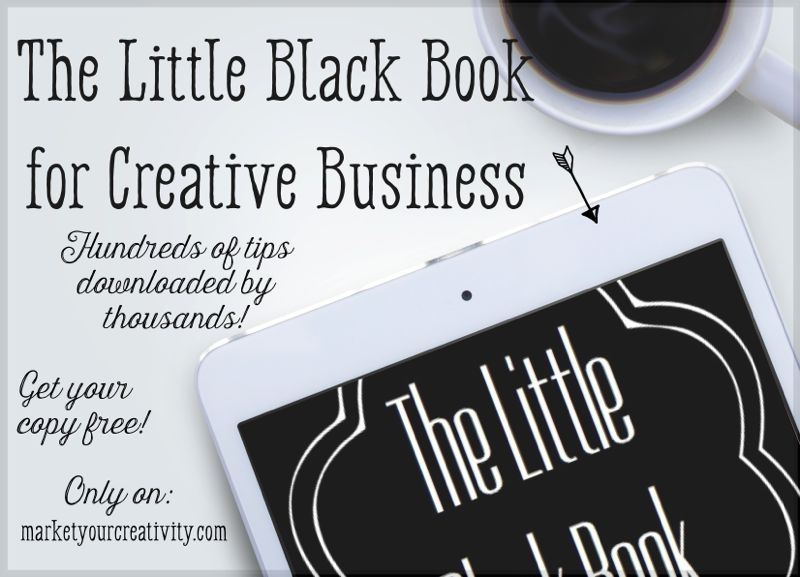 The Little Black Book for Creative Business contains a whopping 19 pages full of my trade secrets, insider tips and resources. And it's my BONUS gift to Marketing Creativity email subscribers! It's been downloaded thousands of times, so sign up above to join those in the know. Simply enter and confirm your subscription to download your copy instantly!
Until next time and all the best,