As I write this, we are only one week away from my Copywriting for Crafters course on CreativeLive! I have been so wrapped up in the planning, rehearsal and details of this class that it's been a minute since I've had the chance to write to you!
I must say, I am so grateful for this minute. Coming up for air to write this blog post feels like a relaxing, much-needed yoga class. I needed a mental stretch and release! I've been working tirelessly to bring you the most comprehensive course on copywriting imaginable …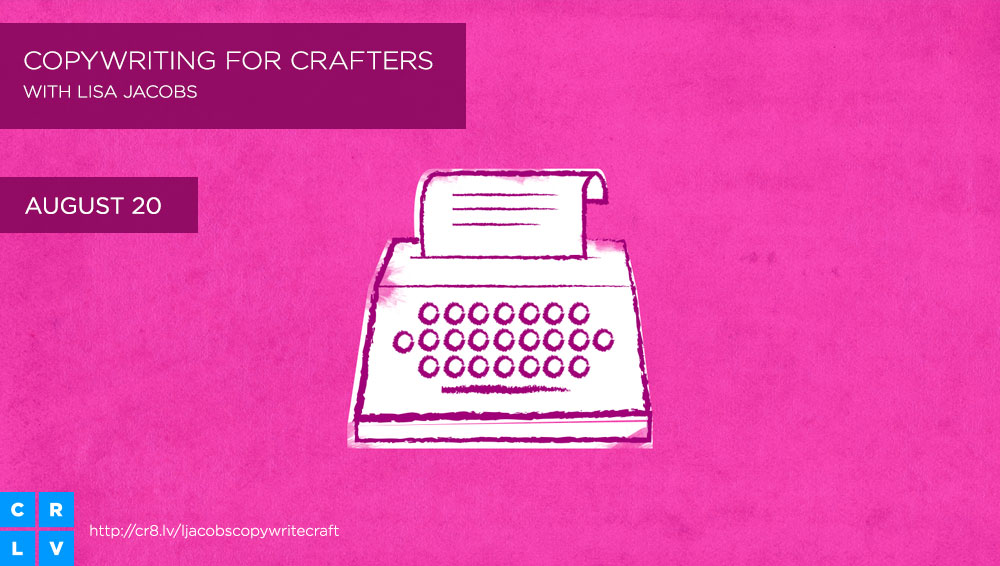 Improve Your Holiday Sales
My class is actually one of a 5-day conference designed to help you kickstart your holiday profits and create a solid marketing plan for the upcoming busy season.
Simply RSVP'ing to this event gets you an amazing, 28-page workbook to download that includes a chapter from me titled, Triggers to "Yes!" Seasonal Scripts That Sell. That chapter contains six ways to warm up your customer during the buying process – you'll love it, and your customers will thank you for using it!
You can find links to the entire 5-days of conference right here, but let me give you a brief overview of the week. I mean, you've never seen free training like this before …
Price Your Craft with Tara Gentile. Tara's going beyond expenses and profits, and together you'll create a pricing strategy that will help you reach your business goals.
Email Marketing with Abby Glassenberg. I've mentioned Abby here before; I can attest to the fact that she writes a killer email. I can't NOT open them every Wednesday! She's going to teach you how to develop compelling, effective and insanely useful email newsletters for your business.
How to Get More Done with Tara Swiger. Tara's going to help you un-busy the upcoming busy season! She's sharing an action plan that will help you manage your working hours, but more importantly, she'll show you how to achieve that desirable business-life-family balance.
Copywriting for Crafters with Lisa Jacobs. That's me! I'm gong to show you how to write listings that sell in a copywriting lesson like you've never seen before. Don't miss a minute of it!
Build Your Holiday Marketing Plan with Megan Auman. Megan's going to show you how to setup a marketing plan that gets you into a sales rhythm with the buying seasons.
3 Copywriting Mistakes That Are Costing You the Sale
I wrote up a little preview of the course for the CreativeLive blog. Click here to check it out: 3 Copywriting Mistakes That Are Costing You The Sale. I can hardly wait to get this class underway!
If you're feeling just as eager to get started, here's what you can do to prepare:
Click here to RSVP for the Copywriting for Crafters (& 5-day conference)
Download your bonus, 28-page Kickstart Your Profits workbook
Block your schedule for an entire week of creative business training!
If you can't make the live taping, you can buy on-demand access (watch anytime and own the class for life!) here: Copywriting for Crafters with Lisa Jacobs. See you there!