Your product listing should be a sales conversation, but I bet it's not doing its job. Today, I invite you to use this 10-minute makeover as a self-critique because your product listing plays a vital role in the customer's buying process.
Before we get into the makeover, I want you to realize how close you are to making the sale when the customer is reading your product listing. First, let's look at the buying process in the physical world. When you leave your house to go shopping for a specific item in an actual store, you …
Enter the store
Scan the aisles for what you want
Spot the item you're looking for
Pick it up and check its pricing
Decide to buy
That's a five-step process. Now, we'll look at the buying process for online shopping, which is somewhat similar. When you shop online, you …
Search for the product you want
Scan the storefront for the right style and pricing
Click the item you were looking for
Read its listing
Decide to buy
That too is a five-step process, and you can see how very similar they are! When your customer is reading your product listing, it's as if they're in the store actually handling the product. If your product views aren't converting to sales, your copywriting needs help!
When your customer has clicked on your product to read its description, they are 4/5ths of the way through the buying process! They are only one step away from the sale.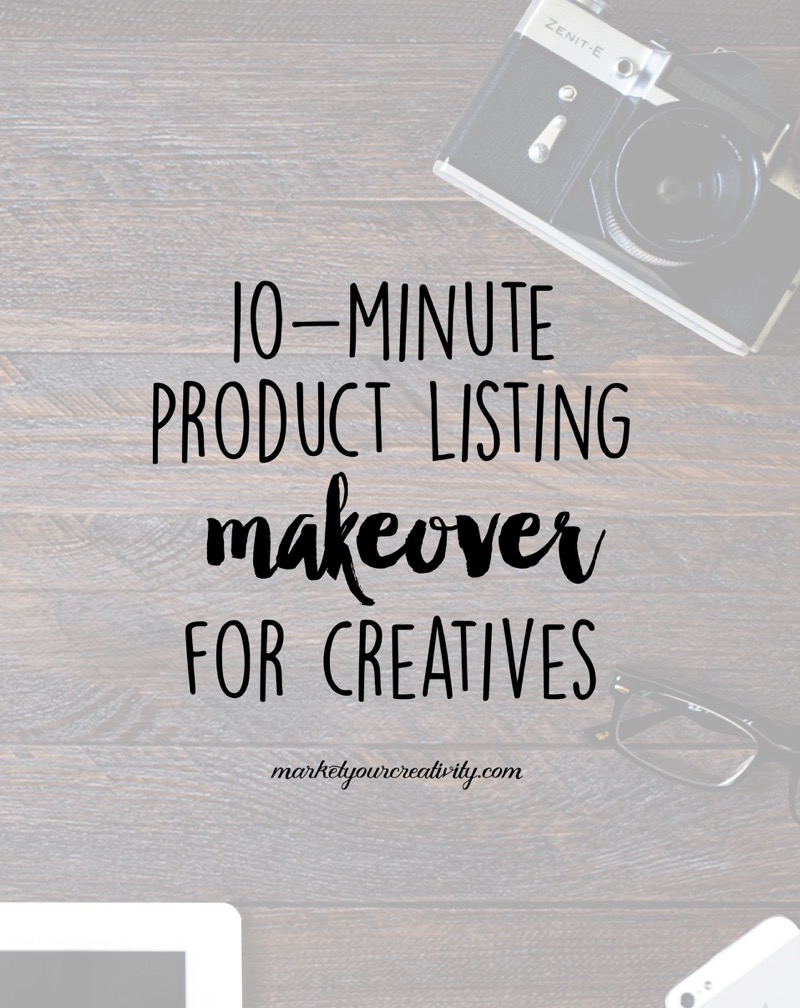 Here's a 10-minute product listing makeover so that you can discover where your listings might be weak.
First: choose one of your best product listings (already published), and answer the following questions from the information in your listing:
What is this product, exactly?
Why would the customer want it?
What specific problem is it going to solve?
What's the customer's biggest hang-up about making this purchase?
How does the listing address the customer's hesitation?
Why are you the best person to buy from?
Second: If any of the above questions are not answered in your product listing, consider how you might address this topic/concern to help your customer "try the product on."
Third: Scan your listing for use of the words "I" or "my" – and aim to remove them all. These words are jarring to a potential customer who is trying to envision the product in their world.
Finally: Be sure you're helping the customer try it on. I love this one, and I think you will too. Yes, I know we're talking online business, and there's no way the customer can actually try on the product before they buy. But, you're forgetting one important factor …
The customer always tries the product on in their mind first.
Right? Just think about it for a second. When you see a product, even if it's physically in front of you in an actual store, you first think: How would I look in that? And you try it on in your mind's eye. If you bump into a unique lamp or see a gorgeous painting, you think: Where would I put that in my home? And then you imagine it there!
That's why you need to use your product description to help the customer "try it on."
If I asked you to imagine how fresh you would look wearing one of my big, chunky turquoise bracelets with a white t-shirt and your favorite pair of jeans … What do you do? You picture yourself wearing a chunky turquoise bracelet, a white t-shirt and your favorite pair of jeans.
You took my product and tried it on in your mind, and why? Simply because I offered you the visual. Take that advice and try it on for size!
Want to learn more?
Remember: when your customer is reading your product description, they are on step 4 of 5 in the buying process. They're only one step away from checkout, and it's very important that you use your product listings to …
Answer the customer's questions
Alleviate their doubts
Reassure their buying decision
Lead them through to check-out
If you'd like to learn more about this aspect of marketing, please checkout my Copywriting for Crafters class on CreativeLive. Even the free segment preview will give you a ton of insight you can use today! It's an investment I would highly recommend for your business. It's jam-packed and more valuable than most 3-day classes – the price is a steal.
Until next time and all the best,