It's time to give your sales funnel LIFE and learn 7 things your client is dying to hear you say. In my last post, we discussed the underlying movement of the buying process. (If you missed that one, >> click here to catch up <<.)
Everywhere you exist online (aka your "sales funnel") is meant to do three things for you, and always:
Attract
Connect
Convert
You'll know it's not working, when you find yourself asking questions like these:
How do I get people to my website?
How do I convert views into sales?
How do I get fans to see my posts on Facebook?
How do I get social media fans onto my email list?
What am I supposed to say in email broadcasts?
How do I find new customers?
How do I make more sales?
All of these questions mean that you have the gears of an online business in place, but they're not moving. They're static, stalled or stuck. They're failing to work together.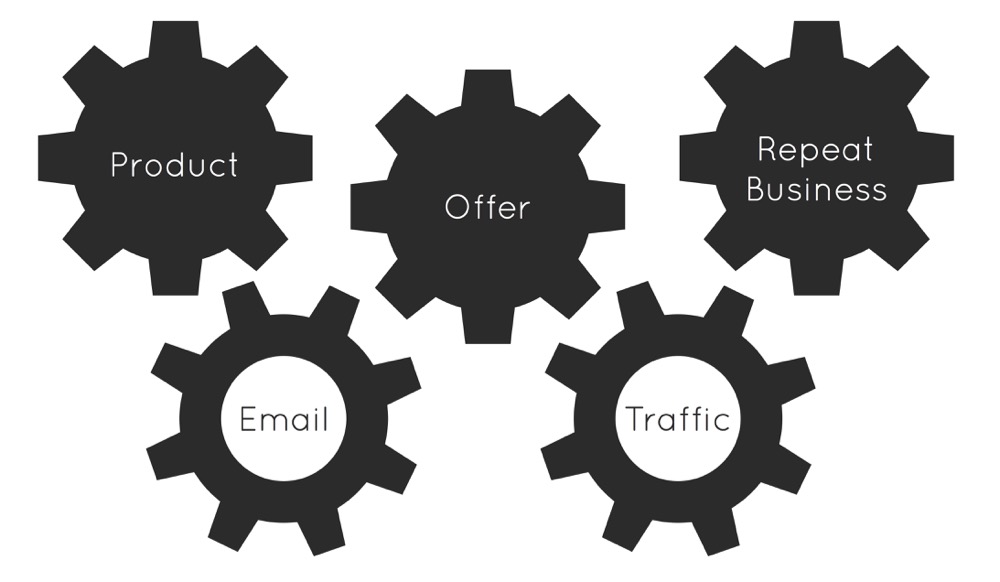 Enter copywriting. I know what you think copywriting is – you probably know the textbook definition of it, which is to write in a persuasive way that markets, advertises and raises brand awareness. And yes, it's all true, but it's so much more than that.
Good copywriting adds movement. It honors the buying process. It's what motivates your customers through the sales funnel, guiding them from new visitor to loyal friend. The language you use online is what gets these gears moving.
Copywriting is the language that builds relationships online, and that's the best way to look at it! It's a language to be learned. It will help you build an online sales machine that represents you in the most authentic way imaginable.
When you learn copywriting, it makes everything you do online more successful. You begin to say what your customers have been dying to hear, you easily attract more interested buyers, you connect in a way you never thought possible, and converting sales becomes the easiest part of the job.
Here's what customers want to hear from you …
#1 First and foremost, they want to know what your product will do for them. People like to feel appreciated and served. To start the conversation, you want to tell your customer how your product is going to make their life better, solve their problems, create happiness or more convenience, and leave them feeling satisfied with their purchase long after they check-out.
#2 They want to imagine the product or service in their lives. In fact, until they envision this, they will not buy. They want to know how they're going to use it, where they're going to put it, and how they'll feel differently once it's over and done.
#3 They want to know how it's going to be delivered. For product-based businesses, share a photo of your orders being fulfilled, and tell customers how fast you ship. For service-based business, always let your client know "how it works" – explain the delivery and process they can expect after-purchase.
Tell them why buying with you is a quick and painless process they'll enjoy!
#4 They want a powerful offer. Yes they do! They want you to take the stage and present yourself as a confident business owner that has a valuable product for sale. They're important, their time is valuable, and they want you to deliver a strong presentation.
#5 They want you to give them a reason to buy. They can't justify the expense right now without a few good reasons to do so. Off the top, you should know three good reasons your customer should buy now, and then add a dash of urgency and sprinkle scarcity on top.
I love it when a company gets me over the hump and him-hawing of indecision. I love a good reason to buy now!
#6 They want you to grab their attention. Everyone's scanning the internet (Facebook, Pinterest, Instagram, Twitter, blog, Facebook, blog, Twitter, Instagram, Pinterest, repeat) for something, ANYTHING, that interests and engages them.
Creatives have been taught the "don't ask, just exist" approach to sales and online business. How's that approach treating you? What results are you creating?
Instead, try a gripping headline. Get a little flashy. Be different. Dare to be interesting.
#7 They hate their own inertia. They want to be moved.
"Inertia is the resistance of any physical object to any change in its state of motion, including changes to its speed and direction. It is the tendency of objects to keep moving in a straight line at constant velocity." – Wikipedia
Whenever you create a new product or run a promotion, you need to create a sense of scarcity to help the buyer overcome that resistance to the purchase. If your product is available forever at the same price, the potential customer might think about it for just as long (or forget about it altogether)!
There are three standard ways to move your customer out of their state of inertia: (1.) Limited number, (2.) Limited time, and/or (3.) Special pricing.
Sign Up to Get More
I send a lot of private lessons, just like this one, exclusively to email subscribers. If you're not already on my list, sign up below.