I am thrilled to share with you 12 Big Things: A Simple Practice for an Extraordinary Year! I hope this post finds you loving the time of year and season of life you're in right now. I'm feeling such an overwhelming sense of gratitude; I hardly know where to begin.
Here comes that wonderful time of year where we begin to take stock, clear unfinished business, and pave a runway for the coming New Year. I freaking love it. I'd like to share some personal and professional updates of the year, and I absolutely must tell you how they came to be.
I've always been a fan of the prompt: "If I knew I could not fail, I would …"—circa 2014, you've probably heard me tell what's come of it many times over. In 2022, however, I tried something different.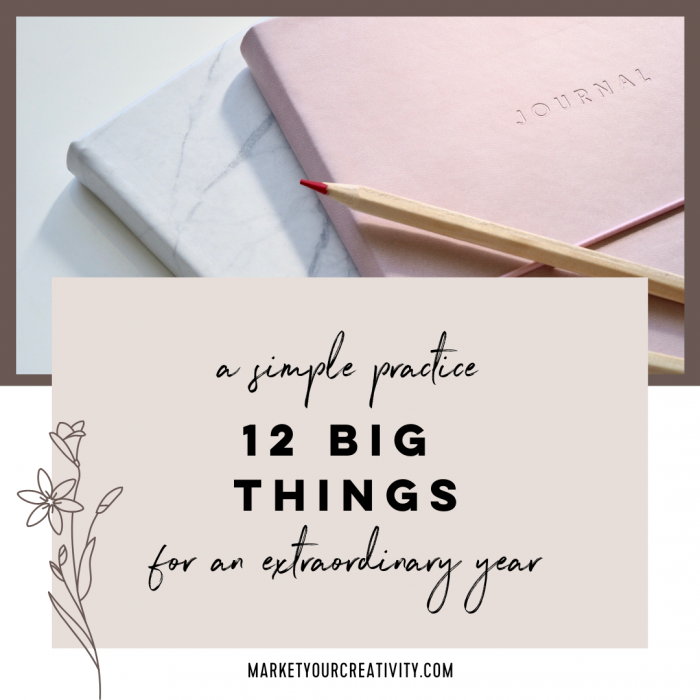 12 Big Things
In lieu of a "If I knew I could not fail list," I challenged myself to do at least "12 big comfort-zone busting things." Meaning, when an opportunity comes up that both excites + scares me a little, I have to go for it. I don't decide these in advance, I'm simply committed to remaining open to them. And, I've seen incredible results.
This year …
I redesigned my business approach to truly complement my life
I rocked a Karaoke stage
My husband and I asked for help and sought advice to make one of our biggest dreams come true (see #11)
I learned how to play basketball
I built and sold a new offer, The Fast Track Toolkit
I successfully grew outdoor window boxes and planters for the first time
I took my family to their first concert (Macklemore)
I resolved a tax lien against my property I wasn't even aware of!
I lost weight I thought I wasn't capable of losing (15 pounds)—and not in a crazy way, but through consistent and habitual practice (weight-training and the Noom app)
We purchased our first Airbnb property in my beloved hometown (!)
??????????
Ounce of Courage = Pounds of Progress
I look at this list, and it just makes me wonder. How much do we truly get in our own way? I turned 45 years old this year, and I've genuinely surprised and delighted myself in what I can and have yet to accomplish.
I think of all the tiny questions I asked, many against my own limiting beliefs.
What if there was no feedback? What would I absolutely love and choose to do?
What if I filled out this questionnaire? What if I just went for it?
How might we make our real estate investment dreams come true without selling our home, being good savers, or crossing our fingers that a huge downpayment will land in our laps? Who can we talk to? Who can we ask?
After a lifetime of saying, "I can't play basketball …"—what if I made that my summer activity with my kids and practiced?
What if I bought the gardening supplies and tried to plant some flowers?
If nobody wants to buy this program I build, so what? I'm proud of it.
What would make us comfortable at a crowded event, like a music concert?
Why am I so scared of the whole tax process? What's there to be afraid of, really?
Am I fighting the right battle? And on the right battleground? (< huge for weight loss)
How long have I felt too far from familiarity and belonging? How can I get a bigger dose of "home" in my life?
I saw opportunity in the questions above, I imagined the outcome (so big, so exciting, a little nerve-wracking), and I went for it.
I'm sharing this challenge with you because it's light and easy and low-pressure. I didn't need these little comfort-busting things to pay off, I went for them in the spirit of: it'd just be so wild if they did happen!
Believe it or not, I think that attitude is the very thing that's made some of my biggest dreams come true in 2022.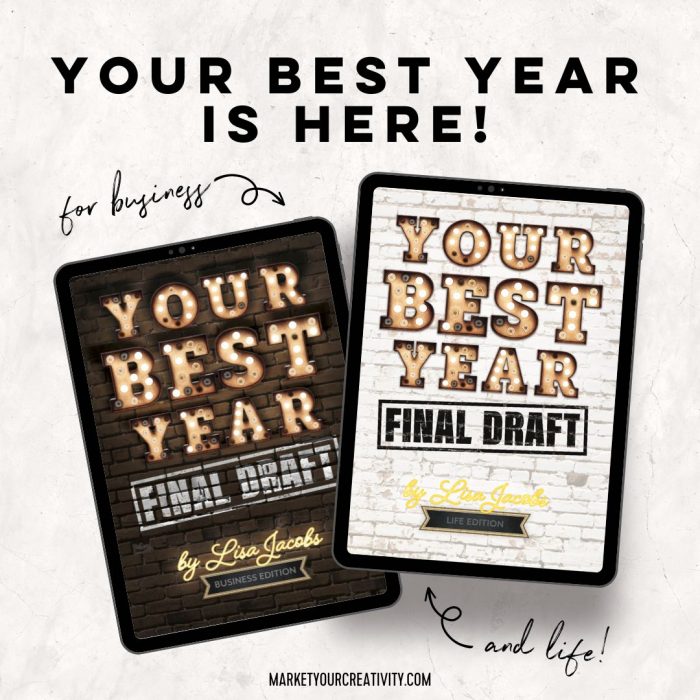 Your Best Year is HERE!
Guess who's back? Back again! The undated Life Edition is here to accompany the best-selling Business Edition! My goal for this book is to help you create the silence, identify what pulls you, and show you how to let that love lead.
Digital copies and bundles are on sale now! Here's to Your Best Year yet!