Keywords are only the beginning to getting found in search. If you've been selling online for anytime at all, you've probably heard the term "search engine optimization" (SEO). From Wikipedia, SEO "is the process of affecting the visibility of a website or a web page in a search engine's 'natural' or un-paid ['organic'] search results." The idea being, the better ranked the website, the higher it appears in search results, the more visitors it will receive from search engine users.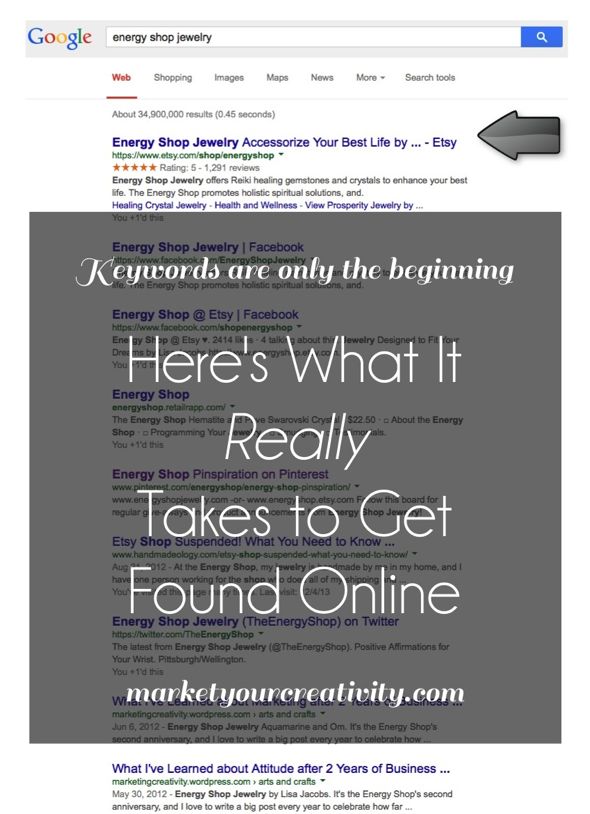 If you want to improve your SEO and get found online, here is one thing we all know for sure:
Tried and true: Relevant keywords
The number one way online sellers and bloggers try to influence SEO and their ranking is by using relevant keywords. This tactic is very easy to implement – you simply need to anticipate what your audience or target market commonly searches for. What problems are they looking to solve?
For example, if I think SEO is something that might interest my blog readers, I use it in the title and the first sentence of my blog post to attract creative business owners searching for that topic.
As another example, if I think people are searching "meditation jewelry" to find pieces like the ones I sell at the Energy Shop, I title a category in my Etsy shop, "meditation jewelry" and include the word again in appropriate listings, such as Men's Jasper Meditation Bracelet.
Improving the keywords on your site is important; it's fundamental. You must do it for your site to make sense to your potential customer. As I mentioned in the article, How to Stand Out in the Handmade Marketplace and Appeal to Your Niche, using proper keywords is key to speaking the customer's language and creating a connection.
That said …
Here's what it really takes to get found
I have never relied on Etsy for website traffic; my strategy has always been to attract customers elsewhere on the web and point them to my site. Whether I'm writing a guest post, populating a Facebook ad, or pinning items on Pinterest, I see my online presence as a web that invites like-minded people to connect with me. If our interests match and we form a connection, my articles and pins eventually lead them to my online store – a funnel that I built with intention.
What do my hundreds of guest posts, Marketing Creativity website, Facebook account, Pinterest account, and Twitter account have in common? They all link to Energy Shop Jewelry.
[Tweet "Want to know the real secret to high-ranking #Etsy SEO?"]
In SEO speak, those links I've created to my online storefront are called "backlinks." From Wikipedia, the number of backlinks a website has is "one indication of the popularity or importance of that website." If you were to run a google search on "Energy Shop Jewelry", "energyshop" or even "Energy Shop", you'll find my site on page one of the results. That didn't happen overnight, and it was certainly no accident.
The web of links I've built online is the real secret to my high Google rankings. Yes, I use relevant keywords. But I mean, really, wouldn't it all be a bunch of nonsense if I didn't? Good keywords evolve over time the more you refine your voice and the better you learn to connect with the people who truly matter.
Spreading the word = Building your web
I tell people to blog, and share, and include links to their business around the web frequently. During coaching calls, my clients often challenge that advice. They say,
"Who has time for that?"
"I wouldn't know what to say."
"Nobody sees it."
And to that I answer, "Do it anyway." Make time for it, or your website will most likely get lost in the crowd. Don't know what to say? Here are 27 Blog Topics you'll have fun writing. You're right, nobody will see it … at first. But you still have to believe in it when they're not looking. Until next time and all the best.