I love selling on Etsy, and I coach many creative colleagues to open shop there as well. However, it's all too often that I find my clients repeating these common mistakes, and it's killing their sales. Before I list them, first thing's first:
Think like the customer
Let's understand that humans are narcissistic creatures, and we are almost always thinking of ourselves. Please keep that in mind when you think of the customers for your budding business. Reflect on the way that you shop AS a customer. When you make a purchase, you want to be pleased, proud, and comfortable with the product you bring home.
Realize that it's quite natural for small business owners to approach business thinking only of themselves and their needs. However, successful sellers know that this thinking needs to be rearranged.
You must have a clear picture of what you're offering the customer, how she can benefit, and what her end-result will be. In fact, successful marketing involves thinking from the end: you see the satisfied customer with your product in hand. What is she feeling? What is she thinking? How does your product improve her day?
Listen to this advice from Scientific Advertising written by Claude Hopkins in the 1920's:
"Remember the people you address are selfish, as we all are. They care nothing about your interests or your profit. They seek service for themselves. Ignoring this fact is a common mistake and a costly mistake in advertising. Ads say in effect, 'Buy my brand. Give me the trade you give to others. Let me have the money.' This is not a popular appeal."
Therefore, practice putting the customer's needs first, and switch the focus of your shop from sales to service. Next, please avoid making these common Etsy mistakes: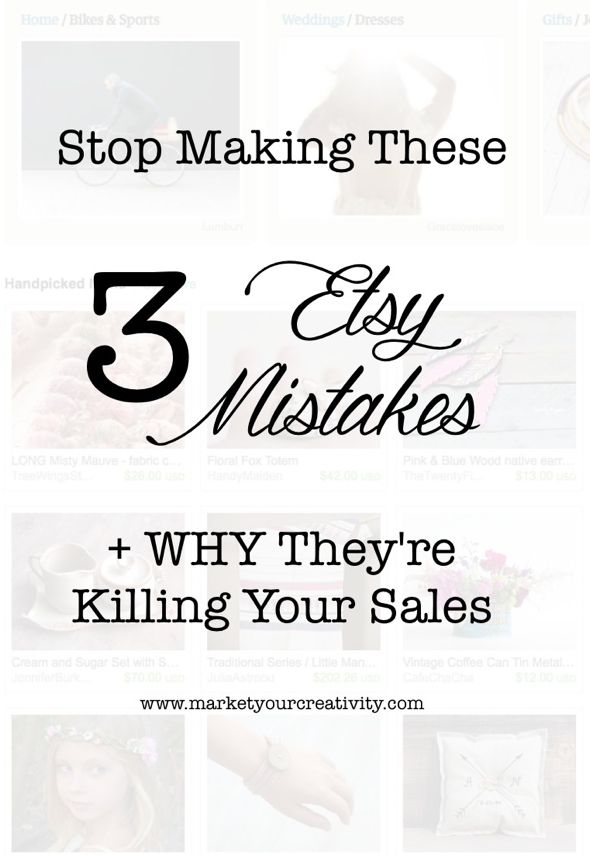 #1 Unsavory product photography
The Etsy marketplace is growing rapidly, and product photography that is anything less than stellar simply will not capture a visitor's attention. Your product photographs have to be clear, concise and click-worthy. Make sure that the picture you use for the main listing could aptly describe and sell the product all by itself. That means: no extreme close-ups, no busy backgrounds, and no bad lighting.
Speaking of lighting, make sure all of the listings in your shop are taken at the same time of day (whether it be high sun, overcast sun or a light box – make sure it's consistent). Nothing screams "beginner" like a mixture of photographs that range from too dark to too bright.
As my business has evolved, so has my product photography. Enjoy the complete timeline, laugh at my mistakes, and see the full list of do's and don'ts for product photography by clicking here.
#2 Title stuffing
I see it everywhere (and we've all tried it at one time or another), but please don't. You know a shop owner has learned a little something-something about SEO when you stumble across their storefront and their product titles look like this:
One of a kind handmade jewelry gemstone Mother's Day beaded bracelet for meditation, stacking trendy arm candy Anniversary for girls and women Energy Shop red white blue
Titles are part of copywriting, and here's my unwavering rule about copywriting for your listing: NEVER write anything in a listing that you would not say to a customer if they were standing in front of you.
Imagine you were at an art show and a potential customer picked up your item and turned to you for more information. The title for your item is how you would start the conversation. Never in a million years would you turn to your customer and say:
"Oh that? Yes, that's a one of a kind handmade jewelry gemstone. Mother's Day! Beaded bracelet for meditation, stacking trendy arm candy. Anniversary! For girls and women. Energy Shop! Red! White! Blue!"
Why wouldn't you say that in person? We all know why! It would send your visitor running, and you would lose their interest forevermore.
Keywords are important, and I use them in every listing at the Energy Shop. However, I do not use all of them in every title. I might call one bracelet "zen", the next one "yoga", and the next one "spiritual", etc. My shop is full of keywords to attract those who are searching, but my titles are clear and concise for buyers who are shopping.
#3 Listing everything you know how to make
My dream clients are natural-born creators. They love to make, and that's just one of the reasons I love them so – they're full of hobbies and interests. However, this is business.
An Etsy shop is a great template for a new business, but it has a limited arrangement. There are only 10 categories to every shop, and there are only so many items displayed on each page. Therefore, what you do sell in your Etsy shop must be well-organized and deliberately branded.
Many of us dream of owning a boutique filled with all of our favorite things, but that dream typically does not translate on Etsy. When you list everything you make (from let's say, boho jewelry to modern furniture), you lose sight of the ideal customer for each work of art. Instead of the Etsy shop showcasing your many talents, it starts to smell desperate; as if you're looking for anything that will sell, rather than building that one specific market that you truly love.
Editing is key to a successful shop! You must think of the brand experience, and then ask yourself which of your creations fit that mold. Only then should it be listed in your Etsy shop.