A sales funnel is an automated system to help new customers find you while you sleep. It's a pre-programmed web of content, social media engagement, and offers that are designed to lead your ideal customer to the sale.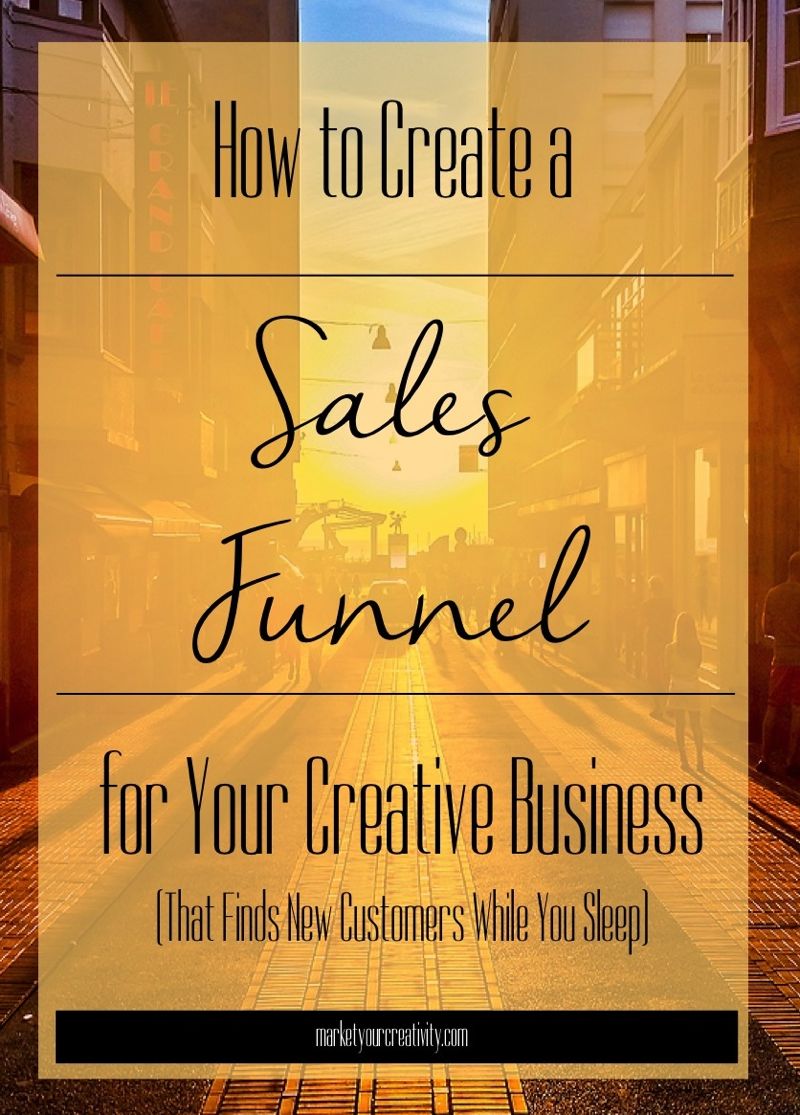 I'm going to lead you step-by-step from the widest (top) area of the sales funnel and then work our way down to the smallest area (bottom of the funnel).  First, a friendly reminder:
A Sales Funnel Won't Fix What's Not Working
A successful business (and online storefront) is built on a series of hits and misses. Your first attempt at business rarely results in your biggest success. If you've spent years pushing the same product or investing into a business that's offering no return, something's clearly not working.
Sadly, many creative business owners hold tight to their first idea and try to force a profit from a product that simply does not appeal to the market. Then, like the fantastical quest for the fountain of youth, they get stuck on a hamster wheel chasing "the magic bullet" to finally make this thing that isn't working, work already.
You may value your current offering, but if you've been asking "how do I get people to buy?" for more than a year, if you've followed all of the basic tips and understand the general concepts of online selling (see my: 31 Days to Build Your Own Creative Business for a boatload of information), but you're still not getting the results you're looking for? Something about your business model is not working, and that's okay. In fact, therein lies the secret to unlocking your success.
Once you admit it's not working, your mind can finally open up to new ways of tweaking your offer or redirecting your talents so that you, as an entrepreneur, can find success.
At the start of The Summer Shift (a group coaching concentrate), one of my clients signed on at the very beginnings of her online business, and our main goal was to get her shop up and running. During the course of the program, we worked on photography (we both shot her products to learn how she could perfect her pictures), she listed the finished photographs, and I helped with her copywriting, and within two weeks of her site being live, she had already received two sales. It's working so far, but she'll need to find a regular rhythm in sales before she can move on to the next actions to build her business.
The natural order of a creative business is this:
Products showcased with proven marketability (at least 48 sales per year – see below)
A marketing strategy (and sales funnel) to increase profit and encourage repeat business
I don't care in which order you do the first step – some people prefer to know their product is going to succeed before they showcase it for sale online, and others will list it online just to see what happens. Before I started selling anything, I gave packets of bracelets to many of my friends. Their feedback was essential to my beginning, and it proved that I had a lovely little gift in each creation. It doesn't matter which you do first (showcase your products or test your marketability), but both need to happen.
When I did open shop online, I created a handful of listings, and they sold out the same week. Mind you, that was in 2010 when the Etsy marketplace had a quarter of the selling crowd it has now. Similar to the inflation of currency, five sales in one week back then is similar to today's one sale per week, as my Summer Shift client recently experienced.
Businesses should be able to grow organically first before much is invested in marketing or advertising campaigns. Therefore, if your online shop isn't seeing at least 48 sales per year (+/- 2 sales per month with regular listing and renewing to keep the shop fresh on the scene), then your time would better be invested in tweaking your business offerings and/or perfecting your shop cohesion.
How to create a sales funnel
If your online shop sees a decent number of organic sales, here's how to create a sales funnel for your business (and find customers while you sleep!):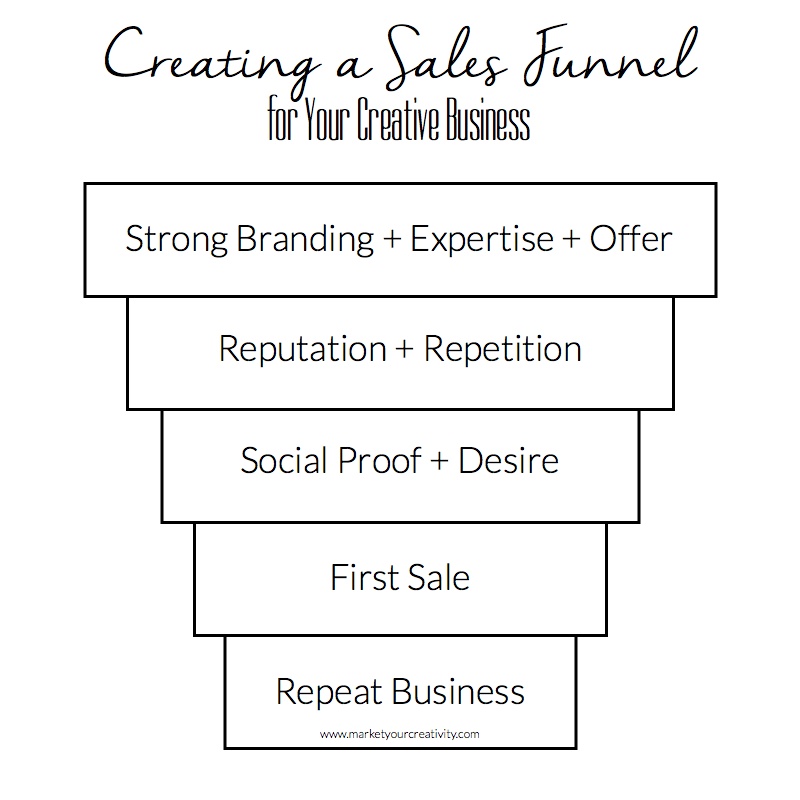 Step 1: Strong Branding + Expertise + Offer
Step one is about defining the message you're putting out to the world. In a traditional sales funnel, it would be called "attracting leads," but I wanted to get more specific and spell out what exactly attracts new leads.
Your branding, expertise and offer are the most important parts of your funnel, and the easiest to "set and forget." It's where and how you present yourself to your customers, and I prefer to look at it as the introduction to a long and loyal relationship.
In step one, you'll want to consider the full platform your online business is built on. I think of my online platform as an interconnected web. Each website, social media, or storefront I build links to all of my other projects. For example, this blog drives traffic to my Etsy shop, the Etsy shop encourages fans for Facebook and Twitter, Facebook and Twitter link back to my blog, etc. It's a connected circle, and when building your own network, you'll want to make sure that each location feeds into the next.
In order to build an effective platform, you have to be very clear on what you want to be known for. This helps you refine your message and direct it towards the exact people who want (and/or need) to hear it.
Creatives often get themselves caught under a "jack-of-all-trades" category. Because we operate like that, the branding is often askew and mismatched, the message is all over the place, and while it's a subtle layer of psychology that most people don't pay attention to, your potential customers become confused.
A successful business needs to be one face, one brand, and one source of expertise for their customers. It needs to have a clear purpose in order to stick.
Therefore, you want to home in on what it is you have to offer your ideal customer. When you're able to think of your customer's needs: whether you fill a void in their life by offering information or inspiration, make their house feel more special by creating home decor they love and adore, or make them feel more complete and confident by giving them that one special accessory for their outfit – whatever it is, there's a purpose for your product in the customer's life, and it's your job to clearly identify it.
Matter of fact, don't think of it as a product or a purpose. Think of it as a solution. There's emotion attached to solutions. As business owners, we need to breathe in that emotion – fully absorb it and own that expertise – and then share it with everyone we touch.
In step one, you must figure out:
The solution your ideal customer is seeking
How you can offer it, and why you're the best candidate for the job
Once you have polished your branding, claimed your expertise, and identified the solution your ideal customer is seeking, it's time to make the offer.
Next, create an irresistible offer. Free PDFs have become a little tired, so let's get creative here. This needs to be as valuable as something your ideal customer would purchase for money, only you're going to give it to them for free.
In a market full of millions of creative businesses, you can't just expect customer interest, you need to give them a reason to choose you.
This always reminds me of a quilter I coached. It was such a fun call for me because I love quilts. I absolutely pine for one, but they're so expensive! I don't question the price or their long-lasting quality, but I just haven't been able to get over the hump and invest in a beautiful quilt already.
You know what would push me over the edge? $50 off your first purchase of $250 or more. Seriously. For $50 off, I would give a quilting business my email, phone number, first quilt order and customer loyalty for the rest of my life. Right now. Where do I sign up?
I know quilts take time, effort, and they're worth so much more than even the hefty price tag suggests. I'm not undermining that with this offer recommendation at all. It's just that, in order to gain a healthy, thriving customer base, you have to invest in them before you can expect them to invest in you.
---
Step 2: Reputation + Repetition
To build your business' reputation, you must follow-through on your promises to your customers and exceed their expectations. This means providing excellent, egoless customer service.
I love when customers contact me to discuss a problem with their order. It's more than a complaint. It means the customer had high expectations of my shop, that they wanted to love their piece of jewelry, and something's gone wrong. More than that, it means that they saw a future for us, as business and client, but something blew it for them.
A disappointed customer will only take the time to contact you if they intended to be a repeat customer. This communication is your golden opportunity to create a bond for life, so knock their socks off. In my case, if the Energy Shop wasn't worth the customer's salt, they would toss the product and I would never hear from them again. I have a policy in my store: If I make a mistake with your order, or if one of my products fails you, I am going to serve you so well that you'll hope I screw up again in the future.
Here, I am reminded of how my four year old responds to an upset scene. She stays calm and quiet, and her face reads, "I don't have any idea what's going on here, and that's okay." She patiently waits for the unhappy to unfold, so things will get back to normal. Her ego hasn't fully developed, and it doesn't occur to her to get worked up simply because everyone else around her is upset.
I bring that attitude to an upset customer. I can't be sure what their expectations were. I don't know what they predict my response is going to be. It doesn't always look good, but I can try my best to resolve the situation to their full satisfaction.
Therefore, I suggest you take none of the customer's complaint personally. Simply serve them. Forget the first order, figure out what they expected, and then exceed those expectations. I know we have all dealt with crappy customer service—don't be that guy! Instead, here are 5 steps I follow to constantly improve my business' reputation:
Script your reply to the complaint as if you were talking to your best friend. Don't "apologize for any inconvenience." Everybody says that. Old Navy says that. You're selling your handmade creations, and that's personal business, so this apology should be personal. Say, "I'm sorry for your (upset/disappointment/dissatisfaction/frustration)."
Acknowledge their frustration, but save the excuses. I know that the baby gets the flu, or some other pressing issue comes up. But here, DO be like Old Navy. Hear your customer, but don't make excuses—in doing so, you're asking the customer to hear your side of things, and that's not their job! I told you to make the apology personal, but don't forget that the order is a business transaction.
Don't pass the buck. If you were waiting on supplies, but they didn't get there on time, that's your own faulty planning—don't throw your supplier under the bus. When you're dealing with an upset customer, it's always your fault. Anything less is just another excuse.
Do not inconvenience your customer. This is my main issue with big business today. When a large company makes a mistake with my online order, it often turns into the work that I have to do for them to get my order corrected—Call this number to discuss your issue, gather shipping materials and postage, return it here to this address. In other words, in order for them to process my order correctly, I have to correct the mistake they made on my first order (which usually takes about an hour of my valuable time). This always leaves me wondering, why am I doing all this work to give you my hard-earned cash? Realize that your customer doesn't have the shipping materials that you probably have on hand, and returns would be pretty inconvenient. Sometimes I need materials back, and in those cases, I send a self-addressed, stamped packaged with their replacement order. More often though, I cut my losses to leave the customer satisfied with their transaction. My first thought in resolving any issue is, "how can I make this simple and convenient for my customer?"
Thank them for allowing you to correct your mistake. I LOVE making things right with my customers. Like I said, it's a golden opportunity to build a stronger bond. Appreciate them for caring enough to contact you in the first place.
The second part of this step is repetition. I've talked about this quite a bit, so I won't go too far into it here. Just remember that sometimes, your customers need to see your shop + offer up to twenty times before they decide to buy-in. That means you'll have to repeat yourself, even when it feels like nobody's listening.
A marketing calendar will absolutely help you with this step; this article will help you create one. A marketing calendar is your blueprint for creative business success. I offer my coaching clients a variety of customized marketing prompts, but you can easily create your own.
Use your marketing calendar to ensure repetition; you must keep showing up in your customer's lives.
---
Step 3: Social Proof + Desire
Social proof helps the customer feel "at home" while shopping with you. On Etsy, it's the combination of history and experience (as well as the site-familiarity that Etsy provides) that helps the customer trust the transaction. Social proof can also come from word-of-mouth, product reviews, and brand recognition (i.e. "Oh! I've heard of the Energy Shop before! My best friend LOVES her bracelet.").
You can help your customer find social proof on your business by using phrases such as, "best-selling," "back by popular demand," and "previously sold out" on items that have a history of doing just that. Your customers are influenced by people with similar tastes, and when they're shopping your brand and niche, they automatically find people with kindred styles in your sales history.
Your social proof will build over time, and it increases the desire and demand for your product or service.
---
Step 4: First Sale
When a new customer makes their first purchase, I urge you to take a step back and see the bigger picture. Don't think of any sale as a one-time deal; always treat each order as if you've just earned a loyal customer for life.
Let your listings reflect this. How can you anticipate the needs of your customer in every listing? Do they know you have a necklace to match those earrings? Do they know you make soft, knitted throws that will match the scarf they just bought?
You are the expert in your field. The customer came to you because you have knowledge and talent that they appreciate. That means your shop is full of items that they want. Own your expertise, and be each customer's personal stylist by using your listings to suggest what other products you have that will work for them.
---
Step 5: Repeat Business
The majority of my first-time buyers become my repeat customers, and you better believe I honor that bond. Here are a few ideas to help you WOW your customers:
Customer appreciation specials. When I reach a landmark goal, say 100 sales, I celebrate by creating a deal in which I don't lose, but the customer clearly wins. The listing price pays for cost and materials, but I don't profit. I typically lower shipping costs to make it as much of a bargain deal as I possibly can. These sales are fun for the customer, and I know they enjoy the special treatment.  I appreciate the opportunity to express my gratitude for them.
Private sales. This year, I will host my fifth annual Friday before Black Friday sale. It is, by far, my biggest sales weekend of the year. I build stock for it, and customers have come to anticipate it. For this sale, I offer a 40% discount–which is wholesale pricing for the Energy Shop. At that rate, I'm still able to get paid for my time and turn a business profit.
Give them a reason! Offer them a discount, upgrade their packaging, or include a postcard about something that's happening next month! Think of ways you could surprise your customer and go the extra mile. Have a marketing plan in place to ensure each season will boost the next season's business.
And there you have five easy steps for creating a sales funnel for your creative business! If you found this article useful, you'll love my exclusive new program, The Luminaries Club. Together we'll shine brighter than ever before!
Here's to your success,