For over a decade, I'd been building a business without a clear vision or end product in mind. 😱
As I was organizing all of the products I have for sale in my inventory (books, courses, lead magnets and automations, and even the Luminaries Club), I came up with dozens of ideas on how to combine them, market them, and repackage them.
And each time I designed an offer, I ended up completely lost in my old ways of thinking—making do with what I had, blindly following the early path I set out on, losing the forest for the trees, and narrowing my own perspective as to what was possible.
I'd make a plan for my new business offer. I'd sit with it for a few days (sometimes weeks). I'd realize that I'd employed the same approach I used to take, and it wasn't going to lead me to where I wanted to go. Then, I'd start all over again.
Can you relate?
I decided I needed a thorough review of the vision for my business, and while I was conducting this exercise, I realized I'd never had a vision for my business before!
It was through this process that I found the calling I'd been answering all along:
I read and research, write summaries, and create guided discovery lessons—like the blog post I'm writing today. It's business operations that I greatly enjoy—the organizational structure, the systems, the flow, and the input and output of it all.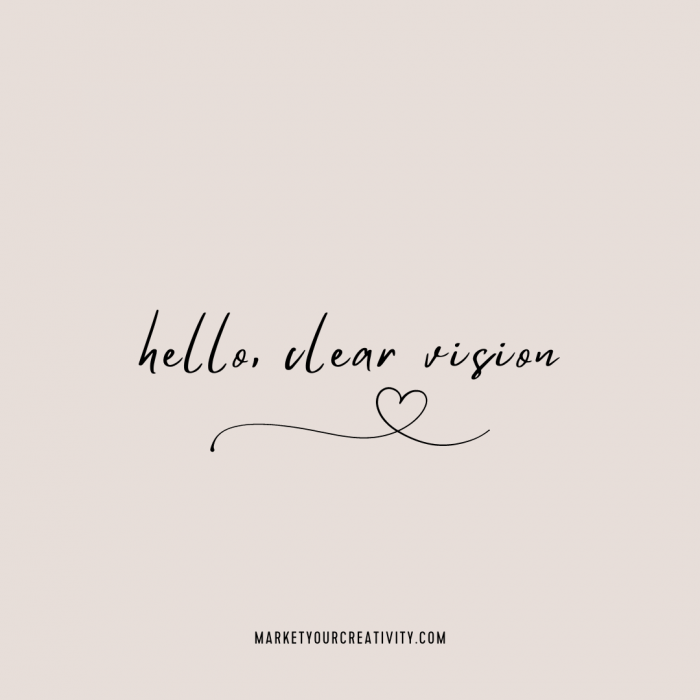 Product Review
Thanks to my clear vision, I was able to construct this very concrete product definition:
Programs by Lisa Jacobs deliver structure, order, direction, and turnkey operational solutions for small business owners who are evolving from solopreneurship into a company (of ONE or more).
They provide a sense of security, confidence, and abundance and result in more time and profit for the business owner. My clients feel heard, understood, SEEN, taken care of, and clear-headed. My products are easy to deliver, self-paced, intuitive, and easy to implement.
As I looked around the envisioned shelves of my business' inventory, they had to match the above definition in order for me to further promote them. I used it as another product filter which instantly removed a few items off of my promotional schedule.
For example, I love talking shops and storefronts, and hits for my Etsy articles are still the #1 traffic driver to Marketing Creativity. But, Etsy-specific advice does not match the above.
Here's what was left on the shelves of my inventory after all the filters had been applied:
Next, I put each through the timeless, temporary, residual, and/or linear filter. The books earned an A+—they're both timeless and residual. I'm really proud of the content, and in my reader survey, books are the #1 way new readers find me. Your Best Year and Marketing Playbook have been excellent products for my business in every way.
Profit Breakthrough is a stand-alone course, but it's also hosted in the larger bundle, The Luminaries Club (hosts three courses: Complete Copywriting, Illuminate, and Profit Breakthrough as well as digital files of all books and some masterclasses).
My previously filmed courses is where things got tricky.
Are they timeless? Mostly. But, take for example Complete Copywriting (part of The Luminaires Club). It was filmed in 2016—it's 90% timeless. The content is gold, I'll stand by it for life!
Here's what wasn't timeless at all: software mentioned, my design skills, my presence (for the most part, it's shot face-to-camera, and I was 6 years younger in another home with a less sophisticated office space). It was 10% temporary thanks to these factors, and I had to make the decision whether to keep it or scrap it (I kept it—the information is too valuable!).
That course allowed me to make these excellent notes to self for the future:
Do not brand each product, use your established brand and keep graphics simple and clean
Film with slides and fantastic audio—don't let your presence date the material
Keep mention of software as limited as possible, offer options, and only take calculated risks
The above reduces the temporariness of the program and increases its residual capacity. I employed it for my latest program, The Fast Track Toolkit.
Here's a peek inside …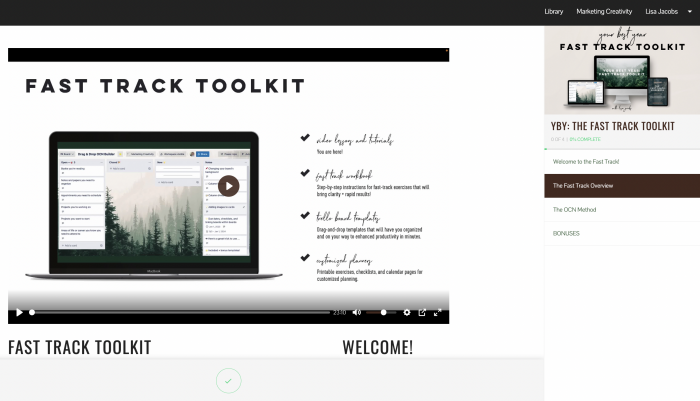 Inspired Creation, Effortless Delivery
The Fast Track Toolkit is the first manifestation of my new approach. Get this …
I was so incredibly inspired to create it
It is the funnest product I've ever produced
I am so proud of the value it holds
It was so easy to deliver
Toolkit users are raving about it—because the program offers such a quick start, I was collecting glowing reviews the same day it was released
It's a spinoff to one of the timeless products listed above,Your Best Year!
In addition to things like the "More List" and other productivity filters I'm employing (as taught in the Toolkit), it's extremely important to me that business feels like that list above at least 90% of the time.
By the way, people are loving their Fast Track Toolkit, and if you're one of them—thank you! It's been such a passion project for me because I want nothing more than for you to get more of your beautiful work into your customers' hands!
If you've been struggling to meet your business goals, I urge you to check out The Fast Track Toolkit. It's simple, quick, and affordable—yet so impactful. If you've been looking for a better way, you'll find it in the Fast Track!